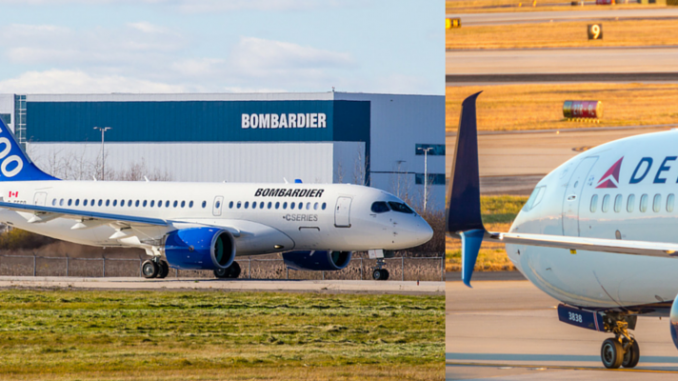 Delta is continuing its narrowbody fleet renewal with a firm order for 75 Bombardier CS100 aircraft. As part of the agreement, Delta has the option for 50 more aircraft, with the additional opportunity to change the order to the upgraded CS300 at any time. As a result of the CSeries purchase, the E190 will no longer be joining the fleet as previously announced.
¨As we reshape our fleet for the future, the innovative onboard experience of the C Series is a perfect compliment for the top notch service provided every day by Delta,¨ said Ed Bastien, Delta's incoming CEO. The CS100 will feature 2 by 3 seating in the Main Cabin and in Delta Comfort+. First Class will have 2 by 2 seating. All of the CS100 aircraft will come equipped with Wi-Fi, high capacity overhead bins, as well as seatback entertainment in every seat.
We can expect that some of these aircraft will be used quite similarly to Boeing 717. These aircraft will be fitted with around 100-125 seats. Delta is in the process of phasing out its CRJ200 fleet in favor of larger CRJ700s and CRJ900s.
Delta is the most high-profile customer the CSeries program has seen to date. This order is being seen as monumental for Bombardier, who has initially struggled to live up to the expectations of investors with the CSeries. Bombardier's first break came from Air Canada when they placed an order for 45 aircraft, however this order from Delta gives them a sense of financial stability for the future. Given the huge profitability and prestige of an airline like Delta placing an order for the CSeries, there is a decent probability that other airlines will begin to show interest in this innovative aircraft as well.
AirlineGeeks.com began in February, 2013 as a one-man (er… teenager, rather) show. Since then, we've grown to have 20 active team members, and yes, we're still growing. Some of us are looking to work in the aviation industry as professionals when we grow older. Some of us are still trying to decide what we want to do. That's okay though, because we're all here for the same reason: we love the airlines. We're the youngest team of airline industry journalists out there.
Latest posts by AirlineGeeks.com Staff (see all)