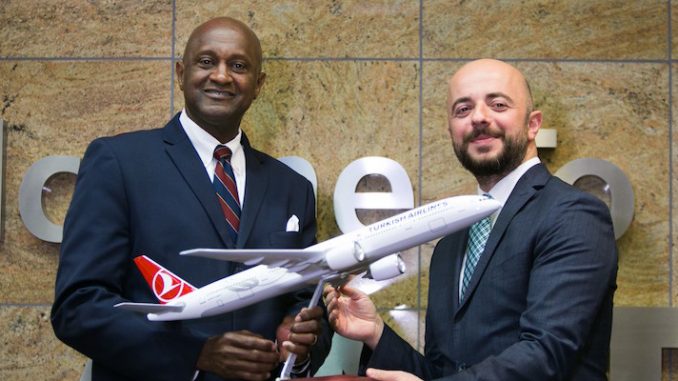 Atlanta-Hartsfield International Airport, the largest airport in the world based on passenger traffic, welcomed its latest international flight today operated by Turkish Airlines.
"We are thrilled to welcome Turkish Airlines to Atlanta," said Aviation General Manager Miguel Southwell said. "These daily flights will open up business and leisure opportunities for thousands of new customers from both sides of the Atlantic."
Turkish Airlines, based in Istanbul, has grown at a rapid rate over the previous decade, and now serves over 100 countries, more than any other airline in the world. It has made great use of its large Boeing 777-300ER aircraft, as well as other smaller aircraft to fulfill regional demand. In fact, the airline is taking delivery of six more 777-300ERs from Boeing, as well as 20 of the smaller 737-800s.
"Turkish Airlines is one of the world's ascendant airlines and an established global network carrier," stated Ahmet Bolat, Chief Investment and Technology Officer, Turkish Airlines. "The delivery of a further 26 Boeing aircraft this year, which form a substantial part of our long-haul and short-haul fleets, are integral to Turkish's continued growth and we look forward to introducing the new planes on our domestic and international network."
Atlanta will become the ninth city that Turkish serves in the United States, following other major airports including Chicago – O'Hare and Miami. The aircraft will operate the service daily, allowing non-stop service to the Turkish hub as well as continuing service on to the rest of the world.

Joe joined AirlineGeeks in 2014, and in his current role as Editor-in-Chief manages a growing team of writers both in North America and Europe. He enjoys spending the bulk of his time researching, learning and analyzing the latest trends in the airline industry, all while mentoring new members of the AirlineGeeks team who seek to do the same. Areas of research include revenue management, codeshare and alliance partnerships and airline financial results.

Latest posts by Joe Pesek (see all)