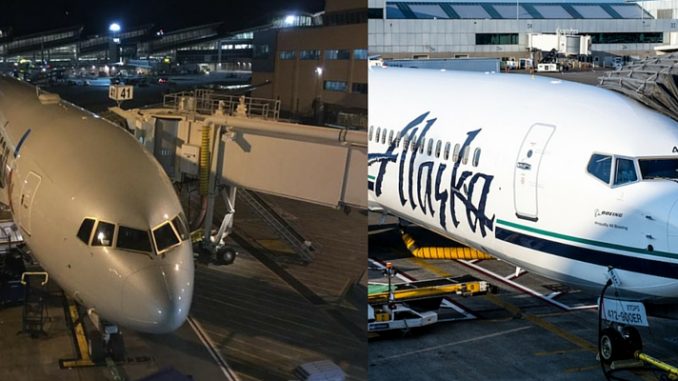 In February, I went to visit Embry-Riddle Aeronautical University in Daytona Beach, Florida during my spring break. Being from Washington State I had never had the opportunity to visit Florida so I was able to turn a quick college visit into a family vacation that included a stop in Miami. The flights were booked with American Airlines and Alaska Airlines taking me from Seattle to Los Angeles on to Miami.
Alaska Airlines
Route: SEA ✈︎ LAX
Flight Number: AS458
Aircraft: 737-900ER with Split Scimitars
Registration: N319AS was still wearing old livery at the time of flight
Stated Flight Time: 7:05 am to 9:45 am
Actual Gate to Gate: 7:12 am to 9:45 am
As I have flown with Alaska many times before, I have gotten into a routine when flying with them and that is exactly the same routine I followed for this early morning departure. It was going to be a fairly short trip to Florida so all I had with me were two backpacks, both of which I carried on. Security was very easy due to my recently acquired TSA PreCheck status. After security, I walked to the main food court located between terminals B and C and grabbed an early bite to eat and watched the early morning work that was occurring outside on the ramp.  After a nice and leisurely breakfast, I headed up towards the people mover to take me to the N-gates. After a quick ride on the train, I hopped off and headed up the escalator towards my departure gate, N6. The North Satellite at Sea-Tac is nothing to write home about, but as the years have gone on, things have started to improve, with many seats within boarding areas having in-seat power so travelers can get a quick boost of power to their device before boarding the flight.
Boarding started early at 6:22 am announcing they would have a very full flight and they were taking volunteers to gate check their bag at no extra charge. Shortly following that announcement, a large group of people rushed the front desk to drop off their very large roll aboard bags.  Alaska's boarding process was very efficient as usual and even though I was seated in seat 7F, which boards with one of the last groups, I was through the gate, no later than 6:40. I was greeted at the front door, by a very kind flight attendant who had a large smile on her face. It is always nice to see some emotion from the flight attendants when you step on-board. As I headed to my seat, I placed one of my bags in the overhead bins, which had not been updated to the new, more spacious, Sky Interior and looked into my seat to see it already occupied. Another traveler who had been originally seated in seat 7A had decided he wanted to sit in 7F with his travel companions. This perplexed me, but in the end I just took their seat in 7A which I ended up benefitting from. With no passengers sitting in seats 7B and 7C, I had a private row for the entirety of the flight. Push back was at 7:12 am but a short 7 minute delay is not a big deal from a passenger perspective. We made a quick taxi to runway 16C where we blasted off into the cloudy, Seattle sky.
The flight was relatively uneventful, with only a few moments of turbulence while climbing out. Service was basic, as expected on a domestic flight in the United States, with a choice of basic drinks and snacks. I opted for an orange juice and a Biscoff breakfast cookie. We arrived in LAX at 9:34 am with a hard touchdown on runway 24R and a typical LAX length taxi, we arrived at gate 67 at 9:45 am. As I was sitting near the front, deboarding was quick and I was on the way to my next flight.
American Airlines
Route: LAX ✈︎ MIA
Flight Number: AA68
Aircraft: 777-300ER
Registration: N729AN
After stepping into T6 at LAX I quickly made my way underground to the tunnels that connect T4, T5, and T6 at LAX. Once in terminal 4, I made my way to the series of corridors that connect you to Tom Bradly International Terminal, where my flight would be departing. As I had a relatively short connection, I did not have much time to explore TBIT, but it almost feels like a completely different airport compared to the rest of the terminals at LAX. I made a quick stop to grab a salad to take on board and I headed to gate 154. At 10:22, they called for boarding which was hectic to say the least. American boards by group, with group numbers printed on a boarding pass. Many of the travelers were speaking foreign languages in the boarding area and with announcements for boarding coming only in English, it made for a very confusing and clustered boarding process. Once onboard, I was "greeted" by a very stern looking flight attendant that pointed towards my seat. The flight attendant did not say a single word to me, they looked at my boarding pass and literally pointed which way I should go. At 10:59 am we pushed back from our gate and made our way to runway 25R where we blasted off from at 11:12 am under the power of the massive GE90 engines.
It was announced that the first drink run would begin around 12 pm so that gave me some time to explore the IFE. American's new IFE, is very simple to use with a touch screen or a remote control that is in the seat back in front of you. There were many good movie and TV choices along with a few games, all of which were free of charge. Directly next to the very clear screen was a power outlet so I could charge my own personal devices on the flight. All together the seat was very spacious and very comfortable. Again, I had no seat mate so it made the flight even more enjoyable. The blanket that was provided was a nice touch considering it is not an every day occurrence on domestic flights. The drink service was started just after 12 and was a typical, basic United States snack run with an option to buy extra food if you so wished. I opted for an orange juice and a little bag of pretzels and passed on purchasing extra as I had my afore mentioned salad sitting next to me. After the first service I decided to watch a movie and that filled the time until the second drink run of the flight, about two hours after the first. This time I opted simply for a cup of water.
After yet another relatively uneventful flight, we arrived into MIA landing on runway 12 at 6:21 pm Eastern time, just over 4 hours after departing LAX. After another long taxi, we arrived at D30 to be towed into the gate, due to limited spacing on each side.
Recap
Both flights that day were fairly typical in-terms of what I have come to expect on domestic services within the United States. The extra space I was lucky enough to have on both flights added to the experience. I have not had any issues with Alaska and I will continue to keep flying with them if my travel itinerary allows me to do so. American was a very nice surprise, however. I had only flown with them a few times before this flight and they were not the best experiences.  Overall, I really enjoyed the flight and would have zero qualms about booking another flight with American, especially if it is on the very lovely 777-300ER. I look forward to seeing how American grows and hope to be flying again with them soon.
Jace has been working at AirlineGeeks for nearly three years. Born in Seattle, Boeing and aviation quickly took over his life and he never stopped looking up. Jace enjoys plane spotting and taking trips just so he can fly. He is currently studying at Embry-Riddle Aeronautical University while earning his Bachelors of Science in Air Traffic Management.
Latest posts by Jace Moseley (see all)