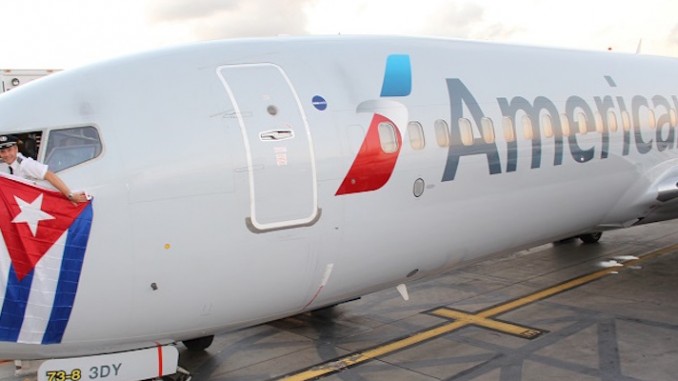 On June 6th the United States Department of Transportation approved six airlines to begin offering flights into Cuba. The U.S carriers that have been selected include American Airlines, JetBlue, Southwest, Sun Country, Frontier, and Silver Airways. Each company is required to begin flying within 90 days of the dates requested in their applications. This hints that many flight will begin in the Fall and early Winter.
While the U.S. has already signed off on this decision, airlines are still waiting on approvals from the Cuban government, however that has not stopped them from planning on selling tickets in the coming weeks. American Airlines which has already been flying chartered airplanes into Cuba for over 25 years has its eyes set on as many slots as possible. American is planning on 10 daily flights out of its Miami hub to Havana and 5 additional flights to other Cuban cities.
Cuba currently sees over 47 other airlines including Air France, AeroMexico, Air Canada, and KLM. Cuban government officials stated they are prepared for the anticipated additional air traffic, however will be having to make adjustments as to where to park the influx in traffic.
Of the newly approved U.S. airlines, only a few cities will have service to Cuba. Miami, Fort Lauderdale, Chicago, Philadelphia, and Minneapolis St. Paul, which serves as the hub for Sun Country Air. For these airlines to return non-stop to the United States, TSA is currently awaiting their chance to review the security measure and make the necessary updates to meet standards for inbound international flights.
As soon as all the approvals have been established, Americans will be sure to flock to the island for the first time in over 50 years and the airlines will be ready to get them there. One hurdle that will still exist is that the United States government officially does not allow citizens to travel to Cuba for tourism, however through many other channels such as official business, educational, or journalist visits for which people will be allowed to book their travel.
It will be exciting to learn the types of aircraft these airlines are going to flying into Havana and the other smaller airports around the island to both accommodate the demand of passengers and airfield sizes. The approval for U.S. airlines to fly into Cuba is a historic moment in aviation history.

Shane started as an airline geek on the first day that his mother brought him to work with her as a kid at Dulles Airport. Visiting the ground control tower, driving out on the ramp, and even sitting in the engines, he knew this was something awesome. After learning all the aircraft types and collecting countless model planes, he was addicted. After college, Shane worked at the FAA command center and gained in-depth knowledge of the industry he already loved. For over 5 years, he has worked mainly in Information Technology with the Department of Defense and various military organizations, however continues to grow his passion for aviation and the world of flying. Still today he can't go to the airport without staring out towards the runway or look up to the sounds of something overhead.

Latest posts by Shane Piper (see all)