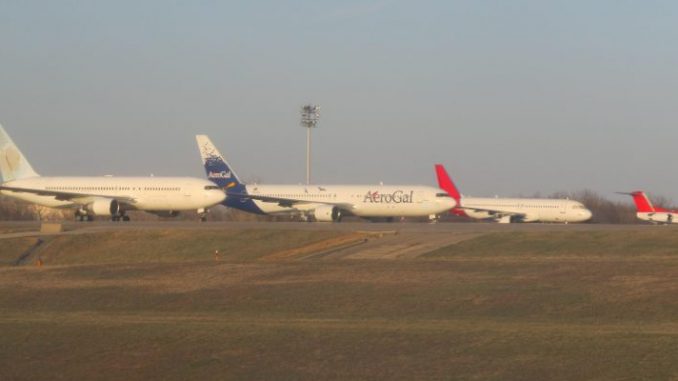 The Southwestern corner of the United States has become the retirement home to hundreds of old aircraft over the years, however, some airports outside of the mega graveyards in Arizona, California, and New Mexico have found a way to scrap and store airliners. From tropical Florida to snowy Michigan, numerous airframes have found a permanent home prior to disassembly or repurposing without a trip to the desert.
Nashville, Tennessee
While the "Music City" isn't anywhere near being the largest airport in the United States, there is quite a large presence of abandoned airframes. The most commonly noted are the ex-Freedom Airlines Embraer ERJ-145s that are parked on the southern end of the airfield. A majority of these aircraft have been transitioned to Kingman, Arizona to join fellow regional jets but this still leaves a few in Nashville that are still bearing older liveries including the United tulip and the Delta "colors in motion." While the airport isn't an official graveyard, the ability to see exotic and colorful Embraer aircraft exists since the aerospace corporation operates a hangar at Nashville International (BNA). Located on the northwest corner of the airfield, it is possible to see a plethora of older models, including the Chautauqua Airlines ERJ-135s and ERJ-140s and returning leases from Asia and South America.
Located 11 miles south of Nashville International Airport, Smyrna/Rutherford County Airport (MQY) offers a small but more consistent and older range of abandoned airplanes. The airport has a small number of old Boeing 727s and smaller propeller aircraft. Some airlines that are represented in the Tennessee airport include Pan Am, Capitol Air, and Northwest Orient Boeing 727s and JetStream 41s previously operated by American Airlines, United, and Trans World Airlines. Most airframes haven't been kept in working condition and have  begun showning their age after sitting through the mixed weather in Tennessee. Some aircraft have been featured in filming, including the music video for country singer Jason Aldean's 2010 song "Fly Over States."
Kansas City, Missouri
The Midwest might be known for rainy springs and hot summers, but it is still home to a few graveyards. At Kansas City International Airport (MCI), the old Trans World Airlines overhaul base has received new life after American Airlines abandoned the building in 2010. Jet Midwest Aviation has now taken hold of part of the hangar as well as quite a few aircraft. The corporation specializes in selling aircraft parts and overhaul operations, which leads to a revolving door of aircraft flying into and out of Kansas City. Jet Midwest focuses their efforts on Boeing 767 and 747s, as well as older models like the McDonnell-Douglas MD-80 and Fokker 100s and 50s. The aircraft featured come from all over the world too, with previous aircraft operating for Avianca and Qantas appearing frequently outside the hangar, awaiting new operators or preparing for scrapping.
While the Harry S. Truman Regional Airport (2M1) sits outside of Kansas City limits (30 miles outside downtown), the airport still serves as a major airplane graveyard. The Bates City Airport is home to White Industries, a company which owns and scraps hundreds of private and commercial aircraft. Harry S. Truman Regional Airport is home to mostly general aviation airplanes, with older Cessna, Beechcraft, and Pipers dominating the scrapyard. Private jets are also common, with older versions of the Learjet and Cessna Citation awaiting their fate. Commercial aircraft are few and far between in Bates City but some older regional jets like the Fokker 27 and JetStream 41 still bear the colors of their previous owners like USAir, Northwest, United, and Gulfstream Airways.
Southeast Florida
Florida's wet summers and very humid temperatures might not lead to very good opportunities to park aircraft, but many airframes have begun to call the area home. Just north of Miami sits Opa Locka Airport, which serves as not only an executive airport, but also has a great spot to view some of the more rare commercial aircraft models. The airport is home to aircraft such as the Douglas DC-3, Boeing 707, and Antonov An-12 while also hosting older versions of the Boeing 737 and McDonnell-Douglas MD-82.
Other airports in the Miami area offer aircraft storage too, as even the large hub at Miami International Airport has seen many aircraft come in and take longer than normal to leave. SkyLease Cargo has left many Douglas DC-10s, MD-11s, and Boeing 747s scattered on the northeast corner of the airfield to use for parts for their active fleet of cargo aircraft. Most appear in basic SkyLease colors, however, some include older liveries such as MartinAir Cargo. The collapse of Russian carrier Transaero has also had an impact on aircraft storage in Florida, with the old fleet of Boeing 747s ending up in Melbourne, Florida. While the goal is to find a new home for the forgotten fleet, some airplanes have had their engines removed, showing that they will not be going anywhere in the near future.
Mississippi
Although some airports have taken a major role in acquiring older airframes, others have smaller operations which can still lead to some rare and old aircraft being parked outside of the Southwest. In Tupelo, Mississippi, Tupelo Regional Airport has become a graveyard to various widebody aircraft, specifically the Boeing 747 and Airbus A340. The airfield is mostly home to old Asian and European airlines' aircraft with companies like All Nippon Airways (ANA) and Lufthansa being a common sight. Roughly 90 miles southwest of Tupelo, Greenwood-Leflore Airport (GWO) also specializes in aircraft deconstruction. Greenwood started as a scrapyard for the Northwest Airlines DC-10 fleet, but has shifted to mostly narrowbody storage, with early versions of the Boeing 737 being the primary frames on the airfield.
Other Graveyards
Even though the Northwest fleet at Greenwood-Leflore isn't around anymore, Northwest's aircraft can be seen at the Laurinburg-Maxton Airport (MEB) in North Carolina. The airport is home to numerous Northwest aircraft including the Douglas DC-9 and DC-10, as well as the Boeing 727. The Northwest frames are spread around the western part of the airfield, appearing in both the Northwest Orient and 1990s "bowling shoe" colors.
Oscoda, Michigan, another small town roughly 150 miles north of Detroit, is home to Kalitta Air's maintenance base. The airline has parked dozens of Boeing 747s for parts use on their fleet. While most aircraft wear the basic Kalitta livery, others remain in their previous colors, including Star Airlines, Evergreen International, and Northwest Airlines Cargo. While Boeing 747s are dominant, other airframes such as the Boing 727 and DC-10 can also be seen.
The United States is full of aviation goldmines for those seeking the old and rare airframes. With airlines transitioning from older McDonnell-Douglas and Boeing models to newer aircraft like the Airbus A320neo, Boeing 777X, and Bombardier CSeries there will be a surplus of jets looking for future homes in storage yards, so check your state's airports because you never know what could be stored. And like any material property, these jets will not be around forever, so be sure to see them now before they are gone.
Although Ian McMurtry was never originally an avgeek, he did enjoy watching US Airways aircraft across western Pennsylvania in the early 2000s. He lived along the Pennsylvania Railroad and took a liking to trains but a change of scenery in the mid-2000s saw him shift more of an interest into aviation. He would eventually express this passion by taking flying lessons in mid-Missouri and joining AirlineGeeks in 2013. Now living in Wichita, Kansas, Ian is in college majoring in aerospace engineering and minoring in business administration at Wichita State University.
Latest posts by Ian McMurtry (see all)