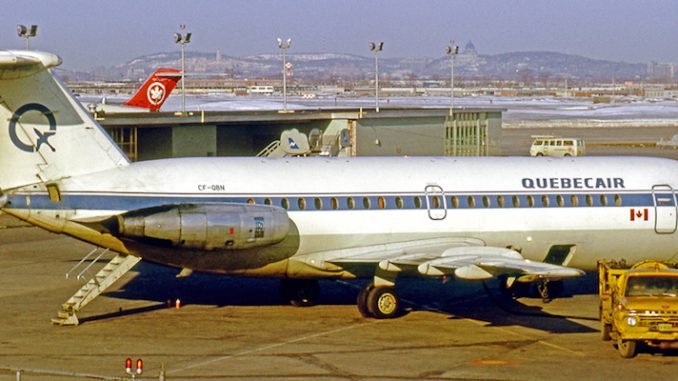 Founded in 1947 as Rimouski Airlines, Canadian airline Quebecair took its name in 1953 when the company merged with Gulf Aviation, and would grow to serve numerous cities across Canada over the next several decades. Their hub was based in Quebec until 1957, when Montreal became their main operating base.
In their early years, the carrier operated Douglas DC-3s, de Havilland DHC-2s, and Beech 18 turboprops. Throughout the course of their history, they also flew DC-4s, Convair 540s, Convair 580s, de Havilland DHC-6s, F-27s, F-28s, DC-8s, as well as Boeing 707s, 727s, and 737s.
During the mid to late 1960s, Quebecair took control of numerous airlines, including Matane Air Service, Northern Wings, Fecteau Air Service, and Royale Air. Later on, the carrier also acquired Air Gaspe. All of these acquisitions resulted in the ability to add more jet aircraft to the fleet, starting with the BAC One-Eleven and expanding to the Boeing 707 and 727.
Just a few years prior to their downfall, the airline served countless cities across Quebec, including Gagnon, Montreal, Quebec City, Havre-Saint-Pierre, Val-d'Or, Bonaventure, Rimouski, Saguenay, Blanc-Sablon, and Port-Menier, among others. Outside of Quebec, the carrier served Wabush, Newfoundland and Labrador, and Toronto, Ontario. Internationally, the carrier flew to Boston and New York City.
In 1981, Quebecair faced financial hardship, resulting in the selling of all aircraft types except for the F-27s and BAC One-Elevens. The One-Elevens were replaced with Boeing 737s in 1983. Difficulties arose once more in 1985 as the Canadian airline industry was restructuring. The diminishing financial situation caused the government to sell Quebecair to CP Air in 1986. CP Air later became Canadian International Airlines in 1987, effectively ending any trace of the once growing Quebecair.
Ashley is currently a senior in high school and plans on pursuing a career in aviation or journalism. Her favorite airplanes include the Boeing 777, 737MAX, and Airbus A350. She enjoys taking flights on various airlines to different airports and planespotting at her local airports.
Latest posts by Ashley Magoon (see all)