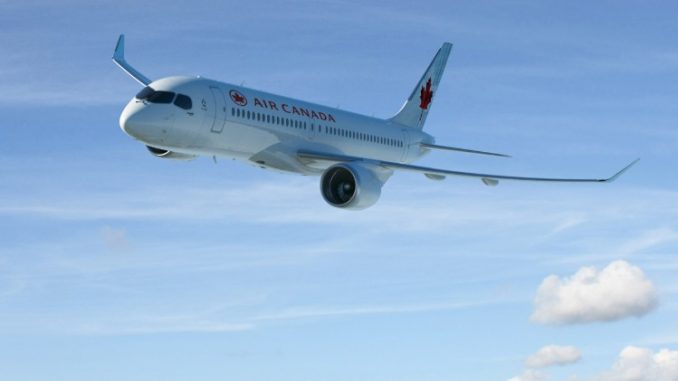 Air Canada and Bombardier Commercial Aircraft announced today that an order for C Series aircraft has been finalized.
The airline originally signed a Letter of Intent (LOI) in February 2016 for new C Series aircraft, and today finalized an order for 45 CS300 aircraft with options for an additional 30.
"We are proud to have Air Canada, one of the world's most respected airlines, as a C Series customer and look forward to building upon our long-standing partnership," said Fred Cromer, President of Bombardier Commercial Aircraft. "Finalizing this order ensures the strong momentum we've achieved with the C Series continues and further highlights the tremendous value the aircraft provides to our airline customers."
President and CEO of Bombardier, Alain Bellemare commented, "I'm pleased to officially welcome Air Canada to our CS300 family of operators as one of our largest customers and early adopters. As an innovative operator admired for successfully reinventing itself and, like Bombardier based in Québec, Air Canada, and the C Series aircraft are a perfect match."
The C Series family of aircraft is Bombardier's response to the competitive 100 to 150-seat aircraft market. The aircraft is a brand new design, which Bombardier estimates adds up to $13 million in additional value per aircraft.
The aircraft feature state-of-the-art technologies, advanced aerodynamics, and delivers greater than 10 percent unit cost advantage compared to similarly-sized aircraft. The C Series has a maximum range of 3,300 Nautical Miles and also features Pratt & Whitney PurePower® PW1500G engines, which constitutes a double-digit fuel burn reduction, lower emissions, and up to 50 percent reduction in noise.Additionally, the C Series aircraft offers 19-inch wide seats, the largest windows in the single-aisle aircraft market, and large overhead bins which can accommodate one carry-on bag per passenger.
Air Canada will begin taking deliveries of the new aircraft in late 2019 and extend to 2022. The list price for the order is $3.8 billion. Should Air Canada exercise its option for 30 aircraft, the price would increase to $6.3 billion.
Tyler has been an aviation enthusiast for as long as he can remember and is currently pursuing a Bachelor's degree in Aviation Administration with a minor in Social Media Marketing from Lewis University in Romeoville, IL. His preferred airline is United and his favorite aircraft is the Boeing 777 and 757. Tyler has his fourth-degree black belt in Taekwondo and is unlikely to be seen without Starbucks in his hand. He is also an avid plane spotter. Tyler always has a smile on his face and his eyes pointed skyward.
Latest posts by Tyler Tashji (see all)