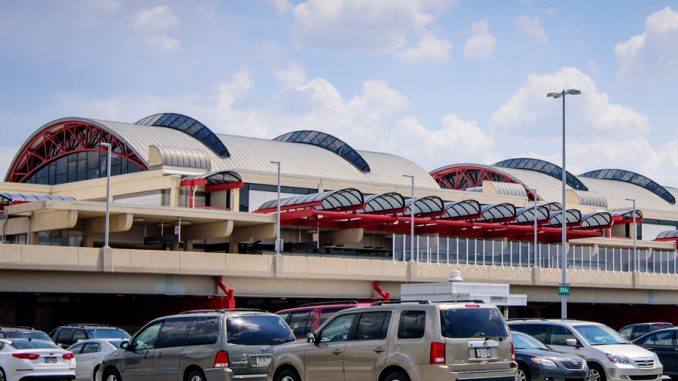 At the beginning of the 1990s, air travel through the mid Atlantic region of the United States was very simple. Legacy carriers had made various hubs through the region and even smaller markets were easy landing spots for potential carriers. However, industry in the "rust belt" had stalled and with manufacturing moving to other locations, the great days of mid Atlantic hubs was coming to an end.
Pittsburgh, PA – Pittsburgh International Airport (PIT)
In the Steel City the 1980s and early 1990s had seen the airport go through a modernization, new terminals were built to accompany the airport's hub operations for US Airways. The airport was one of US Airways' largest hubs while also being a consistent cash cow while the carrier looked to expand in other cities such as Philadelphia and Charlotte. However, following the 9/11 attacks and the decline in the public flying  out of PIT, US Airways' easy money at PIT had changed to a large red balance. In less than two years after the attacks, PIT had turned into a $40 million per year loss with US Airways also still paying the costs from the new terminal. The airport bargained with the city to lower landing fees and debt to keep PIT as an option, however, the city refused and with Charlotte and Philadelphia being larger and more profitable hubs for US Airways, the carrier decided to start removing flights from Pittsburgh.
The cuts started in 2003, with the airline removing less profitable routes and reducing frequencies from their PIT hub while also slashing workforce. The trend continued through the next several years, with the airport seeing US Airways flights drop from over 200 per day to just 68 by 2010 alongside the airline cutting thousands of jobs. The airport lost roughly 6 million passengers per year, dropping the passenger count from 14 million passengers to 8 million passengers between 2003 and 2010. The drop in passengers crippled western Pennsylvania and eastern Ohio, with Pittsburgh International Airport closing off 15 gates in concourses A and B as well as permanently closing Concourse E. The decline in service also led to US Airways dropping multiple Essential Air Service routes, including cities like Johnstown (PA), Lancaster (PA) and Morgantown (WV). US Airways' last major presence at Pittsburgh was their operations center, which was officially closed in August 2015 as part of the merger between American Airlines and US Airways.
While the continuing loss of US Airways had hurt the airport, the closure of routes and shifting operations opened the door for newer airlines to enter the Pittsburgh market. In 2003 USA 3000 started routes between Pittsburgh, the Caribbean, and Florida, going head to head with US Airways on some routes. JetBlue and Southwest followed suit in 2005 with flights that also competed head to head with the declining US Airways. More recently, airlines like Allegiant Air and Frontier have entered the market, promoting flights to Florida as a primary target audience. The expansion of these low cost carriers greatly helped PIT, resulting in the airport removing the barriers that sealed off the gates in concourses A and B and allowing the landside terminal to see full usage again. The airport has also attracted international attention, with Delta brining Europe back to Pittsburgh for the first time since 2003 with seasonal flights to Paris-Charles de Gaulle. Porter Airlines has broken Air Canada's monopoly on Toronto with flights to Toronto-Billy Bishop Airport. Further expansion could be possible, with Pittsburgh being shown as a possible international destination thanks to the Boeing 787 and Middle Eastern carriers like Qatar Airways name-dropping PIT as a possible mid-sized city for the airline.
Cleveland, OH – Cleveland Hopkins International Airport (CLE)
One of the most recent hubs to see the reduction of service and is still continuing to see cuts is Cleveland's Hopkins International Airport. The airport started the 2000s with the city being the third largest airport for Continental Airlines behind Houston-Intercontinental and Newark. Although the airport was never a "megahub" for the airline, the airport saw a consistent traffic count of around 13 million passengers per year. Despite the airport's smaller nature, Continental showed loyalty to the Cleveland market with remodeling Concourse C in 1992 and constructing a regional jet concourse (Concourse D) in 1999. The CLE market saw a drop in service at the start of the 2000s, with the slowing aviation community resulting in a drop from 13 million to 11 million passengers per year.
Despite a drop in passenger count, Continental continued to operate as the largest carrier for Cleveland. The trouble for the city started to arise in 2009, Continental had to go into cost cutting measures due to the US recession of 2008. Cleveland was the one the downside of cuts, seeing international service to Paris and London suspended and passenger counts drop another two million. Continental continued to raise alarms for CLE by announcing their decision to seek out a merger with United Airlines. With the merger announced in 2010 and becoming a reality, Cleveland was given one chance by new United Continental Holdings CEO Jeff Smisek to prove it was profitable or be cut as a hub in favor of other United hubs such as Chicago O'Hare, Newark, and Washington-Dulles. The airport faired well enough to hold out till 2014, however, with United bleeding cash, Smisek announced that Cleveland would be dehubbed, saying that CLE was unprofitable and hadn't been profitable since the start of the decade.
United dramatically scaled back operations at CLE in 2014, closing Concourse D and reducing their presence at Concourse C. Despite closing Concourse D, United is still locked into an agreement with the city to hold onto Concourse D until 2027, paying $13,349,784 in operating costs a year. United operations at Concourse C have reduced to just 14 gates, leaving gates C1-C14 unoccupied until American Airlines moves to them in late summer 2016.
With United pulling flights from CLE, airlines were quick to pounce on opportunities for new flights. Delta beefed up service while low cost carriers Frontier and Spirit Airlines added multiple routes to leisure markets from Cleveland Hopkins. The increase in service has aided the loss of the United hub with traffic only dropping 1 million passengers per year since the dehubbing in 2014. The move of American Airlines to Concourse C allows for Frontier and Spirit to continue to expand at Concourse A with the two ultra low cost carriers looking to new markets for CLE. Cleveland, despite losing their hub status, is still hoping for European service to resume, with airlines like British Airways namedropping Cleveland as a possible landing point for their Boeing 787 service.
Columbus, OH – John Glenn Columbus International Airport (CMH)
Being situated between hubs such as Delta's Cincinnati base and United/Continental's Cleveland base has made it hard for airlines to set up hubs at Columbus. However, the city got its chance to be a hub in the 1990s with the arrival of western low cost carrier America West. The airline operated mostly regional jets in what was only 49 flights per day from the airport. The hub lasted through the 1990s but the damage done to the aviation community from 9/11 quickly made Columbus an unprofitable hub. America West reduced flights in 2003 and cut the hub, leaving operations at just four flights per day to two destinations (Phoenix and Las Vegas) on Airbus A320s. The loss of the hub for America West hurt the airport, leading to a 7.25% decline in passengers from 6.7 million to 6.2 million. The airport returned to its non hub status through the mid 2000s with hopes that a proposed start up carrier Skybus Airlines would help grow the Columbus market.
Skybus finally became airworthy in May 2007 and immediately helped the Columbus market with passenger counts rising over 14% between 2006 and 2007 and for the first time Columbus's passenger count reached above 7 million travelers, with 7.7 million people in 2007. However, the hub didn't last; Skybus' vision of a ultra low cost RyanAir and Southwest hybrid was flawed and with the aviation community just starting to pull out of the damage caused by 9/11 Skybus never turned a profit. The airline suspended operations in early 2008 and once again Columbus's numbers fell. The airport's passenger count dropped 10% in 2008 and a further 10% in 2009 with the market falling back to roughly 6.2 million passengers per year.
Since the fall of Skybus, the airport has seen mild success with airlines like Frontier and Southwest, with both starting new routes here and there to help the city and to overall help rise passenger counts by a few thousand people per year. Delta has also contributed with seasonal services on regional jets to cities such as Ft. Myers and Miami and international service to Cancun.
Although Ian McMurtry was never originally an avgeek, he did enjoy watching US Airways aircraft across western Pennsylvania in the early 2000s. He lived along the Pennsylvania Railroad and took a liking to trains but a change of scenery in the mid-2000s saw him shift more of an interest into aviation. He would eventually express this passion by taking flying lessons in mid-Missouri and joining AirlineGeeks in 2013. Now living in Wichita, Kansas, Ian is in college majoring in aerospace engineering and minoring in business administration at Wichita State University.
Latest posts by Ian McMurtry (see all)