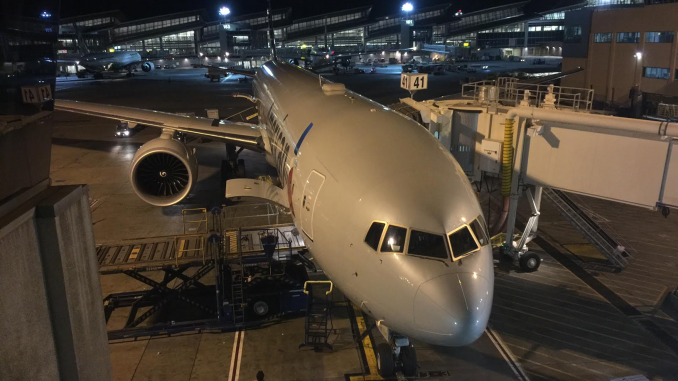 It was a cold, snowy January afternoon as I was looking at flights online, and I couldn't help but be dreaming of a warmer destination. I've always wanted to go to Australia, and figured this would be the perfect time to visit. It was summer time down under, which meant a perfect time to get away from the frigid weather. I was really excited to try out American's new service to Sydney after if was announced, and was really looking forward to business class on this long-haul flight.
I arrived at Los Angeles International (LAX) on my connecting flight from New York (JFK), and had about two hours before boarding. I decided to go to the Admirals Club, have a shower and grab a little snack. I didn't want to eat too much, as I was looking forward to the enhanced meal service on this flight. This was a recent addition by American to offer the better meal service to match their codeshare partner, Qantas. Even though it was departing so late at night, I was going to go for the full meal service so I could see how it stacked up to the competition.
After an enjoyable time in the Admirals Club, I headed down to gate 41 and boarded my shiny Boeing 777-300ER bound for Sydney. I really enjoy American's 777-300ER, and have had the pleasure of being onboard it many times to Hong Kong and London in all classes. The business class has to be among my favorite because it is very functional, easy to use and comfortable. The seat style, known as "reverse herringbone," is private enough with easy to use seat controls. There is plenty of storage space, and with all aisle access, it's easy to get up at any time. After sitting down, an amenity kit, pillow, and blanket were waiting at the seat for me. Friendly flight attendants came by and offered to hang up any coats, as well as to offer a pre-departure beverage of champagne, orange juice or water. The flight attendants came by again shortly after with a menu and pajamas, a first for American Airlines business class.
We pushed back on time and headed to the runway, ready for our 14 hour flight to Sydney. Soon after takeoff, the WiFi was activated and I logged in. Having used the system before, I can say it's hit or miss. Sometimes it will work great, and other times it won't. Thankfully on this flight, the WiFi was working well. I am grateful that American has chosen to offer internet packages based on time and without a data limit, rather then just data used as some of their competitors do. The data limit WiFi packages add up quickly, and tend to be consumed almost instantly solely based on loading pages.
Soon after take off, the flight attendants sprung into action and started the meal service. By this time it was already 11 at night and most people were dozing off, but I was ready to give the full meal service a review. Flight attendants came around to take our drink and dinner order. They came back with some warm mixed nuts and champagne, a staple in American Airlines business class. After offering me seconds and thirds for both the nuts and champagne, they came by and laid out the table linens and set the table. My grilled beef filet came out with a side salad, bread, and was served a nice Australian red wine with it. It was delicious and cooked perfect. Not too rare and not over cooked. Just perfect!
Once I was finished, the table was cleared and I was asked what I would like for dessert. I was so full, but for the sake of this review I pushed myself and picked between chocolate fudge brownie ice cream, chocolate raspberry mousse, and a cheese selection. I've done the ice cream thing so many times, so I went with the chocolate raspberry mousse. It was the perfect amount of creamy, and the raspberry only added to the flavor. I had a cup of tea with it to finish off, and then had the table cleared.
Service was quick, and the flight attendants were proactive in getting refills and clearing plates as soon as passengers were done. It was late now and I wanted to get some rest, but couldn't fall asleep right away. I put on a TV show and watched about an episode and a half before passing out. I woke up about halfway to Sydney, and was surprisingly hungry. The flight attendant noticed I was up and asked me if I wanted anything to drink or eat. I ordered the wagyu beef sliders and a Diet Coke. I tend to not sleep much on planes, so after that nap I was pretty wide awake and willing to check out a movie or two to pass the time before we landed.
I got up to stretch my legs and use the lavatory, stopping by the walk up bar on the way to see the spread. I wasn't hungry at the time, but American has a wide variety of food and drinks sitting out for first and business class passengers to help themselves. I went back to my seat and closed my eyes and before I knew it we were about an hour and half outside of Sydney. The flight attendants came around and offered us two meal selections for breakfast. I went with the traditional American breakfast and it was very good. Just enough food to get me though my morning in Sydney.
The flight attendants were busy serving all the passengers and getting the cabin ready for arrival at the same time. On a long flight like this, there is a lot of service items to collect and put away. About 30 minutes out of Sydney all the window shades were opened as the captain told us our flight plan would take us right over the city and we would get a great view. It was a little cloudy, but was cool to see Sydney from that perspective. We arrived 10 minutes before our scheduled arrival time and we were off the aircraft very quickly and into Sydney.
The flight was fantastic and the time went by quickly. You can tell American is investing significantly in their product and service to get to the level of Qantas on this route. This is a great addition to the other new long haul routes out of LAX for American including Auckland and Hong Kong, and with a great business class product, will be a route I wouldn't hesitate to fly on once again.
Alex always had a passion for commercial aviation since his first flight back in 1987. He is a loyal American Airlines Executive Platinum member and has flown over 650,000 miles on over 30 different airlines since 2006. Alex loves spending time in airports and planes and is known for his crazy mileage runs. In his spare time he enjoys traveling to new and adventurous places. Alex enjoys flying new airlines to see different passenger experiences while in the lounge, on the ground or up in the air.
Latest posts by Alex Navitsky (see all)