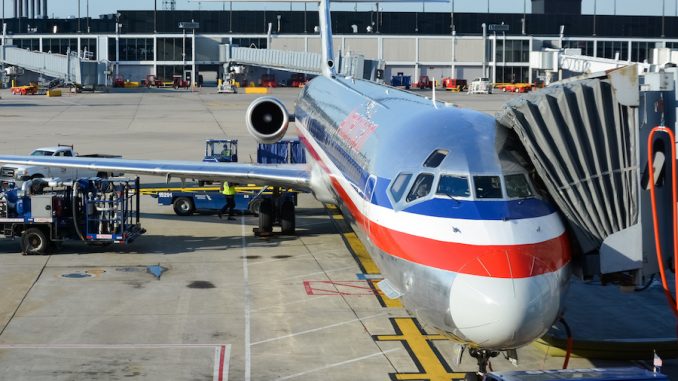 Tuesday may have been a normal day of hard labor for most commercial aircraft but for 20 American MD 80s, it was retirement day.
"It's a bittersweet day as we say goodbye to so many of our 'mad dog' (aircraft) but we look forward to bringing in newer aircraft to provide a more modern and comfortable experience for our customers," said an American Airlines employee.
On August 23rd, a day titled the "Super 80 Send Off" day, American Airlines sent 20 McDonald Douglas MD 80s on their last revenue flight and to their final resting place in Roswell, New Mexico. However these airplanes did not go out without putting their fair share of work.
The average age of these aircraft was 27.5 years. The oldest airplane, N403A, worked until the age of 30. Three aircraft tied for the youngest, tail numbers N9402W, N9404V, and N9401W, were all delivered to American in 1992 by TWA Airlines and are still currently under lease to American. In total, 1,604,622.10 hours were flown by these twenty airframes carrying an estimated total of 90,558,048 passengers. Here is a full list of the aircraft being retired, along with their corresponding ages:
N7520A – 1990 – 26-years-old
N70504 – 1989 –27-years-old
N403A – 1986 – 30-years-old
N481AA – 1988 – 28-years-old
N569AA – 1987 – 29-years-old
N477AA – 1988 – 28-years-old
N479AA – 1988 – 28-years-old
N564AA – 1987 – 29-years-old
N499AA – 1989 – 27-years-old
N9402W – 1992 – 24-years-old
N571AA – 1987 – 29-years-old
N485AA – 1988 – 28-years-old
N9404V – 1992 – 24-years-old
N486AA – 1988 – 28-years-old
N570AA – 1987 – 29-years-old
N482AA – 1988 – 28-years-old
N565AA – 1987 – 29-years-old
N436AA – 1987 – 29-years-old
N9401W – 1992 – 24-years-old
N493AA – 1989 – 27-years-old
The decision was due to American's plan to replace their fleet of "Mad Dog" aircraft with more fuel-efficient aircraft such as the Boeing 737 or Airbus A319/A321. The airline now has 61 MD-80 aircraft in their fleet, a number which is anticipated to descend to 52 by the end of 2017.
But if you're a fan of the MD-80 aircraft, don't worry, you still have plenty of time to see the airframes flying in the old American livery as their is no plans for an accelerated retirement. The McDonald Douglas 80 series can also be seen rocking Delta and Allegiant colors in the United States. Other airlines still operating the "Mad Dog" include LASER Airlines, Kish Air, Bulgarian Air Charter, or Far Eastern Air Transport, to name a few. .
The MD-80s could be seen on sites such as FlightAware and FlightRadar24 all headed to their resting place in New Mexico arriving in sequence of one every five minutes. American employees were on-site to watch each bird touchdown and fill out its final paperwork as the pilots cut the engines for the final time.
The aircrafts' graveyard in Roswell, also known as a "boneyard," is located in the Western deserts because the dry, desert heat helps to preserve the aircraft parts.
Many forms of planes come and go but never ones with the success that the MD-80s have been able to provide airlines for over 30 years.
Matthew Garcia became interested in aviation at the age of 12 when he installed Microsoft Flight Simulator X on his computer. He was instantly "bitten by the bug" and has been in love with aviation ever since. Matthew took his first introductory flight in 2013 and began normal flight training in February of 2015. Over the years, Matthew's love and knowledge for aviation has grown tremendously, mainly due to FSX. Garcia flies highly advanced aircraft in a professional manner on a highly complex virtual air traffic network simulating real world flying. In 2016 Matthew achieved his private pilot certificate from the FAA. Now he studies journalism at the University of Nebraska at Omaha.
Latest posts by Matthew Garcia (see all)