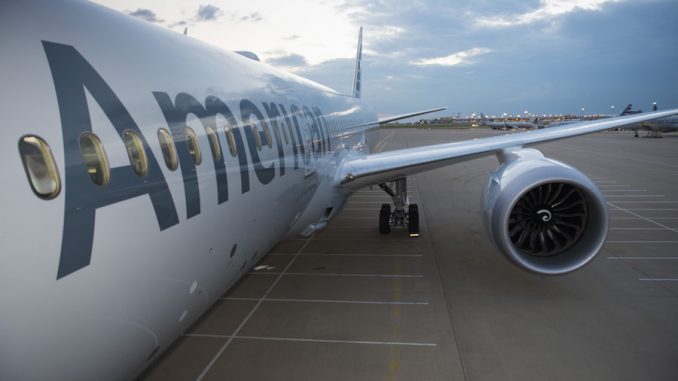 In reflection of their fleet modernization efforts, American has taken delivery of their first 787-9 Dreamliner. The extended Dreamliner variant was delivered to the airline on Tuesday from Boeing's manufacturing facility in Charleston, South Carolina.
American's new 787-9 Dreamliner has 285 seats, with 30 business class seats, 21 premium economy seats, and 234 economy seats. The aircraft is the first to feature the new premium economy cabin which is in a 2-3-2 seating configuration.
N820AL is the first of 21 787-9s currently on order for the airline. The 787-9 variant is approximately 20 feet longer than the 787-8, which American also operates, and can hold about 40 more passengers.
On October 4th, the new aircraft will commence service from DFW to London Heathrow. On October 6th, the 787-9 will fly domestically between Dallas and Los Angeles.
The new Dreamliner will regularly operate flights between DFW and Madrid, along with Buenos Aires starting on November 4th.
The 787-9 glistened in the Texas sunset upon arrival in Dallas earlier this week. Check out the photos below:
*All photos provided by American Airlines
Ryan founded AirlineGeeks.com back in February 2013 (actually, it was called Aviation Official, but we've changed a bit since then). From being on the yoke of a Piper Navajo, to visiting about Delta's operations center in Atlanta, Ryan has done it all. in 2016, along with American Airlines, Ryan masterminded AAviationDay at more than 10 locations around the world. The smell of jet fumes in the morning along with the countless number of passionate airline employees keep him enthralled in the industry, always seeking more. You can find him helping out travelers at Reagan National Airport near Washington, D.C. when he's not doing something for AirlineGeeks.
Latest posts by Ryan Ewing (see all)