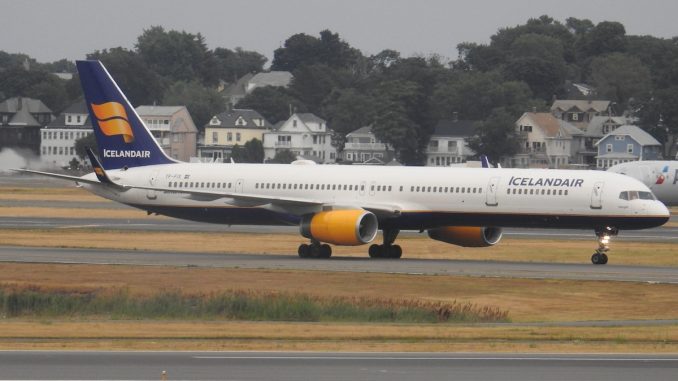 When it comes to flying between Europe and North America, travelers are offered a wide variety of choices. From low-cost carriers like Norwegian to flag carriers such as KLM and British Airways, the options for flights across the pond can become overwhelming. Living in the Midwest opened up even more options for my family and I t o pick a departure point for a two week vacation in Europe. Everything from Minneapolis, to Dallas to New York was being considered. After browsing through dozens of options, we agreed that we would fly to Boston on Southwest and catch Icelandair to fly Boston – Keflavik-Paris (Orly) for roughly $750 round trip via Icelandair's #MyStopover program. This option was $50 per person cheaper than Norwegian's New York-JFK to Paris-Charles de Gaulle flight, and $250 cheaper than Air France's nonstop Boston – Paris flight. Flying in the night prior, we spent one night in Boston before flying Icelandair the next day.
Flight One
Icelandair Flight FI630
Seat: Economy 23F
Scheduled Departure: 9:30pm
Scheduled Arrival: 6:30am
Aircraft: Boeing 757-308 TF-FIX "Hengill"
We arrived at the airport well before the Icelander check-in counter opened due to the hotels making their latest check out time 2PM. The Icelandair counter opened around 5pm and we checked our bags for their journey to Paris. The whole process was under 10 minutes and security was a short five-minute wait.
While the airside of Terminal E is quite spacious, landside suffers from overcrowding, specifically on the northern part of the terminal. Our Icelandair flight was scheduled for departure from gate E6A but was the third airplane out of E6A in a two hour block, right behind an Air Berlin flight to Dusseldorf at 8:10pm and Alitalia to Rome at 8:45pm. Gate E6A is located right next to E6 and sits right at the exit of security. Due to the high number of passengers traveling though the E6 gates, the lines block the flow of passengers, and can even flood into the security checkpoint.
Our aircraft, TF-FIX, touched down in Boston at 7:05pm as FI631 and was moved to a distant ramp until it was time for boarding. At the gate, Air Berlin was loaded and the gate closed on time for the German carrier, however, Alitalia was disorganized. Around 8:30pm, the airport made a call out for an Alitalia gate agent to attend to a stranded passengers at gate E6A. To make matters worse, the boarding lane signs for Air Berlin weren't removed, leading most passengers to assume the few passengers lined up were going to Dusseldorf. The call for a gate agent rang out again at 9:30pm as both Alitalia and Icelandair passengers and crew were growing impatient.
It was at this point that FI630 was moved from E6A to gate E1A. Icelandair passengers and crew arrived at E1A as the gate closed on the El Al flight that previously used the gate. After El Al had pushed and taxied out, TF-FIX was brought over and boarding starting around ten minutes to 10:00pm. Passengers were offered a small bottle of Icelandic water upon entering the aircraft, and pillows and blankets were already folded on each chair. After boarding completed, our flight closed its doors around 10:20 and departed runway 15R at 10:40pm, one hour and ten minutes behind schedule.
After climbing up to 38,000ft, the flight attendants started their routine service. Icelandair does a great job promoting local Icelandic products, offering everything from Egils Appelsin orange soda to Skyr yogurt, as well as showing ads for tours like whale watching and volcano tours that you can take while in Iceland. With the aircraft being a flying advertisement for Iceland, Icelandair's Northern Lights overhead lighting system truly captures the essence of Iceland and the natural beauty of the country, with various shades of blues and greens dancing along the roof. After consuming champagne along with a ham and cheese sandwich, I settled in for the remainder of the flight.
At this point most of the passengers had drifted off to sleep, with some utilizing the main aircraft doors' extra floor space as a way to spread out. For the few that remained awake, most took advantage of Icelandair's free inflight entertainment system. The IFE on Icelandair offers a wide arrangement of movies and TV shows, including videos of the company's history, local Icelandic movies and Hollywood blockbusters such as Frozen and Deadpool. The addition of a USB port to the IFE base is easy to use for smaller electronic devices, but the lack of a major outlet might annoy those who are looking to charge larger computers.
The flight attendants made two more passes through the cabin, one to offer more Icelandic water and another to clean up trash prior to landing. The flight started descending into Keflavik around 6:50AM, and within a half hour Icelandair FI630 had touched down on runway 11 at 7:18AM, roughly 50 minutes behind schedule.
Due to the shear size of Keflavik's traffic numbers compared to the terminal size, we were one of six aircraft moved to one of the hardstands off either end of the terminal complex. People were offloaded onto buses and delivered to the North American gates at KEF. The addition of the bus and going through customs was enough to allow us to miss our connection at KEF, with the gate for the flight to Paris-Orly closing at 7:40AM.
Flight Two
Icelandair Flight FI542
Seat: Saga Class 5A
Scheduled Departure: 7:40AM
Scheduled Arrival: 12:35PM
Aircraft: Boeing 757-256 TF-FIS "Grimsvötn"
Despite knowing that our flight had left, we arrived at gate C35 for Icelandair to rebook us. Upon arrival, we found the gate abandoned and a Icelandair crew member from the gate next door came over to tell us that passengers who missed the flight to Paris-Orly were to go to gate C28 and the remaining seats on the delayed flight were offered as on first come first serve basis for FI542 to Paris-Charles de Gaulle. We sprinted to gate C28 to discover the 7:40AM departure was delayed till at least 8:00AM. We approached the Icelandair counter and handed over our boarding passes from FI548. Since we were in a group of four, we were offered the only group of four seats together, Saga Class row 5, seats 5A, 5C, 5D, and 5F. As we proceeded to take our seats, a small line of other people looking for a flight to Paris arrived at the check in desk.
Water was once again offered as soon as we arrived on the aircraft, and the flight attendants pointed us to our seats. Due to passengers being rebooked onto FI542, the flight pushed back over an hour late at 8:47AM from the gate and was one of the last Icelandair flight to leave for Europe. We departed the mostly clouded skies of Iceland, and the flight crew went right to work starting their beverage service off the southeastern coast of the carrier's homeland. I opted for the Egils Appelsin, but the majority of passengers on the flight chose juices and coffee due to the early hour of the flight.
The Saga Class seats on Icelandair offer over 3 inches of more width and 8 inches of pitch, and with Saga's extra legroom the upgrade allowed me to sleep even better than on FI630. While I was asleep, the flight crew once again offered bottled water and came through to collect trash over the English Channel. We started our approach into Paris over Amiens, France and wheels officially touched down at 1:35PM, exactly one hour late.
Since we already went through customs in Iceland, we were able to walk directly off the plane to the baggage area when we deplaned. However, since it was a first come first serve for seats on FI542, the baggage crew wasn't able to load our bags since they weren't informed what flight we were on. After a quick conversation with the baggage office for Turkish Airlines, who work baggage service for Icelandair, allowed us to rest assured that our bags would be on Icelandair next flight to Paris-CDG and would be delivered to our hotel by 2PM the next day. The promise was kept and our bags were delivered while we were touring Paris.
Overall Review
Icelandair continues to offer high quality service considering that the airline has faced increased competition from low-cost carriers such as EasyJet and WOW Air. The ability to stretch your legs and break up a long haul flight while also only arriving one to three hours later than a nonstop is a great option to have, especially when the flights are cheaper than the nonstop. The only negative is the tight layovers in Keflavik, which isn't a great airport to get stuck at considering most flights are offered once a day. However, it is better to utilize Icelandair's fairly large route map and avoid airports that tend to see delays such as Boston and New York, as it will help maximize your layover time in Iceland.
My only other negative take away is that Icelandair actively promotes their #MyStopover program, but will not inform passengers of connecting flight information. Similar to how other carriers operate, I would love to see Icelandair include connecting gate information in the IFEf or announced prior to landing since Keflavik can become easily blocked with passengers looking at flightboards. Despite these two personal gripes, it is pretty easy to see how Icelandair has gained popularity over the last few years and has taken advantage of its geographical location.
Although Ian McMurtry was never originally an avgeek, he did enjoy watching US Airways aircraft across western Pennsylvania in the early 2000s. He lived along the Pennsylvania Railroad and took a liking to trains but a change of scenery in the mid-2000s saw him shift more of an interest into aviation. He would eventually express this passion by taking flying lessons in mid-Missouri and joining AirlineGeeks in 2013. Now living in Wichita, Kansas, Ian is in college majoring in aerospace engineering and minoring in business administration at Wichita State University.
Latest posts by Ian McMurtry (see all)