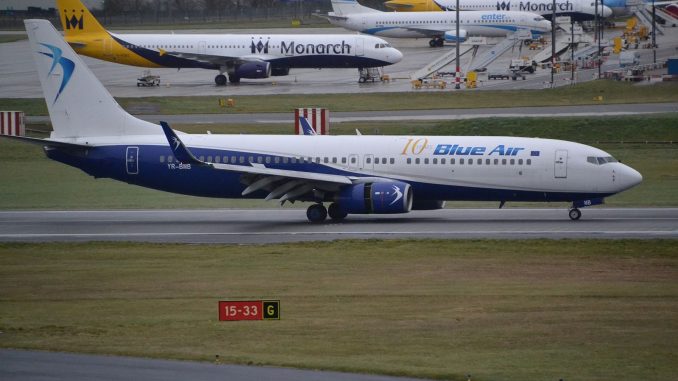 Romanian carrier Blue Air has announced a further growth strategy for their Liverpool operations. The airline has stated that Liverpool is to be their 8th European base for an expansion of operations.
Blue Air will have one 189-seat Boeing B737-800 at Liverpool by the beginning of summer 2017. Furthermore, on top of this new base announcement, the airline will be launching four new services from John Lennon:
1 daily flight to Rome Fiumicino
4  weekly flights to Milan Bergamo
4 weekly flights to Hamburg
3 weekly flights to Alicante
These flights will complement Blue Air's existing operations from Liverpool to the Romanian destinations they currently serve being Bucharest, Bacau, and Cluj-Napoca. The airline began serving Liverpool in December 2014 and recently added the Cluj-Napoca service in June 2016.
In the past two years of operations, the airline has carried almost 120,000 passengers on flights to and from Liverpool. Blue Air is currently experiencing strong growth as they have forecasted a 50% increase in passenger traffic across their network by the end of 2016, which should reach a new record high of 3.2 million passengers carried by the Romanian airline.
Blue Air's CEO Gheorghe Racaru commented on the expansion of their Liverpool operations saying, "Today is a historic moment for both Blue Air and the Liverpool City Region as we announce our eighth base at the airport, adding four routes. In fact, we are going to put three brand new destinations on Liverpool's route map, by flying directly to the currently unserved cities of Rome, Milan and Hamburg, which are likely to be popular with customers travelling for both business and leisure. Additionally, we will offer the region's passengers an increased choice with our Alicante service. The UK is a strategic market for Blue Air and we strongly believe that basing a 737-800 at Liverpool will allow us to strengthen our position as one of Europe's fastest growing airlines. By making travel easy, convenient and affordable for local passengers, we will firmly establish the Blue Air brand in the region. We will also create a number of local jobs too as we look to employ several cabin crew staff, pilots and engineers from the Airport's local catchment area."
Racaru also commented on Blue Air's commercial performance adding, "Our commercial performance continues to be robust across our network comprising more than 80 routes now, with particular strength on city routes used by business and short break leisure travelers. These results demonstrate the success of our strategy and we will continue to further develop this trend in Liverpool."
Andrew Cornish, Liverpool Airport's CEO, commented on the route expansion and also Blue Air's strength in the market by saying, "Since day one of Blue Air's operations from Liverpool they have gone from strength to strength and this latest development is the natural next phase of their continued expansion. Blue Air are creating something special here. They very much want to be a part of the region's renaissance by investing in an area where they see tremendous opportunities to successfully grow their business, at the same time as creating local employment and attracting inward investment."
This has direct benefits for Liverpool's local economy as well as for Blue Air. The new base will create up to 35 new, direct, and local jobs ranging from either pilots, cabin crew, or engineers. Blue Air has also stated that the recruitment process for this has started and will aim to fill all vacancies before they open their base in March – April 2017.
The base opening also means that the Romanian carrier will be a major contender within the Liverpool market and compete with the likes of easyJet and Ryanair, who also have significant operations at Liverpool and also operate to some of the routes that Blue Air is intending on operating. such as the Alicante route. The positive to this is that although there could be saturation in the market in terms of operating to the same destinations as competitors, it also enables seat prices to come down and allow for more seats to be offered on an annual basis.
In addition to offering more seats on saturated destinations, the base opening will be beneficial for Liverpool's tourism industry as Blue Air has teamed up with local businesses. Blue Air CEO Racaru commented on this arrangement, "Blue Air is now part of Liverpool and the City Region and on this special occasion, I invite all Liverpudlians to experience our top-quality service. Lastly, thanks to the close cooperation with Liverpool Airport and Visit Liverpool, we look forward to investing significantly and helping to sustain the local economy, and subsequently increasing our presence at the airport with even more air links in the coming months."
The route expansion for Blue Air has been very fast as two weeks before (September 20th-22nd), the airline announced new routes to Tel Aviv, Larnaca, Copenhagen, Bordeaux, Berlin, and Valencia starting from June 2017.
James is a passionate AvGeek who has been actively spotting for years. James has been an Aviation Enthusiast for 7 years and has a fond likening to Concorde! James hopes to grow in the aviation industry with journalism being his primary focus.
Latest posts by James Field (see all)