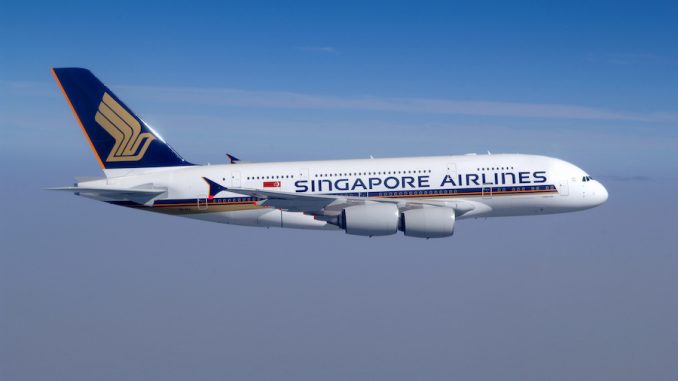 Date: 9/1/2016
Flight: SQ 11
Class: Business
Seats: 18D & 18E
Flight Duration: 10:30
Introduction
With it being our first time flying out of the Tom Bradley International Terminal (TBIT), we arrived nearly three and a half hours before our flight to explore. The check-in process went smoothly at the Singapore Airlines kiosk, and we were informed that our flight would be stopping at Tokyo-Narita before continuing on to Singapore.  Luckily for us, we would be disembarking in Tokyo, so there was no need for a connection.
After having our bags tagged appropriately, we proceeded to see the chaotic security line that awaited us. Several staff members of the airport had effectively created a bottleneck at the bottom of the escalator, allowing a small group each time to proceed to the security area. After waiting about ten minutes, it was our turn to go up the escalator. It is important to note that there is still a line upstairs, and premium expedited lines for security only occur very close to the security check.
All in all it was a 30 minute affair passing through security, and it was time to briefly explore TBIT and the Star Alliance Business Class Lounge. It is truly amazing seeing the vast difference between most terminals at Los Angeles International (LAX) and TBIT, as the new international terminal sets the stage with a wide mix of restaurants, natural lighting, and more.
The Star Alliance Lounge
With Tom Bradley International serving a vast array of global airlines, it seems to have made the most sense to divide out lounge space partially by alliance. While several carriers still operate their own lounge at the airport (such as Etihad and Qantas), Singapore Airlines premium customers have access to the Star Alliance Business or First Class Lounge, depending on their class of service.
We quickly took the elevator up and were greeted by the Star Alliance staff. The group offered a brief introduction since we had never visited the lounge before, detailing the buffet set up and food options, seats facing the concourse, shower area and of course, the outdoor lounge space.
We opted to head straight for the food and eating on the inside deck facing the terminal. Thankfully there were no shortage of good options, and we were able to create our own Asian-style noodle bowl, as well as pick out some great cheese options, fruit and a mimosa. Mine as well start the trip off nicely, right?
While the food was great and the concourse deck was nice, the truly fun piece of the lounge was the outdoor deck. Perfect for the California weather, the deck includes many seat options and a beautiful façade. There is also plenty of shade in case the sun gets to be too much. My one disappointment with the outdoor area was the lack of activity. It was afternoon, and very few waiters were actively helping customers in the area. This might be a part of the lounge better utilized for the evening flights when it's a bit cooler, but I was very much looking forward to having a drink and looking out onto the ramp.
Before we knew it, it was about an hour before departure, and time to board our massive Airbus A380 aircraft. After asking politely, the Singapore Airlines staff was more than willing to allow us to board just a few minutes early to grab some photos before all of the passengers sat down.
Boarding and The Flight
Our first stop before boarding officially began was on the lower deck of the massive jet to check out the first class suites. One of the largest seats in the sky, the suites have their own doors, large screen television and "Book the Cook," a unique experience that allows you to pick a special meal in advance that would otherwise not be served onboard. The service is also offered for business and premium economy passengers, but is extra special up front. In addition, the two Suites in the middle of each section can be converted into a full bed, making it a perfect option for couples traveling together.
Behind the first class suites were the new premium economy seats. Advertised as an in-between of economy and business, the seat reclines slightly more than your average seat and also has a foot rest. It comes with a special pillow, larger screen, and a small selection for "Book the Cook."
Finally, we had reached our seats on the upper deck. Singapore Airlines is unique in that it has two variants of the Airbus A380 seat configuration, with one of them including the entire upper deck as business class, and the other having economy toward the back. We were lucky to be in the latter, and were seated in row 18 with the bulkhead. While the bulkhead is a coveted spot for travelers in economy within the United States, it also has some value onboard Singapore's A380. Most of the seats have small cubby areas to set your feet while sleeping, but the bulkhead seats have a full bench, leaving you endless space to relax your feet or sleep. Once seated we were offered a glass of champagne, with nuts following shortly thereafter.
Our aircraft was running just a few minutes behind, and after a long taxi at LAX, we were airborne and on our way to Tokyo. Second rounds of drinks were offered, and having lived in Singapore for a summer I opted to order a Singapore Sling. It may be the tourist drink of choice, but it sure hits the spot.
I ordered the beef filet as the main course from the "Book the Cook" menu, and all I can say is "wow." The beef was cooked a perfect medium, which is impressive for being at 30,000 feet. Along with the appetizer of shrimp, prosciutto, and cheese, the meal was off to an excellent start. There was also garlic bread too, which happens to be my favorite. I finished the meal with a cheese plate and some Ben and Jerry's cherry ice cream. While ice cream is one of my favorite desserts, it would have been great to have offered a few other flavors as cherry is not usually one of my top picks. Regardless, the beef filet left me full and ready for a good night's rest.
Unlike many other business class products for other airlines, Singapore's product onboard the A380 requires you to flip over the back of the seat in order to make it lay-flat for sleeping. Once it is put together the product is fantastic, but it can be a bit frustrating to have to decide between a little recline and a fully lie-flat bed after dinner. Luckily Singapore is currently updating their business class onboard their Boeing 777 and Airbus A350 aircraft, with the new seats offering much more functionality. Once the bed was set with a thin cover, two pillows and a duvet, it was time to fall asleep.
I don't think I can comment enough on how spectacular the crew was onboard this flight. The Singapore model of extra care really made all the difference. I was constantly offered more to drink, as well as if I needed anything to make my flight more enjoyable.  One of the "small touches" came just before bed, when the crew member asked if I wanted to be woken up before the next meal, or to sleep through it. I asked to be woken up, as I knew I would be quite hungry.
With the meal service taking just over an hour and starting an hour into the flight, I realized we had about 6 hours to sleep before it was time to wake up for our pre-departure meal. The flight time of SQ 11 is unique because it leaves Los Angeles in the mid-afternoon, it arrives into Tokyo in the evening. Therefore, two dinner meals are served.
The bed was quite comfortable and the two pillows really made a huge difference. Other passengers have noted that the temperature can get very warm onboard Singapore, especially near the front of the aircraft. I noticed this as well, and was surprised to find that others were sleeping just fine. Luckily after changing into my airline pajamas, it felt somewhat cooler, or at least enough to fall asleep. Before I knew it I was asleep, and woke up with just over two hours to go before landing.
Sure enough just as requested, the same crew member came by and woke me up prior to landing. Unfortunately for the second meal option, choices were very limited. I went with the pork burger which left much to be desired. Luckily the desert swooped in and saved the day, with a nice tiramisu offering. I also ordered a cappuccino to help wake up a bit. Upon our descent, we were able to get a quick look outside to see the beautiful sunset in the distance.
Following a smooth descent into Tokyo-Narita, we made our quick taxi before arriving at the gate. Deplaning was a short and sweet process, but not without one last Singapore small touch. After walking for several minutes off of the aircraft toward Japanese Customs, a crew member came running after me, carrying my business jacket that I had left on board. You could tell she was exhausted, but was more than grateful to help. I thanked her profusely, but before I could ask for her name she was running back to her next flight. Again, it is the little things that Singapore does that truly make the flight special.
Bottom Line
With it being my second time onboard both Singapore Airlines as well as an Airbus A380, I knew we were in for a treat. Where the airline fell slightly short in the second meal and the seat deficiencies, it more than came through with the extra care by the crew and small touches along the way. The airline will soon be upgrading service to LAX, replacing the once daily A380 service with twice daily Boeing 777 service. While I may have been traveling on the older business class product, it is no secret that Singapore excels, regardless of its aircraft type. The well-timed flight further makes this a great option for business travelers, and I would not hesitate to fly this route on Singapore again in the future.

Joe joined AirlineGeeks in 2014, and in his current role as Editor-in-Chief manages a growing team of writers both in North America and Europe. He enjoys spending the bulk of his time researching, learning and analyzing the latest trends in the airline industry, all while mentoring new members of the AirlineGeeks team who seek to do the same. Areas of research include revenue management, codeshare and alliance partnerships and airline financial results.

Latest posts by Joe Pesek (see all)