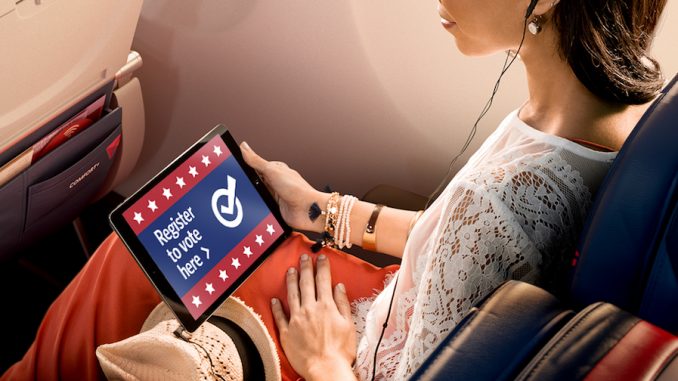 Are you stuck in the skies this election season? If your flying on Delta, you don't have to worry as the airline is now offering free voter registration and debate screenings onboard their flights.
Delta is offering free internet access from Gogo WiFi to passengers who wish to register to vote. With the WiFi access, passengers will be allowed access to each of the 50 states registrar websites. The offer ends today as this is the last day to register to vote in the majority of the states.
Delta is also providing access to customers flying on transcontinental flights this Sunday to watch the presidential debate for free.
This is all part of Delta's promotion to get American's to the polls in November. The airline will be sending emails to travelers advising them to tweet about the debate via their inflight wifi. Emails will also go out to passengers flying on election day to vote early.
The General Manager of Brand Communications, Amy Harry stated, "We want to ensure customers have the ability to participate in the political process in every way possible while they are traveling with us. We're proud to make it a little easier for customers to make their voices heard no matter where in the world life takes them."
BONUS: PHOTO STORY: The World's First 747-400 Heads to The Delta Flight Museum
Matthew Garcia became interested in aviation at the age of 12 when he installed Microsoft Flight Simulator X on his computer. He was instantly "bitten by the bug" and has been in love with aviation ever since. Matthew took his first introductory flight in 2013 and began normal flight training in February of 2015. Over the years, Matthew's love and knowledge for aviation has grown tremendously, mainly due to FSX. Garcia flies highly advanced aircraft in a professional manner on a highly complex virtual air traffic network simulating real world flying. In 2016 Matthew achieved his private pilot certificate from the FAA. Now he studies journalism at the University of Nebraska at Omaha.
Latest posts by Matthew Garcia (see all)