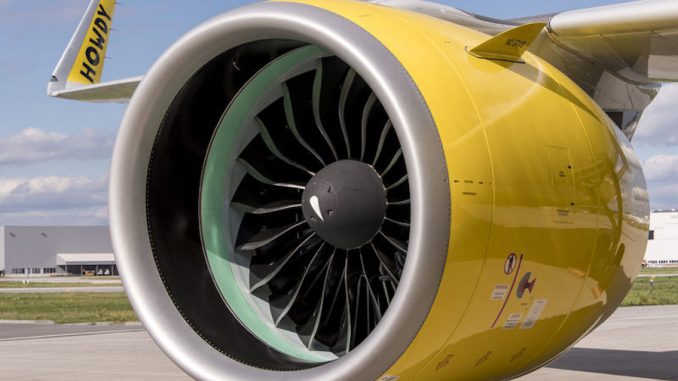 Fuel efficiency and environmental impact is always a topic in the world news and among aircraft manufacturers that are always trying to do something to lessen the negative effect flying has on our  environment. Airbus has created a new A320 series aircraft that, inline with the new Pratt & Whitney engines, is one of the most fuel efficient aircraft in the skies.
Spirit has became the first US carrier to receive the A320neo (new engine option) using the new Pratt & Whitney PurePower Geared Turbofan engines. Their new airframe is the 90th Airbus to join the airline's fleet.
Spirit Chief Financial Officer stated that "this state-of-the-art technology will burn less fuel and lower our operational cost. Spirit is thrilled to be the first carrier to bring this innovation to the U.S."
Spirit Airlines is working on building a new fleet dubbed the "Fit Fleet." This fleet is set to be the most fuel-efficient fleet in aviation. The airline has five A320neos on order which are estimated to be delivered by the end of the year.
Airbus COO John Leahy stated that Airbus is "proud to have delivered the first A320neo aircraft in the U.S. to our valued customer Spirit Airlines. The A320neo Family is the aircraft of choice among the world's airlines and we appreciate our customers' confidence in our leading single-aisle Family with its unbeatable productivity and fuel efficiency."
We had the chance to check out the new airplane in Fort Lauderdale. While the A320neo has not been scheduled on any upcoming routes, it is currently undergoing maintenance testing in South Florida.
*Photos by Matt Lino and Daniel Morley
Matthew Garcia became interested in aviation at the age of 12 when he installed Microsoft Flight Simulator X on his computer. He was instantly "bitten by the bug" and has been in love with aviation ever since. Matthew took his first introductory flight in 2013 and began normal flight training in February of 2015. Over the years, Matthew's love and knowledge for aviation has grown tremendously, mainly due to FSX. Garcia flies highly advanced aircraft in a professional manner on a highly complex virtual air traffic network simulating real world flying. In 2016 Matthew achieved his private pilot certificate from the FAA. Now he studies journalism at the University of Nebraska at Omaha.
Latest posts by Matthew Garcia (see all)