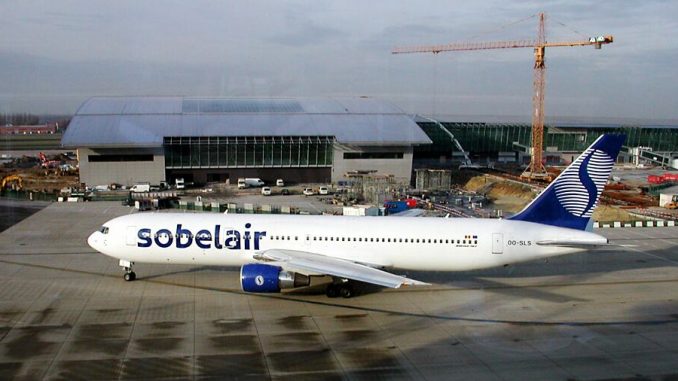 Launched in 1946, Société Belge des Transports par Air SA, or Sobelair, operated past the turn of the century as a Belgian charter airline. Originalyl named Société d'Etude et de Transports Aerien, or SETA, the carrier operated their first revenue flight on October 15, 1946 with a DC-3 on a flower transport flight to Nice, France via Paris.
Scheduled flights from Brussels to the Belgian Congo began in 1947 on behalf of various companies in the colony. Two years later, shares in the company were acquired by Sabena Air, which then owned about 72% of Sobelair.
Routes into the Belgian Congo ceased when the former colony gained independence. In place of the missing routes, Sobelair started holiday service to the Mediterranean and paid greater attention to domestic flights.
Over its history, Sobelair operated a vast variety of aircraft, including the DC-3 and Cessna 310. A milestone for the airline came in 1971, when the carrier joined the jet age upon acquisition of a Caravelle aircraft from Sabena. Following the initial aircraft upgrade, Sobelair's fleet saw numerous different jets arrive the years, including the Boeing 707, 737, and 767, along with the Airbus A300 and, for a brief period of time, the A320.
Sobelair partnered with numerous airlines over the course of its history. In 1995, Swissair entered an alliance with the carrier, which resulted in Sobelair operating charter flights on behalf of Swissair just two years later to San Francisco and Las Vegas from Zurich. Unfortunately, Swissair went bankrupt in 2001, and their earlier partner Sabena also failed. Other partnerships that were formed included Jetair, ALM Antillean Airlines and Balair.
In 2003, the ailing company was acquired by SN Brussels Airlines after being acquired by investors the year prior.  Their financial situation did not improve as thought, and as a result, Sobelair was forced to declare bankruptcy. Though TUI Travel offered to take it over and form it as a subsidiary, this too fell through and Sobelair officially met its demise on January 19, 2004.
Ashley is currently a senior in high school and plans on pursuing a career in aviation or journalism. Her favorite airplanes include the Boeing 777, 737MAX, and Airbus A350. She enjoys taking flights on various airlines to different airports and planespotting at her local airports.
Latest posts by Ashley Magoon (see all)