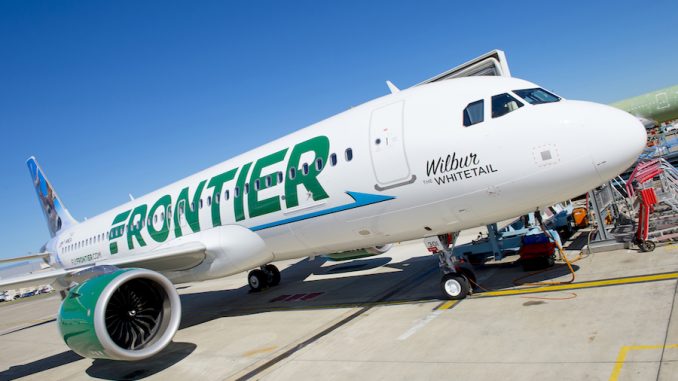 Denver-based Frontier Airlines took delivery of their first of 80 Airbus A320neo family aircraft with CFM engines. The entirety of Frontier's orderbook for the A320neo Family aircraft will be powered by CFM's International LEAP-1A engines. Frontier took delivery of their first Airbus aircraft in 2001 and since then, the airline has transformed into an all-Airbus fleet, operating a fleet of 64 aircraft consisting of 30 A319s, 24 A320s, and 10 A321s. The current backlog for Frontier currently stands at 18 A319neo, 2 A320ceo, 61 A320neo, and 6 A321ceos.
Barry Biffle, Frontier Airlines' CEO and President, commented on this milestone adding,"We're excited to receive our first A320neo. The efficiency of the A320neo will help us lower costs even more and pass those savings along to our customers."
John Leahy, Airbus Chief Operating Officer of Customers stated, "We are proud to deliver the first CFM-powered A320neo aircraft in the U.S. to our valued customer Frontier Airlines. Now delivered to operators on three continents, the A320neo Family is the aircraft of choice among the world's airlines."
Each Frontier A320neo family aircraft will feature lightweight composite sharklets. Additionally, the CFM LEAP-1A engines will offer Frontier a 15% reduction in fuel consumption and CO2 emissions when the aircraft goes into commercial service.
Spirit was the first US carrier to take delivery of the A320neo earlier this month. The aircraft, N901NK, is flying between Detroit and Los Angeles with the second aircraft expected to enter revenue service in the coming days.
Airbus also has plans to increase the reductions in fuel consumption and CO2 emissions over the next four years with an aim of 20% by 2020. The French aircraft manufacturer has received 4,800 orders from 87 different customers for the A320neo since its launch six years ago.
James is a passionate AvGeek who has been actively spotting for years. James has been an Aviation Enthusiast for 7 years and has a fond likening to Concorde! James hopes to grow in the aviation industry with journalism being his primary focus.
Latest posts by James Field (see all)