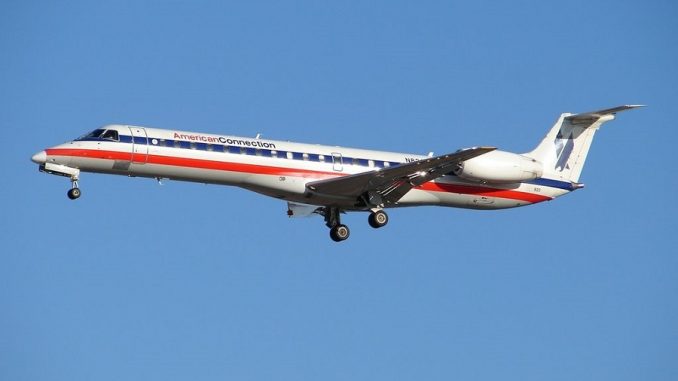 Chautauqua Airlines was formed by former Mohawk Airlines employees Joel and Gloria Hall with the hopes of flying into and out of Jamestown, New York. Operations started in 1973 with two Beech 99s operating flights from Jamestown to Pittsburgh and Buffalo. The airline's early success didn't go unnoticed as Pittsburgh based carrier Allegheny Airlines took note, offering to make Chautauqua part of the Allegheny Commuter group of airlines. The airline agreed and took hold of new aircraft in order to meet demands set by Allegheny.
Allegheny became USAir in 1979 and despite the rebranding, Chautauqua continued to do work for USAir Express as the Shorts and Beech aircraft were replaced with Saab 340s and Fairchild Metroliners. Routes were added to Chautauqua's USAir Express schedule from Pittsburgh to western Pennsylvania, eastern Ohio and Virginia in the early 1980s. The airline consistently prided itself as being one of the most luxurious regional carriers in the USAir Express fleet, with more leg room than the other airlines that operated for the Pittsburgh based airline.
Despite the expansions made by Chautauqua in the 1980s, the airline saw profits fall at the start of the 1990s as public distrust in regional carriers grew due to a slew of accidents. As part of the cuts, the airline saw its home route to Jamestown cut in favor of smaller USAir Express carrier Liberty Airlines taking over the route. Over the course of the next few years, the city would find their service with Liberty unsatisfactory and would try to persuade Chautauqua into returning to their home airport, but the airline declined to return having already moved their headquarters to the USAir focus city of Indianapolis.
In 1998, Chautauqua was sold to Wexford Management who had added the carrier to their group of airlines called the Republic Airways Holdings Incorporation. With Wexford's monetary backing, the airline placed an order for ten Embraer ERJ-145s in hopes to replace the aging Saab 340s. However, US Airways was slow to react to Chautauqua's order and as a result, the airline was forced to look for someone else to use the jets. Eventually an airline came along in 1999 and Chautauqua signed a deal to provide ERJ-145 regional jet service out of St. Louis for Trans World Airlines. The airline would add five more Embraer jets for TWA service before the end of the year. The deal was renewed in 2001 after American Airlines purchased TWA, with Chautauqua service being offered on American Connection, however, the 50-seat ERJ-145 would be replaced with 15 44-seat ERJ-140s.
In order to make sure the jets weren't wasted, Chautauqua made a new deal, this time with America West Airlines to operate the ERJ-145s out of the airline's new hub at Columbus. The deal with America West would only last two years when the carrier pulled out of Columbus in 2003. Around the time of America West's cancellation, Chautauqua had made deals with Delta Air Lines for operating ERJ-145s out of Cincinnati and Florida and United flights out of Cleveland.
In 2005, things started to go south for Chautauqua. US Airways agreed to allow Chautauqua to fly the ERJ-170 for the airline, but due to a pilots clause by US Airways, Chautauqua was forced to give up the contract to sister airline Shuttle America. The carrier then took hold of former Comair and Independence Air CRJ-200s, but couldn't find an airline in which to operate them and was forced to sell them. Chautauqua was also impacted with airlines changing hubs following 2001. Delta removed a majority of their Florida ERJ routes and suspended a sizable amount of Cincinnati routes, forcing Chautauqua aircraft to Detroit and New York.
Chautauqua managed to stop the bleeding through the next five years and even managed to make some headway. Delta signed a deal to operate more aircraft out of mid-Atlantic and east seaboard areas and also Chautauqua operated flights for Frontier Airlines. However, later that year, Chautauqua's deal with United ended with the airline citing that its lack of pilots meant that the carrier couldn't maintain its demand. American's deal was cancelled a few months later with American announcing cost cutting measures and the closing of American Connection. As a result, Republic Airways Holding announced that the Chautauqua brand would be wound down and the airline's crew would be merged into fellow regional carrier Shuttle America. The airline's last day of operation was December 31, 2014, with the remaining 41 Embraer ERJ-145s being transferred to Shuttle America but continuing to operate for Delta Connection. Delta announced in 2015 that it would slowly wind down its Shuttle America ERJ-145 operations with the last flight being on September 30, 2016. Most of the aircraft were returned to their lessors, with majority now being stored at the Mojave Airpark in Arizona being the only remaining signs of the regional carrier.
Although Ian McMurtry was never originally an avgeek, he did enjoy watching US Airways aircraft across western Pennsylvania in the early 2000s. He lived along the Pennsylvania Railroad and took a liking to trains but a change of scenery in the mid-2000s saw him shift more of an interest into aviation. He would eventually express this passion by taking flying lessons in mid-Missouri and joining AirlineGeeks in 2013. Now living in Wichita, Kansas, Ian is in college majoring in aerospace engineering and minoring in business administration at Wichita State University.
Latest posts by Ian McMurtry (see all)