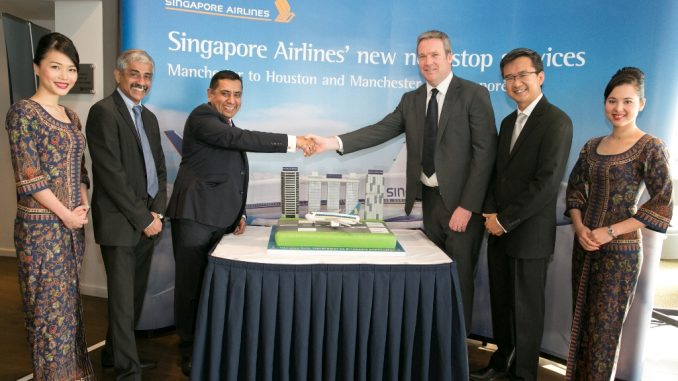 Changi-based Singapore Airlines has inaugurated service between Singapore-Manchester-Houston on October 31st, marking a new milestone for the airline's operations at Manchester. This is the first direct flight to Singapore from Manchester as well as the first direct service to Houston from Manchester. Singapore initially operated to Manchester via Munich using their Boeing B777-300ER aircraft. This time, the airline will use the same aircraft but will utilize Manchester as a connection point for passengers to preclear U.S. customs.
The route will be operated 5 times per week.  The Boeing B777-300(ER) will feature a three cabin configuration.
Commenting on this new route was Lord Ahmed, who is the Aviation Minister of Singapore. He said, "It is a pleasure to be in Manchester to mark the inaugural flight between Singapore, Manchester and Houston, Texas. Every year nearly 100,000 people fly from the North West to Texas or Singapore – for holiday or for business. Now they can fly directly. Leading academic institutions such as the University of Manchester have also added their welcome and highlighted how this will help strengthen research partnerships in Texas whilst businesses across the North West will now have direct access to the economic engine that is Singapore. Manchester Airport's offering of new long-haul routes, coupled with its £1 billion investment, will connect the Northern Powerhouse to even more long-haul destinations and is another step in building an outward facing, global Britain."
Ken O'Toole, Manchester Airport's CEO also commented on this route expansion: "This new service to Houston with Singapore Airlines will open up a whole new part of America to business and leisure passengers across the North.  At a time when capacity in the South is constrained, we are adding more passengers and routes than ever before. Houston and Singapore, along with a wealth of other recent new routes, can only be found in Manchester in the UK outside of London. This underpins the role we play in the North as the global entry point of the Northern Powerhouse and as economic provider and job creator for the region. Furthermore, at a time when there is a lot of uncertainty following the Brexit vote and ties with Europe, this new east and west route connecting America to Manchester and on to Asia, clearly highlights the role we play in connecting the North to international markets, unlocking trade, tourist and economic opportunities. We look forward to working closely with Singapore Airlines to ensure the success of the route and their continued growth from Manchester Airport."
This new route expansion comes after an announcement of upgrades to the airline's American portfolio. Recently, the airline inaugurated services to San Francisco from Singapore using their Airbus A350-900XWB aircraft. They also added at a press event in Toulouse that from 2018, the airline will be restarting the world's longest flight in the world, the Singapore-New York route, using new Airbus A350-900ULR (Ultra Long Range) aircraft that they are due to receive at the end of 2017. They have 8 of the variant on order as well as an additional 50+ standard A350-900s and -1000s.
James is a passionate AvGeek who has been actively spotting for years. James has been an Aviation Enthusiast for 7 years and has a fond likening to Concorde! James hopes to grow in the aviation industry with journalism being his primary focus.
Latest posts by James Field (see all)