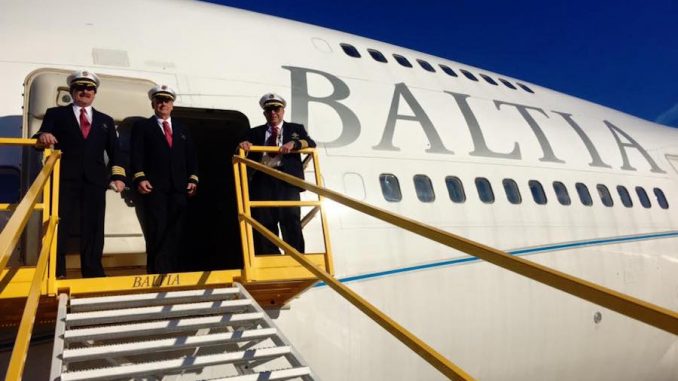 When it comes to starting up a new airline, there is a lot of work involved. You must come up with branding, the market you wish to join, and federal licensing, just to name a few key aspects. For most airlines, this usually takes some time, but not 27 years. However, Baltia Air Lines, founded in 1989, still has yet to fly a revenue flight.
Baltia, founded by Igor Dmitrowsky, was created with a goal of being the "leading U.S. airline in the Trans-Atlantic market between the major U.S. cities of Europe and other destinations." The airline chose John F. Kennedy International Airport in New York as it's U.S. starting point. In 1996, the United States Department of Transportation approved Baltia to fly to Pulkovo Airport in St. Petersburg, Russia. At this point, the only issue was the airline had no fleet so they attempted to buy an old Cathay Pacific Boeing 747-200, however, the airline did not have enough money to purchase the aircraft. The DOT later revoked the authority for Baltia to fly the route that they had hoped.
The route authority was revoked simply because the FAA has not yet awarded the airline with its operating approval, which Baltia has been trying to earn for over 20 years, due to issues with the aircraft slides not deploying properly, among others.
Fast forwarding to 2009, the air carrier bought an old Pakistan International Airlines Boeing 747-200 without its engines. This aircraft was soon scrapped. By 2011, another 747-200 was bought, this time from Northwest Airlines. Finally, with a sturdy fleet of one airplane, Baltia Air Lines reapplied with the U.S. DOT to operate service, this time with some of its offices in Ypsilanti, Michigan but the company still has yet to receive approval. In March of this year, the airline decided to get rid of their only aircraft with hopes of leasing something newer and more efficient. The company hopes that this will lead to assurance of an operating certificate in the future.
According to Baltia.com, in 2015, the airline will inaugurate non-stop service between New York's JFK and Europe but that has yet to ha ppen. With not a single piece of cargo or a single person carried, the airline remains with not a single penny of revenue earned. Surprisingly, in 2014, the airline's market cap did reach 11 million USD.
Baltia's CEO, Igor Dmitrowsky, unfortunately never had the opportunity to see his airline become successful as he passed away early this year. Other executives of the airline are slowly stepping down, leaving Baltia's Executive Vice President Russell Thal, as the company's current President.
Baltia still says they will take to the skies as soon as the FAA and DOT approve them to do so. Russell Thal stated, "Launching Baltia has been a long and tedious process. I want all of our shareholders to be assured that the team at Baltia is working diligently to accomplish our goal of launching Baltia. We will keep our shareholders advised of further developments."
Matthew Garcia became interested in aviation at the age of 12 when he installed Microsoft Flight Simulator X on his computer. He was instantly "bitten by the bug" and has been in love with aviation ever since. Matthew took his first introductory flight in 2013 and began normal flight training in February of 2015. Over the years, Matthew's love and knowledge for aviation has grown tremendously, mainly due to FSX. Garcia flies highly advanced aircraft in a professional manner on a highly complex virtual air traffic network simulating real world flying. In 2016 Matthew achieved his private pilot certificate from the FAA. Now he studies journalism at the University of Nebraska at Omaha.
Latest posts by Matthew Garcia (see all)