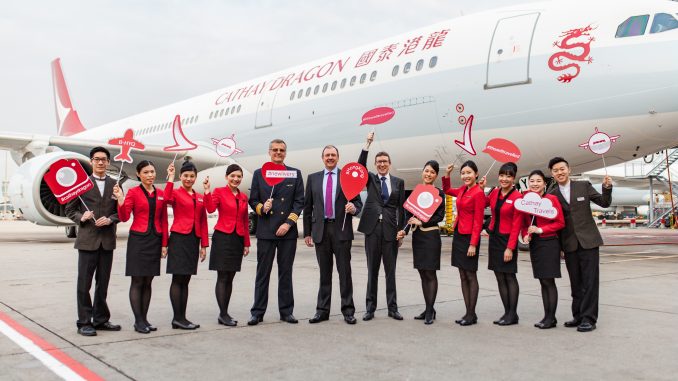 Hong Kong-based carrier Dragonair has completed its transition with Cathay Pacific, and will now be known as Cathay Dragon. The rebranding of this new carrier consists of a new logo featuring the Cathay tail in a reddish shade. While the new name doesn't have a major effect on the day-to-day operations, it does further unify the two airlines to create a more seamless travel experience for customers.
"This is a momentous day in the history of Cathay Dragon and I am excited about the future of the airline and the fresh opportunities that our rebranding brings. As we align more closely with Cathay Pacific, new prospects will open up on multiple fronts enabling us to become stronger and thrive in this intensely competitive industry," commented Cathay Dragon Chief Executive Officer Algernon Yau. "I am confident that Cathay Dragon will maintain the highest level of operational and service excellence built by our people over the past 30 years. I truly believe that we have great potential and an amazing future ahead of us by working together to make the most of the opportunities for both our airline and our people."
Dragonair has witnessed difficult times in recent years, pressured by low-cost carriers in the region. Since the carrier initially launched operations in 1985, Cathay Pacific fought hard to block the airline from operating within the country by rejecting their flight-slot applications for operations out of Kai Tak and Chep Lap Kok airports. These blocks led to the government getting involved, and the HKATLA (Hong Kong Air Transport Licensing Authority) implementing a "one-route-one-airline policy," which was in operation until 2001. During this period, Cathay Pacific quickly expanded around the globe, while Dragonair focused much of its new service on China and other Asian cities.
By 2006, the carrier became a wholly owned part of Cathay Pacific. Since the takeover of this subsidiary, Dragonair has added 20 new destinations and increased passenger numbers upwards of seven million in 2015, which was five times more than before the acquisition took place. The brand conversion of the airline launched earlier this year after an initial rebranding announcement back in January.
The carrier has a fleet of 42 aircraft, featuring Airbus A320, A321, and A330 aircraft with an additional eight aircraft on order.
Cathay Pacific hopes that the change will continue to allow them to increase the size of their fleet and maximize revenues, changing service between Cathay Dragon and Cathay Pacific to fit the specific need of the route. The new brand has already been recognized within the airline industry, being selected as the "World's Best Regional Airline" in the Skytrax World Awards for the fourth time in its history.
Now that the transition has been completed, passengers will be greeted with the new Cathay Dragon identity at check-in desks, boarding gates, and lounges. The new brand will also feature a renovated menu onboard, inspired by local Chinese chefs.
James is a passionate AvGeek who has been actively spotting for years. James has been an Aviation Enthusiast for 7 years and has a fond likening to Concorde! James hopes to grow in the aviation industry with journalism being his primary focus.
Latest posts by James Field (see all)