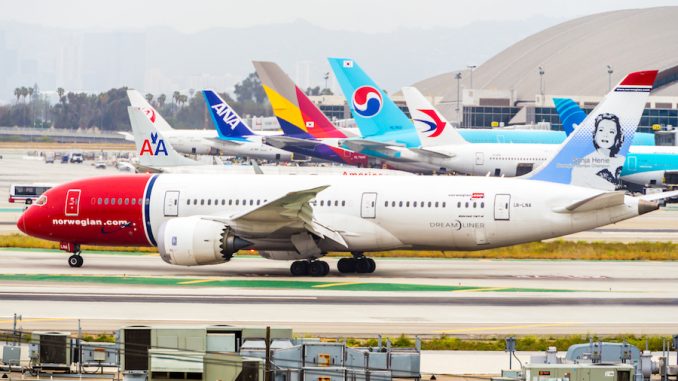 With the US Department of Transportation recently approving Norwegian Air International's (NAI) application for a foreign carrier permit, the company is announcing plans to expand its crew bases. Next year, the airline will open a new base in Fort Lauderdale, as well as one in the Greater Boston area and another in the Greater New York City area.
"Norwegian is fully committed to growing its presence in the U.S. market, and that includes creating more American jobs," CEO of the Norwegian Group, Bjørn Kjos said. In addition, the carrier has big plans for route expansion with many new destinations. The two new bases will require some 150 new hires in 2017 and this number will increase to 500 for long-haul cabin crew by the end of the year.
"Hiring American pilots for our long-haul operation has been one of Norwegian's goals since launching our transatlantic service three years ago. With the delivery of 31 additional Boeing Dreamliners over the next few years, Norwegian is excited to be adding American pilots to our ever-growing workforce" said Asgeir Nyseth, Chief Operating Officer of the Norwegian Group in a press release.
The word spread quickly with the airline receiving nearly 400 applications for 25 positions. The pilots hired will staff the Boeing 787 Dreamliner fleet. Most of the applicants were based in the Gulf region or came from US legacy carriers. "We are still looking at opening more crew bases across the U.S., and depending on the success of the American pilots in Fort Lauderdale, we'll include pilots in each of those new bases as well," Nyseth continued.
In addition to the 45 routes that Norwegian already serves from the U.S., the airline will be launching flights from Oakland to Copenhagen on March 28; Los Angeles to Barcelona on June 5; Newark to Barcelona on June 6; Fort Lauderdale to Barcelona on August 22, and Oakland to Barcelona on June 7.  Norwegian also announced a new route from Orlando to Paris, which will begin on July 31, 2017.
Other than the Dreamliner in Fort Lauderdale, Norwegian will be one of the launch-customer for the Boeing 737 MAX in the summer of 2017. The MAX will allow the airline to open different routes and destinations in Europe that are currently not served from the U.S. Initially, four of these aircraft will be based in the Greater Boston and New York City areas and will require the hiring of almost 100 new pilots and cabin crew.
"This is still the beginning of our U.S. expansion plans and we are committed to offer American travelers more affordable long-haul flights than any other airline," said Kjos. Currently Norwegian has 260 aircraft on order and in 2017 the company will take delivery of 9 Dreamliners, 6 Boeing 737-MAXs, and 17 Boeing 737-800s.
AirlineGeeks.com began in February, 2013 as a one-man (er… teenager, rather) show. Since then, we've grown to have 20 active team members, and yes, we're still growing. Some of us are looking to work in the aviation industry as professionals when we grow older. Some of us are still trying to decide what we want to do. That's okay though, because we're all here for the same reason: we love the airlines. We're the youngest team of airline industry journalists out there.
Latest posts by AirlineGeeks.com Staff (see all)