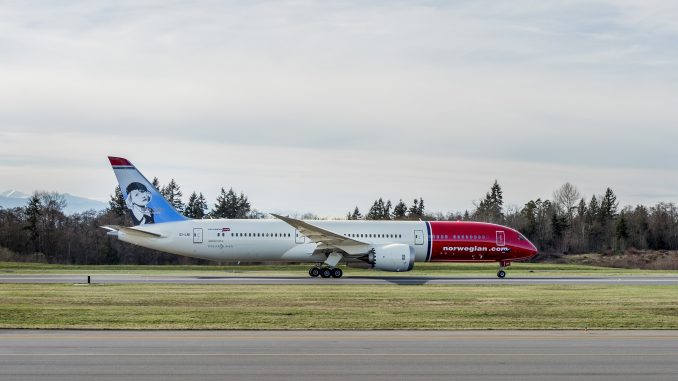 Norwegian Air, ranked as the world's best low-cost long-haul airline in 2016 according to SkyTrax, presented its 2017 plan for the French market this Thursday at a press conference in Paris. Led by Bjorn Kjos, the airline is known for cheap fares on long haul flights.
With the carrier's U.S. operations commencing in 2013, Norwegian currently offers more nonstop destinations and routes from the U.S. to Europe than any other European airline, with further expansion planned. In 2015, 26 million passengers flew Norwegian on more than 440 routes to 132 destinations in 37 countries across the U.S., Caribbean, Europe, Northern Africa, the Middle East, and Southeast Asia. Norwegian operates a fleet of more than 100 aircraft, including the Boeing 787 Dreamliner and 737-800. Their average fleet age is just 3.6 years.
After 12 years of operation, the Norwegian airline is now flying 30 routes from France including three to the United States with more expansion in the works. A new route from Paris CDG to Orlando will be launched from July 31st, 2017, with prices starting at 179 euros. This route will be the carrier's fourth between France and the U.S.
In addition, Norwegian will also offer flights between Paris-CDG and New-York JFK on a daily basis from July 27th, 2017.
These routes add to Los Angeles and Fort Lauderdale, which are already served from Paris.
Norwegian also announced the opening of a base for its pilots at Paris Charles de Gaulle airport to operate these flights. The airline currently has crew bases for its long-haul fleet in Bangkok, New York, London-Gatwick, and Fort Lauderdale.
The company said its flights between France and the US are profitable, with 15% of the revenues coming from additional fees (baggage, etc.).
In 2017, Norwegian will receive nine Boeing 787-9 Dreamliners that will likely operate from Paris. The airline has 19 787-9 aircraft on order, along with 108 Boeing 737 MAXs. In July, Norwegian converted an order for 30 A320neo aircraft to 30 A321LRs for their transatlantic routes.
AirlineGeeks.com began in February, 2013 as a one-man (er… teenager, rather) show. Since then, we've grown to have 20 active team members, and yes, we're still growing. Some of us are looking to work in the aviation industry as professionals when we grow older. Some of us are still trying to decide what we want to do. That's okay though, because we're all here for the same reason: we love the airlines. We're the youngest team of airline industry journalists out there.
Latest posts by AirlineGeeks.com Staff (see all)