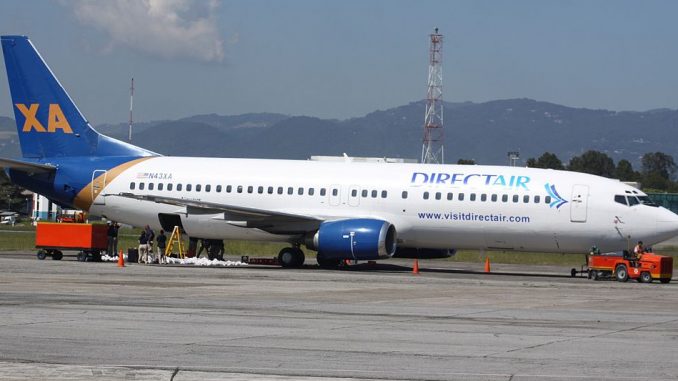 Founded in 2006 in Myrtle Beach, South Carolina based airline company Direct Air commenced operations  leasing aircraft with charter airlines. Their flights were operated by numerous other airlines, including Sky King, Inc., World Atlantic Airlines, USA Jet, and Xtra Airways, among others.
The company's first routes consisted of nonstop service from Myrtle Beach to Newark, Niagara Falls, and Plattsburgh, New York, and were operated by Sky King on Boeing 737-200s until Direct Air cut off ties with the company in May 2007, just two months after the routes were launched. Over the course of their history, the carrier's route network featured Orlando, West Palm Beach, Worcester, Massachusetts, Pittsburgh, Kalamazoo, Michigan, and Columbus, Ohio, just to name a few. At the time, the airline served about 18 destinations.
Classified as a virtual airline, Direct Air did not have their own operating fleet or an operating certificate, and rather relied on the services of other airlines' airplanes. The company primarily used two aircraft types during their existence, the Boeing 737-400 and the MD-82, operated by a variety of carriers.
Trouble arrived for the business in March 2012, when Direct Air abruptly cancelled all of their charter flights without any initial explanation. The company vowed to return to normal operations within three days, which they later changed to two months. However, the US Department of Transportation announced that Direct Air did not have the authority to restart operations on May 15 as they had previously stated.
On March 16, 2012, the airline announced that they had filed for Chapter 11 bankruptcy protection, and on April 12 of the same year, Chapter 7 liquidation took effect. Then, in August 2012, it was declared that the company had amassed $9.6 million in federal violations when Direct Air had improperly handled cancelling hundreds of flights during the spring during their bankruptcy proceedings.
Though the airline had technically ceased operations on March 13, 2012, the legal battle over finances and fines continued for many years, meshing together with complications the airline had been affiliated with. The defunct virtual airline's short and history is ultimately a devastating account of other airlines that have mostly all failed as well.
Ashley is currently a senior in high school and plans on pursuing a career in aviation or journalism. Her favorite airplanes include the Boeing 777, 737MAX, and Airbus A350. She enjoys taking flights on various airlines to different airports and planespotting at her local airports.
Latest posts by Ashley Magoon (see all)