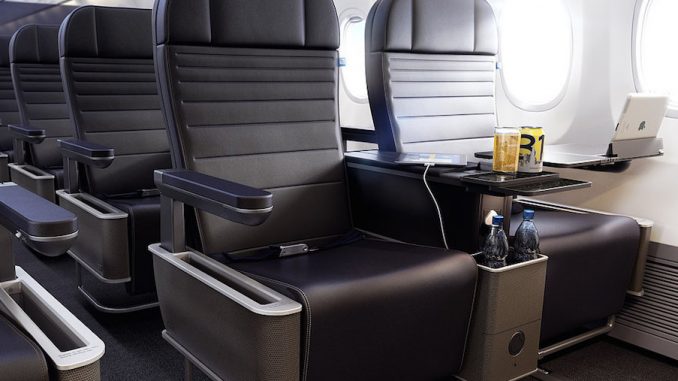 In the fourth quarter 2016 investor day presentation, United Airlines indicated that it was currently investigating the viability of offering a true Premium Economy experience. If United does roll out this service (an announcement would be expected in early 2017), it will be the third US carrier to do so on the heels of American Airlines and Delta, both of which unveiled their own Premium Economy products in 2016.
Such a product would bring United in line with a few of its Star Alliance partners and allow for a more cohesive travel experience for not only United passengers, but for passengers connecting on to United flights from other Star Alliance carriers which currently offer the product.
What would this product look like?
If we consider the moves made by both American and Delta in their Premium Economy product unveilings, we can expect United to offer a seat similar to their modernized domestic first class product designed by PriestmanGoode. In 2016, United began retrofitting their Airbus A319 and Airbus A320 fleet with new PriestmanGoode seats featuring a patented leather finish, three-way adjustable headrests, individual universal power ports, laptop storage and built-in tablet holders.
These new seats are eventually expected to be rolled out across the entire domestic narrow body fleet, with the exception of United's Premium Service 757-200 fleet and non-Premium Service 757-200 fleet, leaving the aircraft yet to be upgraded to include United's fleet of 757-300s and Boeing 737-700/800/900 aircraft.
With the roll out of United Polaris product, we can expect a simplified version of this service in economy, along the lines of an upgraded version of the current domestic first class offering, which includes a pre-departure beverage, warm entrée and side, and possibly a light dessert.
We should also expect to see an array of amenities available to Premium Economy passengers, including premium blankets and pillows, as well as eyeshades.
International and Domestic?
What's unique about United's announcement to their investors is the revelation that United appears to be investigating the viability of a Premium Economy product not only on international and transcon routes, but also on domestic routes.
However, to be purely speculative, the only viable application that could be considered for such a product, is on United's Premium Service routes between Newark and Los Angeles along with San Francisco. An application of this product on this route makes even more sense when it is considered that United competes strongly with not only American Airlines and Delta on the transcon market but with jetBlue's increasingly popular Mint product.
With a Premium Economy product on this route, United would be able to gain traction in the portion of the business market occupied by non-frequent business travelers and business with more limited travel budgets. Currently, it can be argued that jetBlue's Mint product, which is often offered at much lower fares than the US3 carrier rates for business/first class travel, dominates this portion of the market.
Essentially, United Premium Economy in a transcon market could do for United in business class, what their upcoming Basic Economy will do for United in Economy: sell more seats, and attract a new market base. For many reasons, the airline stands to gain most advantageously from this potential development with jetBlue, Delta, and American offering their premium transcontinental products from the highly competitive JFK market. Given speculation over United's future order book, this new class of service may place the carrier in a uniquely competitive position, potentially surprising the competition with suddenly increased market share in an already dynamic market.
Story originally published by IGN Travel Network
Our guest authors are contributors to AirlineGeeks.com who like to write, but don't necessarily have the time to be a full-time writer. Want to be a guest writer? Contact
[email protected]
for more information.
Want to join the team full time? Look for more information at the very bottom of the website.
Latest posts by Guest Author (see all)