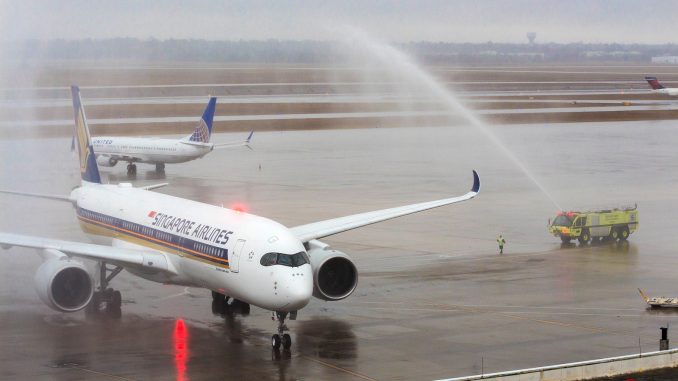 Singapore Airlines has continued evaluating its overall global network. On Tuesday, the airline inaugurated service with their Airbus A350-900XWB between Singapore, Manchester, and Houston.
Over the last few months, the carrier has made quite a few changes on this route. Initially, the trip involved a stopover in Moscow on the way to Houston. However, as of Oct. 30, 2016, the routing of this flight changed to instead utilize Manchester rather than Moscow as a stopping point.
The addition of the A350 to the market eliminates the first class cabin, while also introducing the airline's new Premium Economy class and updated Business and Economy cabins. Houston is now Singapore's second A350 destination in the United States, following the nonstop Singapore to San Francisco route that commenced in October 2016.
When the route was initially announced in December, Sheldon Hee, Singapore Airlines' General Manager for the UK and Ireland commented on this aircraft upgrade saying, "We are excited to operate the A350, the newest and most advanced aircraft in our fleet to Singapore and Houston from Manchester shortly."
Singapore Airlines expects this aircraft to become the backbone of its long-haul fleet, currently placing 67 of the aircraft on order. In addition, seven of these will be upgraded to the ultra-long range variant with the goal of restarting nonstop services between Singapore and New York along with Los Angeles in 2018. These flights will become two of the world's longest flights when they commence. 
Singapore's new Premium Economy cabin features 24 seats in a 2-4-2 configuration, measuring 19.5 inches in width and 38 inches of pitch, compared to 32 inches in Economy class. Premium Economy also features personal in-seat power, USB ports, larger entertainment screens, enhanced seat recline, and leg/foot rests. Passengers in Premium Economy, as well as in Business Class, may "Book the Cook" by selecting their desired meal before the flight. 
The new A350XWB aircraft offers many other beneficial amenities to passengers including larger windows, higher ceilings, and higher humidity levels for increased passenger comfort. The aircraft also features lower altitude pressurization, an improved air quality management system, and over 14 million LED lights. All of these enhancements are to help reduce symptoms of jet lag.
This marks Singapore's continuing expansion efforts using the newest aircraft available. The airline hopes to bring more nonstop service from Singapore to the United States with its new technologically capable aircraft.
*First two images by Chuyi Chuang; Last two by Nathan Moeller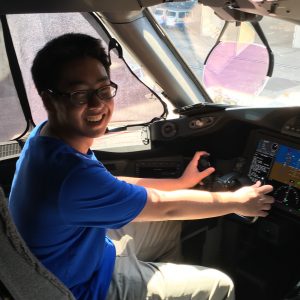 Ever since he made his first trip on a Boeing 747 in 2005, Samuel has been an AvGeek at heart. He is a dedicated United (ex-Continental) loyalist and frequent flier who attempts to live by Continental's slogan, "Work Hard, Fly Right." He has a huge love for the Boeing 777 along with any other Boeing wide body aircraft. Samuel is an avid collector of all types of airplane memorabilia ranging from model airplanes to in-flight magazines. In his free time, Samuel enjoys playing guitar and piano, and he is constantly on various airline websites scanning for any breaking news.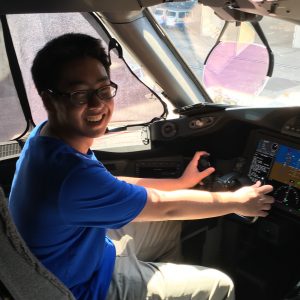 Latest posts by Samuel Chen (see all)