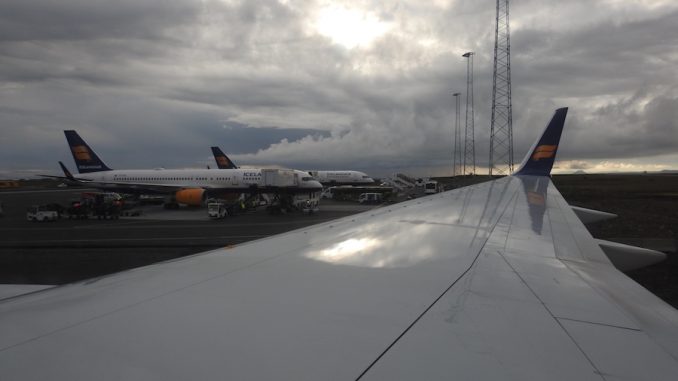 A few years might seem like a short timeframe for rapid change, but Iceland's aviation companies have gone from struggles for survival to success in just eight years. These companies, much like the people who inhabited the island years ago, must yet again adapt to their new uncharted waters. Iceland's recession in 2008 was a devastating blow to the nation's economic opportunities. Transportation took a back seat as the country's national road was left uncompleted, as were various structures in Reykjavik. Iceland's three airlines suffered as a result of the dried-up market, leaving the airlines to transition to a more seasonal market. Despite the partial collapse of Iceland, all three airlines, Icelandair, Iceland Express, and Air Iceland, survived the economic failures of the country and braced for a newer Iceland.
A New Iceland
And a newer Iceland it turned out to be, as the country's government heavily promoted travel to the country on the list of "top ten places you must see before you die." Keflavik Airport hit rock bottom in 2009 with only 1.66 million peopltravelingng through Iceland's main gateway, but airlines started to add new routes to change that in 2010. Iceland Express launched flights to North America with routes to Newark and Winnipeg. Icelandair started flights to Brussels and expanded into central Europe in hopes of landing more permanent routes outside of Scandinavia. Most routes were quickly labeled a success, as Iceland also welcomed its first US carrier with Delta launching flights between KEF and New York – JFK.
The two main players continued with good fortune into 2011. Iceland Express launched flights to Chicago O'Hare and Boston, while Icelandair started seasonal flying to Washington Dulles. Icelandair's success earned the airline's CEO Birkir Hólm Guðnason the "man of the year" in Icelandic business as well as the carrier itself winning "marketing firm of the year". However, 2011 saw a new player in the game with the start of WOW Air. WOW planned to start with an Airbus A320 and offer low-cost options much like Iceland Express.
An Icelandic Merger to Follow
While WOW was rising, Iceland Express was falling. Despite turning some of the airlines best profits, the leasing company Astreaus Airlines filed for bankruptcy in 2012, resulting in Iceland Express losing their entire fleet. With no planes, Iceland Express was forced to look for alternatives, with the carrier leasing two Airbus A320s from Czech Holiday Airlines. However, the damage had been done to Iceland Express, and with their fleet over 50% smaller and no way to operate the schedule they originally planned, the carrier decided to merge with WOW Air. The result of the merger was WOW Air's route map growing over 50% with new service to Berlin, Kaunas, Salzburg and Warsaw starting.
Since the WOW Air-Iceland Express merger, operations at Keflavik have grown rapidly, and in 2013 they took it to a whole new level. In 2013 Icelandair started the idea of the Iceland Stopover and created the #MyStopover experience. #MyStopover allows for a traveler to spend up to seven nights in Iceland and carry on to Europe or North America at no additional cost. WOW Air followed suit with the Stopover option on the WOW Air website. This coupled with the increase in Iceland's tourism lead to Icelandair and WOW Air adding more frequencies and routes over the next two years. Icelandair further helped make travel to Iceland easier by forming alliances with US carriers such as Alaska Airlines in Seattle, Frontier in Denver and jetBlue in Boston and New York JFK, which opened up most of the United States to Icelandair's destinations.
While Icelandair and WOW Air have expanded at Keflavik, they aren't alone. Delta has moved summer service to Minneapolis and New York – JFK. The airport has also welcomed new seasonal flights from Air Baltic, Wizz Air, Austrian Airlines, Czech Airlines, EasyJet, Eurowings, Iberia Express, Lufthansa, and Vueling. Furthermore, airlines like Norwegian Air Shuttle, Lufthansa and SAS have increased their summer frequencies to keep up with traffic numbers. Icelandair and WOW Air will also call in extra aircraft to aid in their massive summer schedules, with Icelandair leasing Boeing 757s and Boeing 767s and WOW Air calling in Airbus A320 family aircraft and Airbus A330s.
Growth at Keflavik
The results of these new routes are massive for Keflavik, as the airport's 2015 traffic count swelled to 4.8 million passengers, a 25% increase from the year prior. After only servicing 1.6 million people in 2009, KEF has never had a year in which their growth was less than 11%. However, this has had KEF going from empty to maxing out, with the airport adding hard stands and busses to keep up with the number of flights.
Keflavik has some issues going forward. WOW Air and Icelandair's stopover programs stresses the terminal with passengers having to go through international customs and re-boarding all within an hour and a half. As a result, Keflavik's parent company and ground services provider, Isavia, struggles with baggage handling demands made more difficult by the free stopover benefit. While this can lead to an easy transition for transferring passengers, those who have Keflavik as a destination can lead to long delays waiting for luggage as well as being left in a very crowded baggage claim. The narrow terminal can bring issues as well with lines for departing flights in Concourse A overflowing into the walkway, blocking access to the main hall and exit of the terminal. The use of busses and hardstands also limits the ability to make connections, with the transportation to the terminal taking more time than the traditional jet bridges. The airport recently finished expansion of the terminal, expanding the airport from 11 gates to 18, which should aid in some of the congestion.
While these issues have come to plague Keflavik in recent times, Isavia is planning for change. The airport's 2040 master plan envisions an airport capable of 10 million passengers per year. The future airport would be built on to the current structure and evolve the current "T" terminal into an "H" terminal. The new complex would expand the gates at the terminal from 18 to 34, with the former narrow boarding hallways becoming walkways between the European and North American departure halls. Furthermore, the airport's departure hall will be rebuilt to allow for more passengers to transfer through the airport easier, and the arrival hall will see the number of baggage carousels jump from three to seven. The airport will also add a cargo complex and a parallel runway to the current runway 02-20.
Keflavik and Icelandic aviation have seen great change over the course of the last few years. The ability to grow via tourism and the stopover programs have put Iceland on the map for many new airports across Europe and North America. While the success has been great for Keflavik, the airport's ability to adapt to change for the future is key for Icelandair and WOW Air's continued growth. The ability to expand will grant Keflavik the ability to operate smoother with aircraft not waiting on hardstands and streamlining passenger's efforts to transfer aircraft. While Iceland might have hit its low point in 2009, it is now at its high just seven years later, and has no plans for stopping its upward trajectory.
Although Ian McMurtry was never originally an avgeek, he did enjoy watching US Airways aircraft across western Pennsylvania in the early 2000s. He lived along the Pennsylvania Railroad and took a liking to trains but a change of scenery in the mid-2000s saw him shift more of an interest into aviation. He would eventually express this passion by taking flying lessons in mid-Missouri and joining AirlineGeeks in 2013. Now living in Wichita, Kansas, Ian is in college majoring in aerospace engineering and minoring in business administration at Wichita State University.
Latest posts by Ian McMurtry (see all)