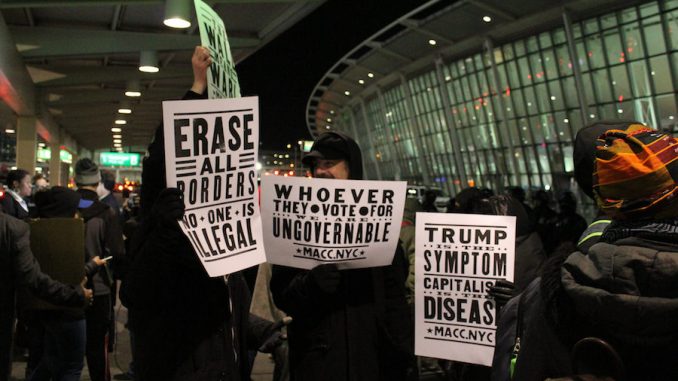 As numerous citizens of various predominately Muslim countries stepped off their flights at various U.S. airports on Saturday, they were greeted with the news they would no longer be able to pass through customs to enter the United States. As a result, they were detained, as airport, airline, and some law enforcement officials found a way to deal with the situation.
At Dallas/Fort Worth International Airport, in the waiting area usually meant for families, friends, or drivers to greet passengers arriving on international flights, a small crowd of protestors appeared, hoping to see the release of passengers who had previously been onboard two different flights, Qatar Airways flight QR729 and Emirates flight EK221 from Doha and Dubai, respectively.
That crowd began to grow larger until hundreds of people were packed into the waiting area. Chants of "set them free" grew louder and louder as the night progressed. Three children were seen holding a sign that read, "I Want My Daddy Back."
Applause erupted when three of those detained were released owing to a federal judge issuing a stay on the restrictions. As of midnight Sunday, nine are still being held with no word on when or if they will be released.
This was the scene across multiple U.S. airports over the weekend, including New York's Kennedy Airport, Chicago's O'Hare, Washington-Dulles and many others after President Donald Trump's executive order Friday temporarily banned anyone traveling with a visa from one of seven predominantly Muslim countries from entering the United States. Airlines and airports were left scrambling in an attempt to figure out how to handle passengers already onboard flights to the U.S. and how to alert other passengers of the ban before the situation worsened.
Less than 24 hours after the executive order was signed, numerous airlines began alerting passengers as to how the situation would affect their travel plans. Doha-based Qatar Airways quickly put the word out on Twitter for all passengers to go check their website to ensure that they aren't affected.
Update on entry requirements to the United States. Please visit https://t.co/PVfW0x7kvH

— Qatar Airways (@qatarairways) January 28, 2017
Chicago-based United Airlines, which currently does not fly to any of the affected countries (which include Iran, Iraq, Libya, Somalia, Sudan, Syria, and Yemen), released an advisory on their "Important Notices" page that anyone who meets the criteria specified in the executive order will not be able to fly with them.
"Customers who meet these qualifications will not be able to board a United- or United Express-operated flight to the U.S. If you have travel plans that are affected by this new regulation, please contact the United Customer Contact Center. Additional information is available through the Department of State," the notice said.
In addition, Atlanta-based Delta issued a Tweet and statement on the travel restrictions, saying that it will contact affected passengers.
.@Delta to contact customers affected by U.S. Executive Order issued Jan. 27 @DeltaNewsHub https://t.co/9Z9Mbg6ath

— Delta News Hub (@DeltaNewsHub) January 28, 2017
Emirates did not use social media to spread the word but instead issued a travel advisory on their website with the terms of the immigration ban and information on refunds.
"Emirates is offering rebooking and refund options for affected passengers who are booked to fly to/from the USA between 28 January and 28 February," the site says.
Atlanta-based Delta Air Lines and Fort-Worth, Texas-based American Airlines both put out travel advisory alerts Monday saying all customers affected by the 90-day travel ban should contact their corresponding reservations numbers to discuss other options, the terms of which were not immediately available on their websites.
Airlines, however, are not the only entities that have to deal with the repercussions of President Trump's executive order. Multiple airports across the country now have to find the means to deal with passengers who boarded their flights before other countries were able to enact the halt on immigration.
Saturday night, protesters vastly outnumbered those detained, and DFW Airport thanked those who participated in the nonviolent demonstrations.
Our airport police and entire staff would like to thank all protestors for exercising your rights in a peaceful manner. pic.twitter.com/ltyg1VaQOV

— DFW Airport (@DFWAirport) January 29, 2017
At New York's JFK Airport, hundreds of demonstrators gathered at the airport's Terminal 4 to protest against the detention of two Iraqi refugees that took place early in the day. As supporters took to social media to encourage others to come out to the airport, the airport also took to Twitter to let those know that only ticketed passengers and employees would be allowed to board the AirTrain because of crowding issues.
Until further notice, AirTrain JFK limited to ticketed pax and employees only at Jamaica and Howard Beach to control crowding. [94]

— John F. Kennedy (@JFKairport) January 29, 2017
After dozens of comments were left on the post expressing discontent with the Port Authority's decision to refuse a ride to demonstrators, the airport and Port Authority again insisted this measure was only taken for public safety before suspending the service entirely, which led to even more outrage from all across the city.
New York Governor Andrew Cuomo quickly reversed the decision, releasing a statement in which he said he also directed the Metropolitan Transport Authority, which controls New York's subway system, and the NYPD to assist with transportation and safety of all parties involved.
"One of the fundamental rights that is granted to the people of this country is the right to peacefully protest," Cuomo said. "The people of New York will have their voices heard."
I have ordered the Port Authority to reverse its decision regarding the JFK AirTrain. The people of New York will have their voices heard. pic.twitter.com/zwGOYgzQPg

— Andrew Cuomo (@NYGovCuomo) January 29, 2017
Other airports around the country are also seeing demonstrations, including Washington-Dulles, Los Angeles, Denver, Charlotte, and Seattle.
Crowd has gotten huge, loud here at #seatacprotest pic.twitter.com/gCuNhQvB72

— Lindsey Wasson (@lindseywasson) January 29, 2017
"Let them in" being chanted at the International Arrivals gate at @Dulles_Airport. pic.twitter.com/DskxOGjC3Q

— Ryan Hughes (@ABC7Hughes) January 29, 2017
As this situation is still developing, it remains to be seen how other governments, more airlines, and other foreign and domestic airports will react as this ban continues. Currently, no large number of flights has been adversely affected.
This story is developing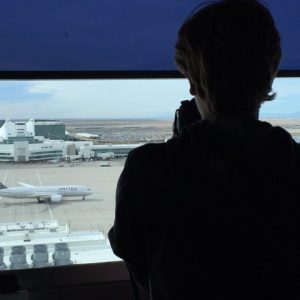 When he was just six months old, Parker took his first flight. From that point, he was destined to love aviation. His mom worked for Southwest Airlines much of his family have been frequent flyers on American Airlines for years, just as Parker is now. In 2015, Parker, inspired by aviation accounts on Instagram, decided to create an account of his own, and he hasn't stopped spotting since. On top of that, Parker has been writing for his school paper since his freshman year and has been writing and doing photography work for AirlineGeeks since August 2016.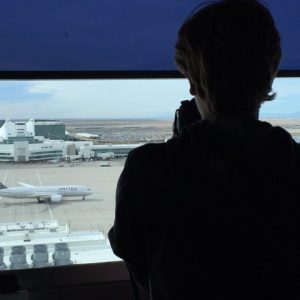 Latest posts by Parker Davis (see all)