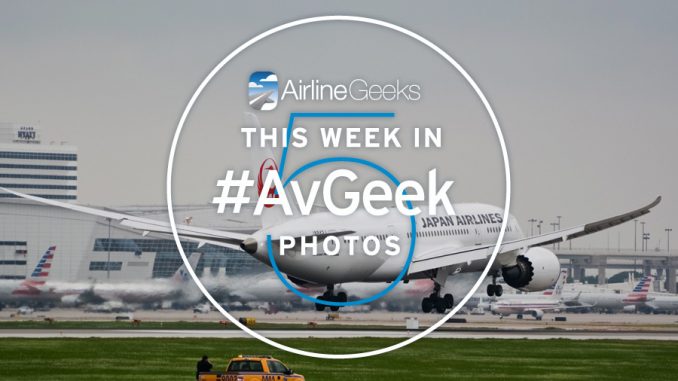 A photo is a thousand words. An aviation photo can serve as a testament to the essence and magic of flight while also telling a story. Each week, the AirlineGeeks team compiles five aviation photos that tell a story and capture the uniqueness of flight.

An American Airlines 777-200 with the oneworld livery departs on a sunny evening at LAX as seen from photographer Brian Karleskind's lens in a helicopter just over 1,000 feet above the aircraft.
An Emirates Airbus A380 approaches Boston Logan International Airport as flight EK237. The airline operated their largest aircraft as a one off service to the Massachusetts city. It was the first time that a scheduled Airbus A380 visited Boston. (Photo: Chris Ianno)
N779NC, a former Delta DC-9, was scrapped this week in Charlotte after being on display at the Carolinas Aviation Museum. (Photo: Troy Mitchell)
A Qantas Airbus A380 on the ramp at Dallas/Fort Worth International Airport. Qantas is now the only airline to operate the superjumbo into DFW after Emirates downgraded their service to a Boeing 777-300ER last year. (Photo: Eric – @ikon_photography)
The Hainan Airlines 787 Dreamliner featuring the Kung Fu Panda livery appears from the carrier's hangar in Haikou on Friday. The aircraft features 11 different pandas in various poses. (Photo: Hainan Airlines)
The Atlanta Falcons arrive in Houston on a Delta 777-200. They will face the New England Patriots on Sunday for Super Bowl LI. (Photo: GFB Aviation Photography)
AirlineGeeks.com began in February, 2013 as a one-man (er… teenager, rather) show. Since then, we've grown to have 20 active team members, and yes, we're still growing. Some of us are looking to work in the aviation industry as professionals when we grow older. Some of us are still trying to decide what we want to do. That's okay though, because we're all here for the same reason: we love the airlines. We're the youngest team of airline industry journalists out there.
Latest posts by AirlineGeeks.com Staff (see all)