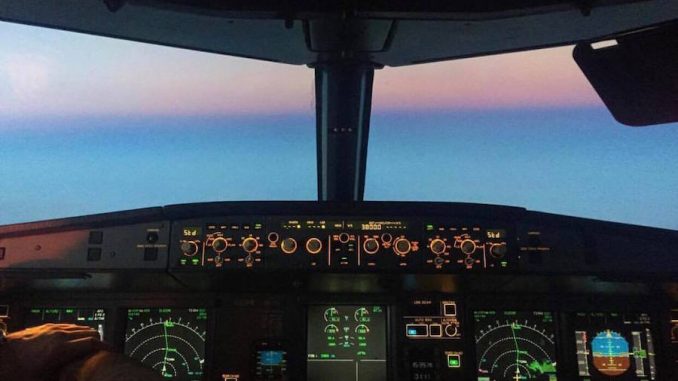 Intersted in becoming an airline pilot? Find out more information about flight schools at www.learn-to-fly.eu
The basis of this article is to provide an insight to one person's views on training to become an airline pilot, in Europe, during the 21st century.
I don't think I will ever get bored of lifting my head up towards the sky every day. Whether it is to watch an aircraft passing overhead travelling somewhere or waiting for my next duty which will see me do the opposite, looking down below from 37,000ft. But that might just be me. Each pilot has their own levels of passion in regards to flying. Right now, a 03.30 alarm is worth it when I know that in 90 minutes time I will be seated at the front of an Airbus A320 working my way through the pre-flight checklists to fly 150 passengers to Basél.
At the age of 21, the occupation I have is something I've wanted for as long as I can remember. I am very lucky to have been able to achieve something that I know many people haven't yet been able to. What's more mind-blowing to me is that most of my classmates from school are still in university/college and are yet to begin work in their chosen profession, and by the time they do leave education this summer, I would have transported approximately 20,000 passengers across Europe.
If you go outside of the aviation world (apparently there is one…) and tell someone that the person sat at the front of their holiday jet transporting them to Spain might be in their early 20s, they might be surprised, or even shocked. 21 is not the youngest age of a person in charge of an airliner. Last year a 19-year-old pilot was in the British national press for conducting his first flight with a European airline. He had the same amount of training as me but had the timing right to begin the 15-month training course shortly after his 18th birthday.
I raise the point of training 'in the 21st century' to emphasize the difference in how the training is today compared to a few decades ago. Today, the main route into the right-hand seat of an airliner is signing up to an 'integrated' flying school. A school which requires no real previous flying experience, and takes you through six months of ground school to pass 14 theory examinations, the initial flying training towards a Commercial Pilot's Licence; onto the instrument rating training of a light twin-engined aircraft and then finishing off with Multi Crew Cooperation training in an airliner simulator. Following this 18-month process, you walk out with what is nowadays known as a Frozen Airline Transport Pilots Licence, more commonly referenced to as a 'frozen ATPL,' the combination of the CPL, IR, and MCC.  Following this, the only thing stopping you from working on a flight deck of an airliner is a job interview and an aircraft Type Rating. To unfreeze the ATPL would require 1,500 hours of flight experience and a skills test on the aircraft type. Something I won't be doing for a year or two in order to accumulate the hours.
This type of training delivered to trainee pilots is similar to what has occurred since after World War II. In the 1950s, it was apparent that there would be a shortage of ex-military pilots able to transfer to civil aviation in the United Kingdom. At the time there were two state-owned airlines, British Overseas Airways Corporation (BOAC) and British European Airways (BEA), the two would eventually merge together as British Airways. The two airlines came together along with the Ministry of Aviation to set up a flying school, located in Hamble, Hampshire in the South of the UK.
The first set of cadets began their course in the 1960s, where the course lasted 2 years. Those leaving school or university were accepted on a fair and equal basis. Like today,  no previous flying experience was necessary. The course started off with 15-weeks of ground school, initial flight training in a De Havilland Chipmunk or a Piper Cherokee and then later the advanced flight training, in which Piper Apaches and Beechcraft Barons were used. The end product would see a cadet graduating with a British Commercial Pilots Licence and a frozen Airline Transport Pilots Licence.
After a few years of the school being open, the course length shortened to the 18-months we see today for ATPL training. However, the school closed in 1982 following the BOAC/BEA merger.
This type of training set up the way pilots would be taught in the future. However, many captains I have met or flown with would have spent a number of years as an instructor for students aiming for a PPL and other light aircraft, helping themselves to build hours while earning money, prior to commencing a job with an airline.
Plenty of privately owned flying schools are out there today. Famous organizations include CAE Oxford Aviation Academy, CTC Aviation, and Flight Training Europe. All providing an integrated way of training pilots from zero-hours to fully licensed to fly an airliner in the span of 2 years. This is something that nowadays appeals to the airlines for two straightforward reasons.
First, the training is provided by someone else, meaning the airline isn't required to spend huge amounts of money on the initial costs of training someone from zero hours. 95% of cadets aren't airline employees during training. Therefore, the airline isn't unnecessarily paying a wage until they officially begin work for the airline. Once qualified, the airlines' begin their own specific training at regular intervals to continually develop the pilot around the airline's own philosophies. The other 5% of cadets are those that are on an airline program.
What is becoming increasingly popular with airlines is the new pilot license that has been created within the last decade. The Multi Pilot Licence (known as the MPL license) is a new EASA license that allows flexibility to the way airline pilots are trained. In the words of the United Kingdom's Civil Aviation Authority (CAA):
"The aim of the integrated MPL training course is to obtain a multi-pilot licence (MPL) and be trained to the level necessary to operate as co-pilot in a multi-engine, multi-pilot, turbine-powered commercial air transport airplane under visual flight rules (VFR) and instrument flight rules (IFR)."
"MPL training will be undertaken at an approved ATO that is part of or has a specific arrangement in place with a commercial air transport operator that has been certificated by EASA. Your licence will be restricted to that specific operator until you complete the airline operator's conversion course."
Although the 15-month course was, at the beginning, incorrectly perceived by industry figures as an initiative to address pilot shortages. It was introduced to take advantage of new technologies in simulation and turn out large numbers of pilots at a lower training cost and within a shorter time frame. "MPL cannot cure the shortage, but it can minimize the threats inherent in the shortage," says Bill Voss of Flight Safety Foundation.
Some say it's a better, streamlined license, cutting out unnecessary training to become a right-hand seat first officer, ICAO says it is a more competency-based approach to training professional pilots. Because the license is more tailor-made for the airline, the pilots have to be pre-selected for MPL training, as mentioned in the CAA quote. Because of this, an interview with the airline in mind is required for potential cadets. It is essentially a job interview in the aspect that if you pass the training program to a certain standard then you will be offered a contract of employment once training has concluded. The difference this has to my ATPL route was that I didn't have an interview with the airline or a conditional offer of employment. I had an interview to attend the flying school with the hope that at the end of my training there would be a job interview with an airline at the end, risky indeed.
The second benefit of 3rd-party training is the airlines partnered with flying schools know what type of pilot they will receive if they hire qualified cadets graduating from the school. Consistency is key for an airline in all aspects of the company. Because of this, it causes issues for a certain type of trainee pilots, particularly the modular pilots. Eventually, how a modular pilot can gain their first job with an airline is tricky.
The question that highlights this is "why would an airline stop, or reduce, their recruitment of pilots from an established integrated flying school, where they know what standard they will receive, and start recruiting openly to modular pilots where they are potentially trained by all different types of flying clubs and organizations?" This can be a damning effect for those who go modular, the main reason why a trainee would opt for the modular route is due to the financial costs of the integrated route.
It is normal for a trainee to enroll in a course at an integrated flying school where training costs range from £80,000-£120,000, a figure that disables many people with the ambition to become an airline pilot. Modular training, however, can cost approximately 50-60% less than the price of an integrated course. This is a major benefit but also allows trainees to potentially have a full-time job while learning to fly in their spare time. Something that isn't available while taking integrated courses. Only in the past few years have we seen some airlines assist a handful of cadets with the finances of the course (Amy Johnson Flying Initiative, Future Pilot Program, Future Flyers Program, etc.).
Luckily for those who are undertaking the modular route, major flying schools that primarily teach an integrated syllabus are opening new opportunities for modular pilots to complete with the rest of their training and increase their chances of employment by entering a hold pool.
Pre 9/11 airlines would sponsor keen enthusiastic people with the ambition to fly for their airline. With the cost of training outstretching most people's personal savings, the airline would provide the training costs and recoup the money once the pilot graduates and flies for the airline for a certain number of years. With a certain percentage of their monthly wage being given back to the airline to cover the training costs.
"I left a career shortly after the millennium and joined a BA cadet scheme. I was sent to train at OAA where I spent time in Arizona to undergo the training. Afterwards, I was at CTC Aviation conducting a month-long Jet Orientation Course. Upon finishing my training my start date with the airline was pushed back for 4 months, mainly due to BA acquiring another airline. I spent 4 months working in a factory in an industrial estate, I finally joined the airline around 15 years ago. People on the course behind me joined just before 9/11 and ended up flying photocopiers for a while – timing really is everything!"
A British Airways A380 pilot highlighting how the timing upon completing training can vary depending on the market situation. This pilot was lucky, he had the security of knowing he will eventually join British Airways.
This all changed from 2002 onwards. Airlines around the world began to lay off employees. The demand for air travel dipped, meaning many pilots were made redundant. In the decade of 2000, airlines in the United States collectively lost $55 billion and laid off 160,000 workers. At the same time, the global financial crash and recessions occurred, banks effectively shut up shop for unsecured loans that would-be pilots would have accessed to pay for training.  In 2006, British Airways increased its pilot retirement age from 55 to 60 (today at 65) and in 2009 the FAA increased its own mandatory retiring age for pilots from 60-65.
The raise in retirement age at British Airways has indirectly affected how I managed to secure employment with an airline. Because of the increase in the retirement age, the airline was able to postpone a potential drive in pilot recruitment for another decade, once the 65-year-olds reach the legal limit. At the same time, the airline began to see new aircraft entering its fleet and not as many leaving. In 2012 the airline began laying the foundations for what would be their biggest recruitment drive in the company's history, recruiting between 600-800 pilots in the space of 4-5 years. The airline set up its own flagship pilot program, where it would sponsor a few dozen cadets every year to undergo commercial training at one of the schools mentioned prior to joining the airline. As indicated earlier, these cadets would have attended an interview with the airline and be offered a conditional contract of employment, currently, British Airways Future Pilot Programme cadets train towards an ATPL, not MPL. But where would the rest of the people come from?
In 2012, British Airways began laying the foundations for what would be their biggest recruitment drive in the company's history, recruiting between 600-800 pilots in the space of 4-5 years. The airline set up its own flagship pilot program, where it would sponsor a few dozen cadets every year to undergo commercial training at one of the schools mentioned prior to joining the airline. As indicated earlier, these cadets would have attended an interview with the airline and be offered a conditional contract of employment, currently, British Airways Future Pilot Program cadets train towards an ATPL, not MPL. But where would the rest of the people come from? Other airlines.
Like an ecosystem, the bigger fish in the pond opens its mouth and lets everyone with the required amount of flight hours (500 hours at one point) know they can apply to come in. Because of this, other airlines in the pond need to start replacing the ones that leave. As a result, I was fortunate that my financial gamble on my own ability to do well in a flying school, as well as the European recruitment to continue, paid off when I was offered a job interview with one of those airlines last year.
The training I undertook was exactly as described at the beginning of the article. I undertook six months of ground school (750 classroom hours) and finished with 14 first time passes in the following theoretical subjects: air law, aircraft general knowledge (systems, electronics, power plants), flight planning, human performance, meteorology, operational procedures, principles of flight, communications (IFR & VFR), performance, general navigation, radio navigation, and mass and balance.
After graduating, I was onboard an A380 from London to New Zealand, a country I spent eight months living in, starting off flying in a Cessna 172 for the initial flight training. Upon completing an in-house test equivalent to a Private Pilot's License (PPL) I began instrument training in a Diamond DA-42 twin-engined aircraft. At the same time, I was preparing for my Commercial Pilots Licence (CPL) skills test, which in the end I passed.
The CPL test marked the end of the training in New Zealand, and after spending a few nights making sure I remembered what the bars looked like I returned to the UK, taking advantage of the nonstop flight that Emirates announced between Auckland and Dubai.
The next step of the course was to begin the instrument rating training in the south of the UK. This would be great for the views had I not been wearing a hood the majority of the time, limiting my outside vision, forcing me to learn to fly just off the instruments of the aircraft. Aviation is a small world, my instructor for my instrument training was also one of my PPL instructors teaching me to climb and descend when I was aged 14.
The instrument rating exam marked the end of training in an actual aircraft as the rest would be in a simulator. Undergoing a Multi Crew Cooperation course was there to prepare pilots to work as a crew, rather than individually, which was the case throughout all the training up to this point. Crew Resource Management, delegation, individual crew responsibilities, flight deck management, and decision making were the stuff we would be learning about during the week-long ground school prior to the 36 hours we would spend in a static 737 simulator. This was a highly important part of the whole course, airlines would be using this as a defining grade on whether to offer an interview or not.
The MPL course would see a cadet undergo the same ground school lessons and exams as the ATPL cadet. But from then onwards the two courses take different paths to positioning the cadet in the right-hand seat of an airliner. As an ATPL student, I flew approximately 100 hours in a single-engined aircraft and approximately 50 hours in a multi-engined aircraft. My type rating consisted of 13 full-motion simulator sessions lasting 4 hours each, learning the aircraft I fly today. MPL courses follow their own pattern but allow flexibility to each airline's needs. One airline, for instance, insists on their cadets physically flying a small twin-engine aircraft for a few hours, whereas another airline's MPL course doesn't include flying a twin aircraft outside the simulator. A typical MPL course will include 70 hours in a single-engine aircraft, 25 hours in a multi-engine simulator (or Flight Simulator Training Device) and 180 hours in an A320 simulator (or whichever aircraft the MPL student will finish on).
The training provider really depends on what the next step is for those finishing their ATPL training program. For myself, I was adjudged to have met the criteria to be put into the training provider's holding pool. From here, airlines essentially turn to the training provider and say, "we need 20 pilots for next month, send us your 20 (or 25) cadets for an interview."
Following a successful interview, I began a type rating course on the Airbus A319/A320. A few weeks was spent back in a classroom learning about the aircraft and eventually sitting through both a general aircraft knowledge and a performance exam. Upon finishing in the classroom, three weeks were spent in full motion simulators, getting used to handling the aircraft in its various laws and configurations and, just as importantly, consolidating emergency procedures.
This was effectively the end of my training prior to joining the airline. Since beginning employment, I flew an empty Airbus aircraft for the first time undergoing six take-offs and landings, which is known as base training. Since then I have been operating revenue flights across Europe, similar to the rest of my course-mates. Approximately 14 of us ended up at the same airline. In fact, the airline I work for recruited around 300 new pilots last year, plugging the gap of what I mentioned earlier in regards to the likes of British Airways and Middle Eastern carriers taking on experienced pilots.
To explain in broad terms what a modular pilot is to those who are unfamiliar with this term, I would compare it to those who attend university and those who attend an open university or a night class. The difference is the time it takes to achieve the same goal of getting a frozen ATPL. Modular training is where a student will break down the ATPL in small goals. The following is a broad layout of how a modular pilot can go about achieving a frozen ATPL. First of all, a Private Pilots License (PPL) is required: a minimum of 45 hours in a single piston engined aircraft and a practical skills test with an examiner.
The next step is gaining a Commercial Pilots License (CPL). This requires what's known as "hour building." To receive a CPL the trainee must have at least 200 hours total flying time, including 100 hours of pilot-in-command flying prior to taking a skills test. It is up to the trainee how he or she goes about this, but simply taking an aircraft into the sky for an hour just to fly around the local area 100 times can become very tedious. The CPL can either be done in a single-engined piston aircraft, or in a multi-engined piston aircraft but the trainee must have a multi-engined rating before applying for an ATPL.
Next up is the Instrument Rating (IR) in which you get a rating on flying aircraft based on instruments. During this training type, the eyes of the trainee are spent mostly inside, wearing a hood to limit his or her vision of the outside world to aid the simulation of flying in clouds and having no outside reference to fly on. At the same time, the 14 ATPL exams must be passed, normally modular students would attend an approved ground school organization to receive relevant tuition for the subjects. However, it is possible to self-teach this information too.
Although it is becoming the second-best option for achieving a job in the right-hand seat, not everyone eyes the modular route. Flybe's Director of Flight Operations, Captain Ian Baston, explained, "Modular courses tend to produce pilots who have come from a wide background and experience and this can be very advantageous when we come to look at suitability for command in the future. We do require that the professional flying aspect of a modular course is undertaken at a maximum of two different approved training organizations in order to ensure a degree of continuity and enable the ATO to give us reasonable feedback on an individual's performance, progress, and character." It boils down to personal preference of the trainee pilot in regards to which option is better for them, both financially and practically.
As highlighted numerous times, the biggest barrier to becoming a pilot nowadays is the cost of flight training. For the past few years, airlines have been able to help ease the financial pain of training costs and open their own sponsored courses. As expected, these are swamped with applicants with one UK sponsored course receiving approximately 9,000 applications for its yearly program. This forces those passionate of following their dream to seek other methods of financing it.
This forces those passionate of following their dream to seek other methods of financing. Many turn to re-mortgaging a property, either their own or through a family member's house. Others are able to fund without the need of a loan. A survey of the 560 cadets in the British Airline Pilots Association (BALPA) membership found that, for more than 50% of them, the cost of training would exceed £100,000. Only 12% had any kind of sponsorship; 45.2% had taken out a loan, while 41.9% were being helped by their parents.
There are multiple routes available for all different types of trainees to take. Reviewing the figures that Boeing released, there is a market out there today and in the near future. Personally, if I started again I would take the same route as I took before. Teenagers who ask me about training to be a pilot ask me what I suggest they do. I tell them "you have to visit every avenue of training, whether it's modular or integrated. But also explore each organization, there are subtle differences which set them apart. That's why more than one exist because they offer different versions of the same end goal."
Intersted in becoming an airline pilot? Find out more information about flight schools at www.learn-to-fly.eu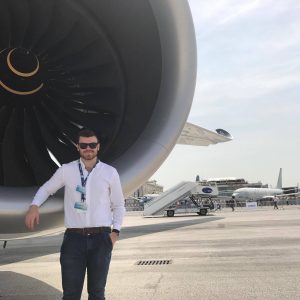 James is a keen aviation enthusiast from the United Kingdom. He has been flying since the age of 13 and today, aged 23, flies the Airbus A319/320 series for one of Europe's largest airlines.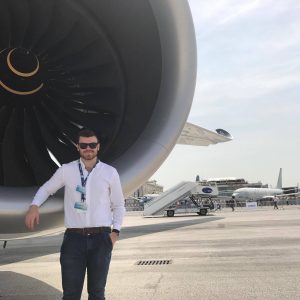 Latest posts by James Dinsdale (see all)