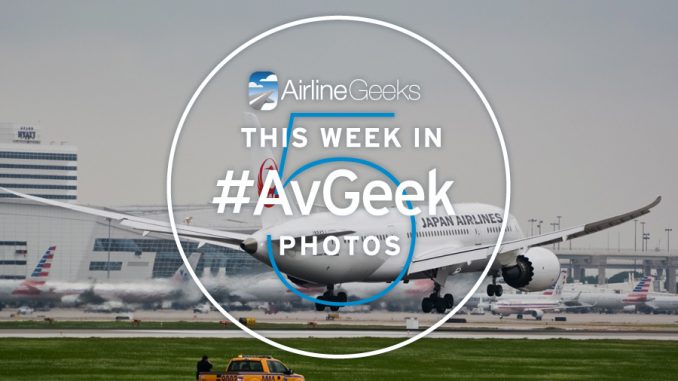 A photo is a thousand words. An aviation photo can serve as a testament to the essence and magic of flight while also telling a story. Each week, the AirlineGeeks team compiles five aviation photos that tell a story and capture the uniqueness of flight.
This image by photographer Sebastian Herb (@muc.aviation) depicts the complex work that goes into performing maintenance checks on aircraft. The A380 shown was in for an IL-Check at the Lufthansa Technik facility in Hamburg.
On Thursday, Air Canada revealed a brand new livery which was unveiled just in time for the airline's 80th anniversary and Canada's 150th anniversary. The airline said the new livery reflects the nation's' heritage. Tom Podolec (@TomPodolec) captured a great image of one of the first repainted A321s along with an old livery 787 in Toronto.
Bernie Proctor (@aussiepomm) photographed Etihad Airways flight 484 arriving at Brisbane Airport while an Air New Zealand A320 painted in the Star Alliance livery awaits clearance for departure during a beautiful summer afternoon.
An Air China Boeing 777-300ER with the special "Smiling China" livery departs Vancouver Airport for a 10-hour flight to Beijing. Christian Ordanza (@charlieoscar98) spotted the aircraft's departure during a cold and snowy afternoon.
Fasil Getachew (@A6EDF) captured a China Eastern Boeing 777-300ER at Washington-Dulles after snow crippled New York-JFK. Winter weather in the Northeast caused many flights to divert to Dulles.
AirlineGeeks.com began in February, 2013 as a one-man (er… teenager, rather) show. Since then, we've grown to have 20 active team members, and yes, we're still growing. Some of us are looking to work in the aviation industry as professionals when we grow older. Some of us are still trying to decide what we want to do. That's okay though, because we're all here for the same reason: we love the airlines. We're the youngest team of airline industry journalists out there.
Latest posts by AirlineGeeks.com Staff (see all)