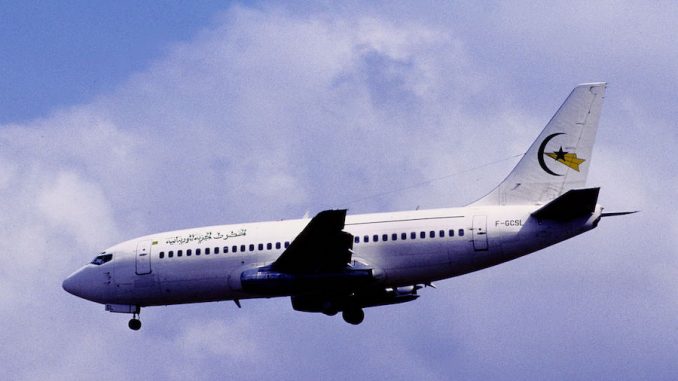 Founded in 1962, Air Mauritanie was once the national airline of Mauritania, and experienced several decades of glory before hitting hardship and ultimately being replaced. During their history, however, the airline expanded a great distance beyond domestic borders.
Initially, the airline operated leased DC-3s. Over the years, their fleet would expand to include a Nord 262, Ilyushin 11-18s, DC-4s, Piper PA-31 Navajos, F227As, Boeing 727s, and Boeing 737s. Two Fokker F28s eventually made up their fleet, but when one was lost in a crash, two ATR 42s were ordered to replace the airplane.
Air Mauritanie's hub was located in Nouakchott, Mauritania. A majority of their flights were domestic, but their international route network included various cities across Europe and Africa.
Throughout the course of their history, the airline provided service to international destinations such as Praia, Paris, and Casablanca, among others. Within Mauritania, the company served cities such as Atar, Kiffa, Nema, Nouadhibou, Selibaby, Tidjikja, Zouerate, and Aioun el Atrouss.
In 1967, Air Mauritanie reorganized, resulting in the Mauritanian government controlling a 60% stake in the company, and allowing Air Afrique and Union de Transports Aeriens, or UTA, each a 20% stake. Again, in 1974, the airline reorganized again, this time as Societe d'Economic Mixte Air Mauritanie.
Several factors contributed to their collapse, starting in 2004 when the UK banned the carrier from flying through their airspace. Shortly after, Air Mauritanie was blacklisted as a result of the Mauritania Civil Aviation Authority failing to comply with ICAO standards.
The following year, the blacklisting situation caused an economic decline, and the government replaced the airline's director. By 2006, Royal Air Maroc took a controlling 51% stake in the company.
Also, towards the end of 2006, Mauritania's government formed a new airline with the assistance of Tunisair and other private investors. The struggling airline's situation continued to worsen, and in 2007, two aircraft were seized as a result of debt. This final action resulted in Air Mauritanie ceasing their operations entirely and liquidating the company.
Ashley is currently a senior in high school and plans on pursuing a career in aviation or journalism. Her favorite airplanes include the Boeing 777, 737MAX, and Airbus A350. She enjoys taking flights on various airlines to different airports and planespotting at her local airports.
Latest posts by Ashley Magoon (see all)