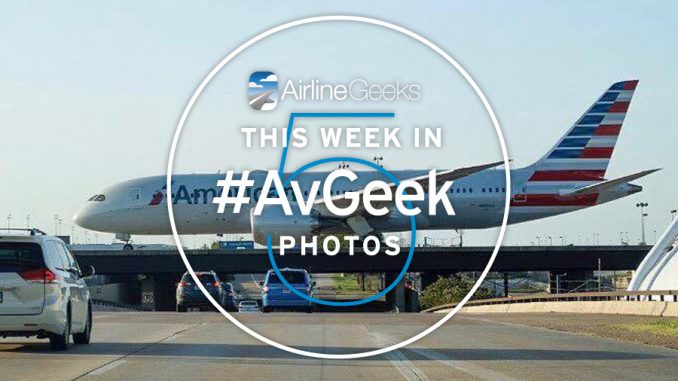 A photo is a thousand words. An aviation photo can serve as a testament to the essence and magic of flight while also telling a story. Each week, the AirlineGeeks team compiles five aviation photos that tell a story and capture the uniqueness of flight.
Houston-based photographer Gerald (@gfb.avphoto) photographed this Air France Airbus A330 passing the 6,000-foot mark at IAH's runway 15L. Air France usually flies the A330 and A340 to Houston during the winter months and the Boeing 777 during the summer season.
Airline pilot Ulrich Beinert (@ulrichbeinert) shared this photo of the evening twilight from an Airbus A320 flight deck. The view is always better when 30,000 feet in the air!

Hawaiian Airlines' newest Boeing 717 (N494HA) with only the airline's name can be seen here parked on a hard stand at Honolulu International Airport. Thanks to a Honolulu ramp agent (hnlramper) for sharing this photo.
EVA Air's Hello Kitty Shining Star (B-16722) can be seen enjoying a brief rest at Houston Intercontinental Airport before its lengthy flight back to Taipei. This photo was taken by @Airlinepilot29.
AirlineGeeks photographer Ryan Krautkremer captured this Kuwait 777-300ER at Paine Field. The aircraft features the airline's new business class seats.
AirlineGeeks.com began in February, 2013 as a one-man (er… teenager, rather) show. Since then, we've grown to have 20 active team members, and yes, we're still growing. Some of us are looking to work in the aviation industry as professionals when we grow older. Some of us are still trying to decide what we want to do. That's okay though, because we're all here for the same reason: we love the airlines. We're the youngest team of airline industry journalists out there.
Latest posts by AirlineGeeks.com Staff (see all)