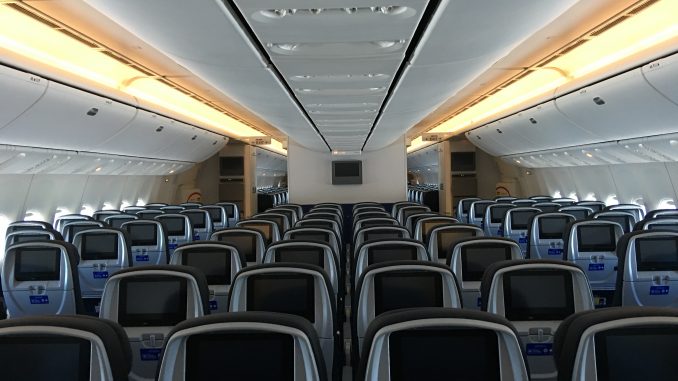 Since United's recent delivery of their new 777-300ER, the 777 has once again been put into the spotlight. While the variant first took flight in 2003, United has brought it back anew.
Back in 1995, United was the launch customer of the 777, so it is only fitting the carrier that started it all is changing how the aircraft flies again. The Boeing 777-300ER is a game changer for United; its higher capacity and longer range enables the airline to add more passenger seats to some of its most popular routes, bringing in more revenue.
However, more seats means less passenger comfort, at least in economy. In comparison to American and Delta's 777 fleets, which airline provides the best passenger experience based on their seat in all classes?
This is a comparison between American's 777-300ER, Delta's 777-200, and United's 777-300ER.
Economy
American's 777-300ER features 205 seats in Main Cabin in a 3-4-3 configuration. According to the airline's website, seat pitch ranges from 31-32 inches, with a seat width ranging from 16.2-17.1 inches.
Delta's 777-200 contains 218 seats in Main Cabin, with a comfortable 3-3-3 configuration. Seat pitch is 31-32 inches, while seat width is 18.5 inches.  
United's new 777-300ER seats 204 passengers in the Economy cabin, with a seat configuration of 3-4-3, similar to American's 777-300ER. The seat specifications are very similar as well, with a seat width of 17.05 inches and a seat pitch of 31 inches.
This ten-abreast trend is one that has become increasingly common among the 777-300ERs, with many airlines adopting this configuration. 10 abreast is tight by most standards, especially for the 777. The aircraft has a width of around 19 feet (5.84 meters). While it's not necessarily the best in terms of passenger comfort, airlines have been able to squeeze in that extra seat per row.
In terms of the economy cabin, Delta's Main Cabin configuration seems to be the most comfortable in regards to seating arrangement. Delta only has 9 abreast seating in Main Cabin, while American and United each have 10 abreast. This shrinks seat width by nearly 1.5 inches, which can make a huge difference on a long-haul flight. Delta's comparable 777 fleet is a 777-200, not a 777-300ER.
Extended Economy Cabins
Each airline has their various extra legroom economy products. While Delta and American have released their premium economy products, 777 fleets have yet to see these cabins. Therefore, each airline's extended economy product will be compared instead.
American's Main Cabin Extra has 45 extra legroom seats, in a 3-3-3 configuration. Seat width is 17.1-18.1 inches and seat pitch is 36 inches, according to the airline.
Delta Comfort Plus has 36 seats in a 3-3-3 configuration, same as its economy cabin. Comfort Plus has 18.5 inches width and 36 inches of pitch. United's Economy Plus has seats for 102 passengers in the 3-4-3 configuration. Seat width remains the same as in economy with 17.05 inches, and seat pitch measures at 34 inches.
United has by far the largest availability of extra legroom seats, more than double of what American and Delta have available. However, Main Cabin Extra and Comfort Plus offer more seat pitch, around 2 inches more than what United's Economy Plus offers.
Business
Business class is where each of these three airlines are able to create something different. Delta One, on the 777-200, has a herringbone seating arrangement with 37 seats. Each seat is lie flat with direct aisle access at a width of 21 inches and a length of 78 inches.
American's business class features 52 seats in a reverse herringbone arrangement, with 20.5 inches of width. All of American's business class seats are lie-flat. United's Polaris Business class features 60 lie-flat seats in a configuration that's unique to only United. Each seat is 23 inches wide and 78 inches in length. All seats have direct aisle access. 
All these business class configurations offer something different, so it is difficult to determine which one is considered the "better" seat. Each seat is unique in their own way, and each airline takes pride in their business class service.
American is the only airline out of the three that has a first class cabin on its 777-300ER aircraft. Some United 777-200s have a first class cabin, but their new 777-300ERs do not. As the airline retrofits its 777-200s with the new United Polaris, they will be phasing out their first class cabins.
Overall, passenger comfort and satisfaction is in the eye of the beholder. In the end, it's up to the passenger to decide which airline does it best.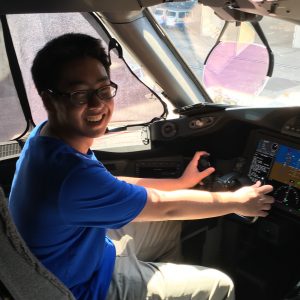 Ever since he made his first trip on a Boeing 747 in 2005, Samuel has been an AvGeek at heart. He is a dedicated United (ex-Continental) loyalist and frequent flier who attempts to live by Continental's slogan, "Work Hard, Fly Right." He has a huge love for the Boeing 777 along with any other Boeing wide body aircraft. Samuel is an avid collector of all types of airplane memorabilia ranging from model airplanes to in-flight magazines. In his free time, Samuel enjoys playing guitar and piano, and he is constantly on various airline websites scanning for any breaking news.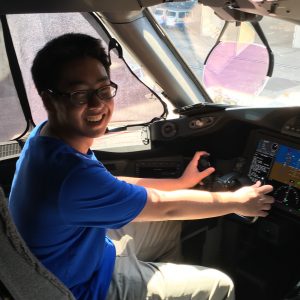 Latest posts by Samuel Chen (see all)