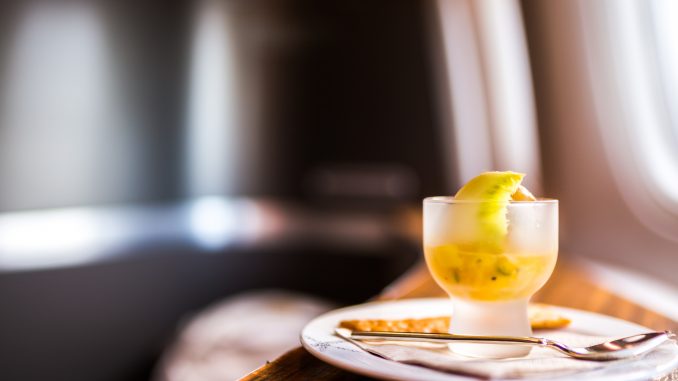 Nowadays if you want to hop on a flight across the Pacific, you're left to decide between countless numbers of varying options. Some of the world's top airlines operate nonstop flights from the United States to destinations across Asia. The question becomes, "So how do you decide which airline to fly?" If you're like me, you often choose either the airline which you're a frequent flier member of or one of their alliance/codeshare partners.
First Departure
This past December I flew from my home in Atlanta, G.A. to Malaysia to celebrate Christmas. However, my journey on the way home was far from being the same as my journey there. Using the logic stated earlier, I booked my ticket through American Airlines, and I was excited to fly on their flagship Boeing 777-300ER from Dallas-Fort Worth non-stop flight to Hong Kong. Those 16 hours and 45 minutes I spent in my exit row seat were quite interesting.
To start, I had no window to look out of, and my neighbor next to me decided to spend the whole flight digging into my side with her elbow. For those 16 hours and 45 minutes, I was left to resort to eating the less than stellar food served to us Economy Class passengers and attempting to sleep with an elbow consistently hitting me.  About half-way through the flight, the cabin crew were generous enough to let me use the small window on the emergency exit door to take some photos. Unfortunately, this happiness was soon short lived because of turbulence over the Pacific, and now I was back strapped into my windowless window seat.
Don't get me wrong, I love American Airlines. My AAdvantage account even shows that I've been a loyal AA flyer since I was 2.5 years old. However, the circumstances in this flight, most of which were uncontrollable, left a bad taste in my mouth. All I could think about was how I would have to endure this same trip all over again on my way home. So after spending ten days jetting around Southeast Asia and Japan, it was time for me to take the long journey home.
When Delays Turn into Opportunities
After hopping in a taxi on the way to the airport in Kuala Lumpur, I checked my American app and I was welcomed with a sight of a 20-hour delay on my flight from Hong Kong to Dallas. At first, I wasn't too upset because I thought that American would give me a hotel room and now I would get to celebrate New Years in one of the most magical cities in the world.
There I was, sitting in the back of a Malaysian taxi with the driver playing Katy Perry when it dawns on me to call American and see what is going on. After a short hold, I was able to get a hold of a customer service agent. The agent told me that my inbound aircraft was delayed on departure from Los Angeles due to weather, and since the delay was because of weather, AA would not be providing me a hotel room for the night.
Suddenly I started to worry. I explained to the agent my situation; it was my mom's birthday in a few days, and it was very important I arrived back home quickly. Before I knew it, I was rebooked onto a Cathay Pacific flight to Los Angeles where I would hop onto another flight to Atlanta, but the real surprise came when I checked in at the airport.
I'm standing at the check in counter waiting for the agent to hand me my boarding pass and suddenly noticed that instead of an economy seat I was given the boarding pass to seat 2K on a Cathay Pacific 777-300ER for my flight to LAX. Whoever the agent was at American, she had booked a first class seat on Cathay Pacific for my journey home. Whether it was an accident, or if she did it on purpose, it doesn't matter. She did it, and she gave me an experience which I will never forget.
A First Class Experience
I was about to enjoy one of the world's most exclusive first class cabins. Before my flight to LAX, I went to the Pier First Class lounge and took a shower, as well as stuffed myself full of yellow curry chicken and mango mousse for dessert. Once on the jet bridge, it was time to enjoy one of the best premium products in the sky. Originally I was in seat 2K but after boarding finished I ended up in seat 1A because one of the other passengers wanted to switch. After I settled down in my suite, the purser came to introduce herself and ask me how to pronounce my name. I was served a scallop dish along with a nice chilled glass of water.
For dinner, I was served a delicious steak, along with mixed berries with cream for dessert. It was quite possibly one of the best meals I have ever been served on an airplane and I savored every bite. Once all the plates were cleared away I went to the bathroom to change into my sweatpants, as I didn't want to open the pajamas they gave me just yet. I came out of the bathroom to a fully made bed.
Vivian, one of the cabin crew members in first class made sure I was okay and that my seatbelt was fastened before I fell asleep. I woke up 45 minutes prior to landing, and Vivian served me a plate of fresh fruit for breakfast. Soon after we were on the ground and at the gate at the Tom Bradley International Terminal.
For this journey, I am incredibly thankful for the opportunity I have had to be exposed to two very different products in the sky, and I hope that someday I will have the opportunity to once again fly onboard with Cathay Pacific's top-notch first class product.
AirlineGeeks.com began in February, 2013 as a one-man (er… teenager, rather) show. Since then, we've grown to have 20 active team members, and yes, we're still growing. Some of us are looking to work in the aviation industry as professionals when we grow older. Some of us are still trying to decide what we want to do. That's okay though, because we're all here for the same reason: we love the airlines. We're the youngest team of airline industry journalists out there.
Latest posts by AirlineGeeks.com Staff (see all)