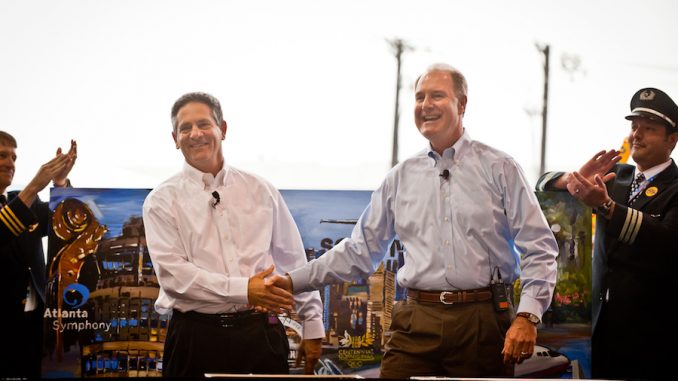 When many analysts, customers, and airline employees look at airlines like Delta, United, American, and Southwest, it becomes easy to jump to the word "competition." These competitions range from big to small, such as Southwest and American competing for passengers in Dallas, or Delta and United competing over who offers the better premium coffee onboard.
While all of the airlines are competing for the business of millions of travelers each year, there happens to be one occasion where many of the top airline executives get together each year in the name of camaraderie.
This unique organization, known as Conquistadores del Cielo, held its first meeting in 1937 and was led by none other than TWA President Jack Frye. The group would steadily grow to include leadership from the airlines, aircraft manufacturers, and other aviation related companies, and would look forward to each year meeting at the A-Bar Ranch located in Wyoming.
A Unique History
According to Thomas Petzinger, Jr. and his book Hard Landing, early members of the club included famous executives such as Stephen Wolf from United and Bob Crandall from American. Rather than argue over who had the best route or the latest aircraft, the executives would compete in various competitions including horseback riding, poker, and trapshooting.
They quickly developed their own drinking song and other unique antics, all for the purpose of enjoying time together as leaders of one of the most exciting industries in the world.
In Petzinger's book, he continues about the club saying, "They would turn out in cowboy hats and boots – Stephen Wolf in an elegant knitted sweater, perhaps, and Bob Crandall in a leather vest and bolo tie. They would feast on prime rib, buffalo burgers, trout pate, and bacon smoked on Applewood."
While the organization is somewhat secretive in nature, stories have been told in regard to the award given to the overall good sport of the club, known as "The Big Horse." Conquistadores del Cielo effectively distanced itself from many discussions that the club could allow for insider trading, but it is said that numerous merger ideas were born out of the yearly get-togethers at the A Bar Ranch.
According to Tom Horton, former President and later CEO of American Airlines, it was his idea for a proposed merger between American and US Airways when he met with Doug Parker in September of 2011 at the annual gathering.
In an interview in 2012, Horton stated, "I made that pitch. We nodded heads to one another."
By August of 2012, initial documents were signed to begin exploring an official merger between the two carriers.
A Tradition That Continues Today
Files provided by the IRS show that the organization has continued as an official non-profit based in Westlake Village, California. In 2015 alone the group recorded over $1.2 million in revenue, highlighting that even for a small social club the group remains well funded.
As of 2013, David Barger, former CEO of jetBlue, was the chairman of the organization. However, the President of the group is none other than Gary Kelly, CEO of Southwest Airlines. While this information has likely changed given Barger's oust from jetBlue in February of 2015, these roles validate that the organization has continued to exist in some fashion.
While each of the airlines' leaders will continue to spend the bulk of their energy competing for customers for nearly 360 days out of the year, it's safe to say that even rivals can enjoy one's company when it involves an organization such as Conquistadores del Ceilo, or translated into English as "Conquerors of the Sky."

Joe joined AirlineGeeks in 2014, and in his current role as Editor-in-Chief manages a growing team of writers both in North America and Europe. He enjoys spending the bulk of his time researching, learning and analyzing the latest trends in the airline industry, all while mentoring new members of the AirlineGeeks team who seek to do the same. Areas of research include revenue management, codeshare and alliance partnerships and airline financial results.

Latest posts by Joe Pesek (see all)