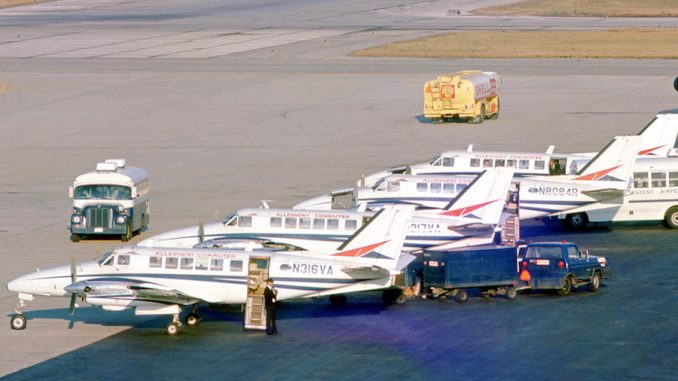 Headquartered in Terre Haute, Ind., Britt Airways established operations in 1964, and for over three decades, lived primarily off of codeshare partnerships while serving numerous cities in Indiana and several surrounding states.
Throughout their history, the airline flew a vast variety of aircraft. Initially starting out with the Beechcraft 99 in 1971, their fleet would grow to include the BAC One-Eleven series 400, which was also the only jet type aircraft in their fleet, the ATR-42, Embraer EMB-120 Brasilia, Swearinger Metroliner, Fairchild Hiller FH-227, and Fairchild F-27. Later codeshare flights with Continental Express also allowed them to operate the DHC-7 Dash 7 and the Beechcraft 1900C.
By 1979, Britt Airways was serving numerous midwestern cities as an Allegheny Commuter air carrier, as well as operating independently with their own flights. 1985 was an important year for the company, as Britt Airways was sold to People Express this year. By the following year, the carrier had picked up simultaneous partnerships with both Continental Express and Piedmont.
Over the course of their history, the airline served cities both major and minor independently and under codeshare agreements, including their hub in Chicago; Bloomington, Indianapolis, which doubled as their secondary hub, Champaign, Cedar Rapids, Cape Girardeau, Paducah, Peoria, Terre Haute, which also served as their headquarters; and St. Louis, an additional hub among other destinations.
The airline's first fatal accident occurred in 1984 when a flight crashed in Terre Haute shortly after takeoff. Then in 1991, Continental Express flight 2574 crashed in Eagle Lake, Texas, killing all 14 passengers and crew onboard.
People Express was eventually acquired by Texas Air Corporation, which was then acquired by Texas International Airlines, was then absorbed into Continental, and now exists as United.
Though the easily overlooked airline has been absorbed into history, for the time it was operating, the carrier subtly contributed to a fairly local market in a way that is still seen in some regional carriers today.
Ashley is currently a senior in high school and plans on pursuing a career in aviation or journalism. Her favorite airplanes include the Boeing 777, 737MAX, and Airbus A350. She enjoys taking flights on various airlines to different airports and planespotting at her local airports.
Latest posts by Ashley Magoon (see all)