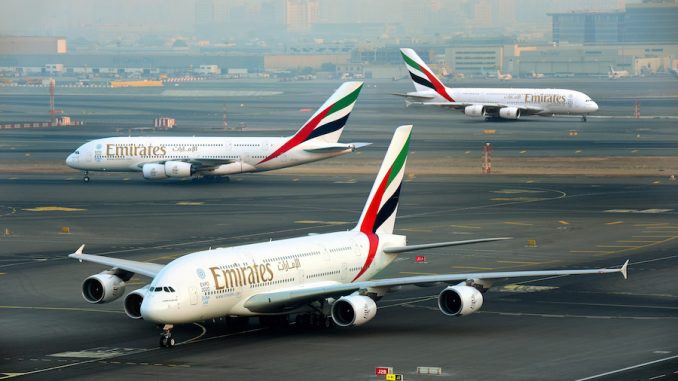 Emirates announced three new Airbus A380 destinations on Sunday by making a return to Tokyo-Narita and by becoming the first A380 operator to fly into South America and North Africa. The A380 will be replacing the Boeing 777-300ER aircraft that Emirates initially used to operate the routes.
The Dubai-based carrier also confirmed that the A380 will fly to Sao Paulo beginning on Sunday, marking the 10th year anniversary of Emirates flights to the bustling Brazilian city after starting the service back in October 2007.
Since launching in 1985, Emirates has become one of the largest long-haul carriers in the world, operating four of the world's 10 longest routes. 
This is the second time Emirates has operated flights to Tokyo-Narita with the A380 after a short spell of operating their Boeing 777 aircraft. Increased demand prompted the equipment change, according to the airline.
The carrier also became the first operator to fly the A380, the largest commercial aircraft in service, to Latin America as well as North Africa. Emirates currently operates to 49 destinations across six continents using the A380, including flights from Dubai to New York, Zurich, Rome, Moscow, and Hong Kong.
The new A380 flights departed on Sunday, carrying a combined total of 1,383 passengers to all three destinations. 
According to the airline, during these three flights, 4,160 meals were served and 290,000 catering items were used throughout the flight with a capacity of 515 passengers in Emirates' tri-class configuration. Flight EK318 took off for Tokyo-Narita followed by EK751 to Casablanca and EK261 to Sao Paulo.
in addition to new A380 service to Nice starting later this year, Emirates will also be increasing their A380 flights to Johannesburg and from October of this year will be offering two daily A380 flights and two Boeing 777-300ER flights from Dubai.
Tomos has had a keen interest in aviation for over 10 years and 4 years ago he decided to take it to the next level. He currently holds a private pilot's license and is working towards his commercial license.
Latest posts by Tomos Howells (see all)