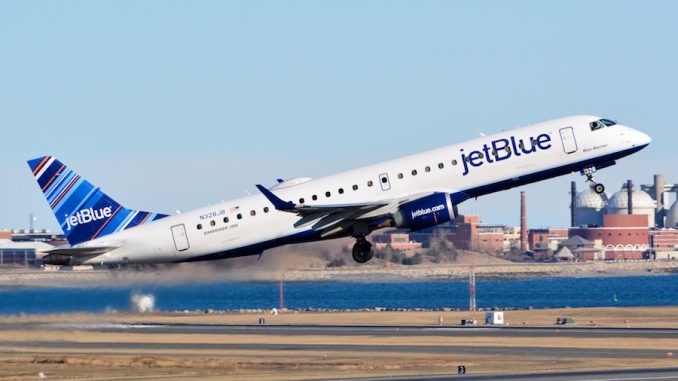 Boston's largest airline, jetBlue, announced the continuation of its commitment to the Boston Red Sox through 2030. With an agreement between the airline and the Major League Baseball (MLB) team already in place, this expansion allows JetBlue to provide more support to the community and Red Sox fans.
"The Boston Red Sox have been a valued partner of jetBlue since launching our partnership more than nine years ago," said Marty St. George, jetBlue's Executive Vice President of Commercial and Planning. "From painting a plane, supporting JetBlue Park during spring training, to honoring Boston icon Big Papi's last season, jetBlue has proven to be a dedicated member of Red Sox Nation – and we're excited to support the home team for the next 13 years."
With both organizations heavily committed to the Boston community, the Red Sox and jetBlue joined Boston Mayor, Martin J. Walsh, and Boston Public Schools to kick off the announcement by delivering around 43,000 custom, co-branded jetBlue and Red Sox hats to students at over 104 schools across the city. Even the Red Sox's mascot, Wally the Green Monster, was able to make an appearance at a few schools.
"Outside of playing winning baseball, our biggest points of pride come from the relationships we have built with our partners and within our community." said Red Sox Executive Vice President Troup Parkinson. "Over the past nine years, JetBlue has been one of our most valued partners, and we are thrilled to have a long-term commitment with a like-minded company that is equally devoted to serving the Boston community."
With 150 daily departures to 63 destinations out of Boston, jetBlue is seems to remain committed to the New England area in more ways than one. In addition to supporting other Boston sports like the New England Patriots and the Boston Marathon, jetBlue has invested in the local community by providing to organizations like the Boston Parks and Recreation Department and the new KABOOM! Playground in the Hyde Park neighborhood.
However, jetBlue is not alone in becoming a "hometown airline." Dallas-based Southwest Airlines currently sponsors the MLB's Texas Rangers, and partnered with the City of Dallas to build the Southwest Porch at Klyde Warren Park. In addition, Atlanta-based Delta Air Lines partnered with the MLB's Atlanta Braves to introduce the Delta SKY360 Club at SunTrust Park and even installed the tail fin from a retired Boeing 757-200 in front of the baseball stadium.
An "AvGeek" for most of his life, Akhil has always been drawn to aviation. If there is an opportunity to read about an airline, fly on a new airplane, or talk to anyone about aviation, he is on it. Akhil has been on over 20 different kinds of aircraft, his favorite being the MD-80. Additionally, he has visited 5 continents and plans to knock out the remaining two (Africa and Antarctica) soon. Based in Dallas, Akhil graduated from Texas A&M University with a degree in Management Information Systems and currently works in consulting. His dream is to become an airline executive.
Latest posts by Akhil Dewan (see all)