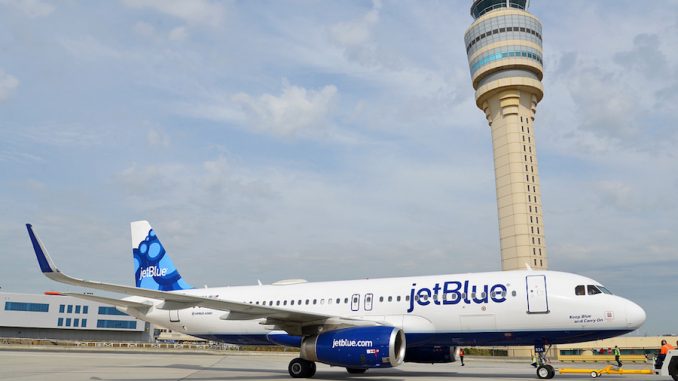 New York-based jetBlue has launched their return to Atlanta with a five-times daily service between Boston Logan and Atlanta Hartsfield-Jackson International Airport.
Atlanta is the airline's 101st city within their network, the largest U.S. city not already served by the airline starting on Thursday, with the inaugural flight from Boston touching down in Atlanta in the morning. The service originated in Boston, marking the 63rd non-stop destination from the carrier's hub.
The airline will operate a five times daily service between the two airports using its Airbus A320 fleet.
Dave Clark, jetBlue's Vice President of Sales and Revenue Management described the service as "A new day for Atlanta travellers who, for too long, have faced high fares and limited choices" and that the airline is "Also excited to show Atlanta why JetBlue is a favourite for flyers in the 100 other cities we fly to across the U.S, Caribbean and Latin America."
The new route  celebrates the airline's return to the Georgia city, nearly 13 years after it previously withdrew its services from Atlanta. In 2003, the carrier operated two services out of the city, both to California before a dispute between Delta and AirTran over west coast routes leading to the airline backing out of the city later that year.
The airline plans to operate further flights out of Atlanta to New York's JFK, Orlando, and Fort Lauderdale if the airline can reach an agreement with the airport authority over gate space.
As part of the airline's celebrations ahead of its inaugural flight, jetBlue's "For good" volunteers, crewmembers, and staff from the Atlanta airport made a commitment to give back to the community by coming together for a day's service at College Park Elementary School. Collectively, 500 childrens books were donated and read to approximately 150 first graders to provide students an opportunity to take a book home to build their own personal libraries.
Josh is a long-term aviation enthusiast and aspiring commercial airline pilot. From a young age, he has immersed himself in all things aviation. From plane spotting at local airports and airfield to racking up frequent flier miles on trips abroad, Josh is a huge AvGeek at heart. He graduated from university in September 2017 with a first class Bachelor of Science degree in Air transport. He completed his pilot training, gaining his Frozen ATPL in November 2017 upon completion of his Multi-Engine Instrument rating and Multi-crew/Jet orientation course. He currently has around 230 hours of flying experience in various aircraft. He hopes to join an airline as a first officer by the end of 2017.

He frequently flies on one of his favorite airlines, British Airways, and is an avid Avios collector and British Airways Executive Club member.
In his spare time, while not studying, flying or immersing himself in aviation he enjoys spending his time volunteering in a variety of roles and running a blog to help other aspiring pilots pursue their dream.
Latest posts by Joshua Drabble (see all)