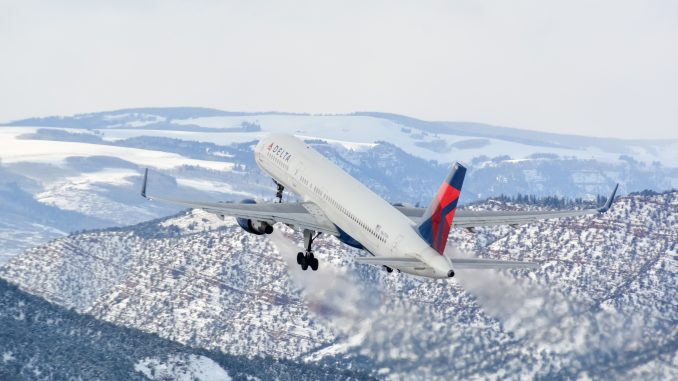 With spring approaching (or already here in some parts of the country) winter seasonal flights in some regions are starting to end. While many of these seasonal flights are to the Caribbean, some operate to smaller towns in Colorado and Wyoming. For some of these cities, the loss of seasonal service means a severe drop in destinations offered. The withdrawal of service impacts North America's favorite slopes in various ways.
Located roughly 80 miles west of downtown Denver, the Eagle County Regional Airport (EGE) has become one of the well-known airports to access the mountains around Vail, Copper Mountain, and Breckenridge. The airport sees flights from Air Canada, American, Delta, and United with only United flights to Denver being year round.
During the winter months, Eagle County becomes the second largest airport in Colorado, surpassing Colorado Springs and only trailing Denver. Despite the drop in flights, the airport has seen passenger numbers rise with American Airlines starting summer seasonal flights to Dallas/Ft. Worth and Los Angeles between June and September.
Winter seasonal service for this airport mostly occurs between December and April and consists of flights to eight cities including Atlanta on Delta, New York-JFK and Miami on American and Washington-Dulles and Newark on United. American's flight between EGE and Dallas/Ft. Worth was the airport's most utilized route last year, with the carrier operating Airbus A319s that carried over 47,000 passengers, followed by the year-round service to Denver on United.
While flights to Eagle/Vail have allowed the airport to expand, flights to Aspen are a bit more complex. The airport has a county code that doesn't allow for aircraft over 95ft long to land at Pitkin Airport and the local government also enforces a curfew. The 95ft rule eliminates the possibility for a Boeing 737 or Airbus A319 from flying into Aspen. To counter the rule, American, Delta, and United fly the Bombardier CRJ-700 with more frequencies than they fly to Eagle/Vail. The airport's only year-round service is United flights to Denver, however, seasonal routes can see over 20 flights per week to cities such as Chicago and Los Angeles.
While most of these cities have found a way to turn some of their winter service into winter/summer seasonals, Yampa Valley Regional Airport in Hayden, Colorado has yet to adapt such a transformation. Hayden is the gateway to Steamboat Springs and the mountains around it, which leads airlines such as Delta, United, American, and Alaska to operate flights to the city during the winter season.
United's summer seasonal flights run from early July to mid-August while American's route runs from early June until late August. Due to United's service to Denver being year round, the HDN-DEN route claims the title for being the most popular with over 35,000 people flying between the two cities, the next closest were Dallas/Ft. Worth (19,000), Houston-IAH (13,000), and Atlanta (12,000).
While people lose interest in a lot of these cities once the snow starts melting, airports like Jackson Hole Airport get a bump from being the closest airport to Yellowstone National Park. Despite the summer boost, winter is the high point for travelers as the park closes off and attracts skiers and snowmobilers to venture in and around the park.
The airport sees frequencies to Dallas/Ft. Worth, Salt Lake City, Denver, Chicago, Los Angeles, and Minneapolis increase during the winter months while the spring and fall can see service drop to just Delta flights to Salt Lake City and United flights to Denver. Summer sees most winter routes return, but some routes will go to weekly from daily or have equipment changes to smaller aircraft such as  Bombardier CRJ-700s.
Because flights to Salt Lake City and Denver are year-round, they lead passenger numbers both flying over 80,000 people to each city in 2016. Despite the rest of the routes being seasonal, flights to Chicago O'Hare, Dallas/Ft. Worth, Los Angeles, Minneapolis, Atlanta, and San Francisco all reach over 10,000 passengers per year.
While the April showers bring less flights to these airports, the increase of summer seasonal service to these cities in recent years means that the airports don't have to wait too long to see multiple routes again and that travelers have more options without connecting through Denver or Salt Lake City.
Although Ian McMurtry was never originally an avgeek, he did enjoy watching US Airways aircraft across western Pennsylvania in the early 2000s. He lived along the Pennsylvania Railroad and took a liking to trains but a change of scenery in the mid-2000s saw him shift more of an interest into aviation. He would eventually express this passion by taking flying lessons in mid-Missouri and joining AirlineGeeks in 2013. Now living in Wichita, Kansas, Ian is in college majoring in aerospace engineering and minoring in business administration at Wichita State University.
Latest posts by Ian McMurtry (see all)