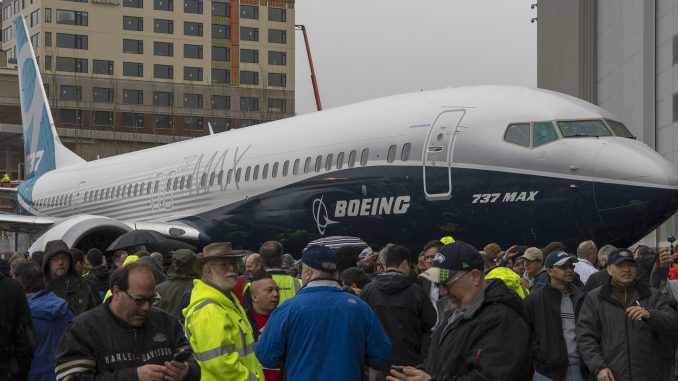 Photographing airplanes for a manufacturer like Boeing serves as a way of documenting history in one sense. Numerous aircraft have changed the way in which the world moves, including Boeing's emblematic 747 or 707.
While veteran Boeing corporate photographer Bob Ferguson was not hired to take pictures of these 1950s and 1960s unveilings, he has been taking photos of airplanes professionally for 32 years.
"I've always been intrigued by airplanes, helicopters, and aerospace," said Ferguson. Following his first helicopter ride after college, he instantly fell in love with the realm of flight and wanted to become more engaged.
Ferguson started with Hughes Helicopters, a major builder of both civil and military helicopters, before moving on to Long Beach, Calif.-based aircraft manufacturer McDonnell Douglas, which later merged with Boeing in 1997. During his entire career with these manufacturers, Ferguson has continuously photographed aircraft.
"Find something you want to do and find someone who will pay you to do it," he added. After doing portrait photography in his younger years, Ferguson calls himself the "Forrest Gump" of Boeing photography. He notes that there is never a dull moment in aviation photography from being upside down in the front seat of an Apache to hanging out of a helicopter for Boeing's centennial.
With first flights, special liveries, and airline requests, Ferguson must always remain in the know in regards to facilitating and coordinating airborne photo-shoots. He says that the planning process starts with a pre-briefing, discussing aircraft maneuvers followed by the actual flight, which requires openness to many opportunities considering the thousands of dollars being spent per hour.
"Some of the most challenging things have been the air-to-air missions," he notes.
Not all aircraft photo-shoots are easy, and some tend to be unique in their own nature. Ferguson says that photographing Boeing's top executives along with both U.S. Presidents have proven to be rather difficult given tight schedules.
Ferguson also notes a few photo-shoots in his three-decade career that stand out over others. Landing in the jungle and getting touched by intrigued African children was an emotionally touching point in his career. Another humbling moment was his flight with famed astronaut Buzz Aldrin during the McDonnell Douglas era.
Upon being asked if he has a particular aircraft that he enjoys photographing, Ferguson responded by saying, "The next one." Now, however, he is continuously fascinated with fast-moving F-18s and helicopters.
Even though he is employed in order to photograph airplanes, Ferguson says that he still goes out to grab shots during his own time. "I am the guy who stops, pulls over and tries to tell you what kind of airplane or helicopter that is," he said. "Planespotters and Boeing employees have it in their blood."
For photographing professionally, he has used a Nikon for most of his career, featuring a D4S body and preferably a 70-200mm lens or 24-70mm. These lenses are stabilized to mitigate the high levels of vibrations from aircraft. He uses two to three bodies at a time for air-to-air shots. He says that planespotters should invest in their lens selection since camera bodies are expensive with the 200-400mm featuring a 1.7 teleconverter being a game changer.
Ferguson is clearly a passionate aviation enthusiast (AvGeek). "It is in your blood. If you can find something you can do through all hours of the night tirelessly without feeling work, you know you're an aviation enthusiast."
With new aircraft on Boeing's horizon, Ferguson says that he is looking forward to what is ahead, particularly the first commercial space flight.
"I have never worked with so many smart people, brilliant people. What I really look forward to, I can't just look at the airplanes and products as being terrific, the people who build these things are so proud, as if they were building them for their mom," Ferguson added."It is a dream job; I'm living the dream."
This story was updated on April 10 
Ryan founded AirlineGeeks.com back in February 2013 (actually, it was called Aviation Official, but we've changed a bit since then). From being on the yoke of a Piper Navajo, to visiting about Delta's operations center in Atlanta, Ryan has done it all. in 2016, along with American Airlines, Ryan masterminded AAviationDay at more than 10 locations around the world. The smell of jet fumes in the morning along with the countless number of passionate airline employees keep him enthralled in the industry, always seeking more. You can find him helping out travelers at Reagan National Airport near Washington, D.C. when he's not doing something for AirlineGeeks.
Latest posts by Ryan Ewing (see all)