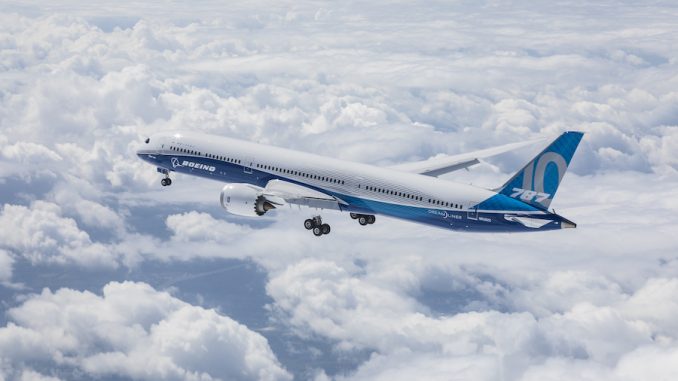 The Boeing 787 Dreamliner will now be fitted with titanium…from a printer. The Boeing Company has partnered with Norsk Titanium to 3D print titanium for the Dreamliner production line in hopes to save up to three million dollars.
The order for the parts came at the 2016 Farnborough Airshow when Norsk released that Boeing ordered titanium engineering test parts.
According to Aerospace Manufacturing and Design, Boeing wants Norsk to "manufacture, test, and analysis of the Ti-6Al-4V additively manufactured preforms was to demonstrate part-to-part repeatability and the operations processes necessary to enter long-term production of structural components for fleet aircraft."
For the past year, Boeing and Norsk have been working with the FAA to develop the 3D printed metal. The FAA is set to approve the new metal by the end of 2017. As of now, the Norwegian manufacturing company must get each piece approved.
"We are proud to take this historical step with a great aerospace innovator like Boeing," said Warren M. Boley, Norsk President and CEO. "The Norsk Titanium team will continue to expand the portfolio of components supplied to Boeing meeting stringent certification requirements. It is an honor to earn FAA approval for these structural parts."
"We are always looking at the latest technologies to drive cost reduction, performance, and value to our customers Norsk Titanium's RPD capability fits the bill in a new and creative way," added VP of Airplane Materials and Structures, John Byrne.
With this new technology, Boeing will be able to cut the cost of the Dreamliner from $265 million to $248 million, at $17 million in savings.
Matthew Garcia became interested in aviation at the age of 12 when he installed Microsoft Flight Simulator X on his computer. He was instantly "bitten by the bug" and has been in love with aviation ever since. Matthew took his first introductory flight in 2013 and began normal flight training in February of 2015. Over the years, Matthew's love and knowledge for aviation has grown tremendously, mainly due to FSX. Garcia flies highly advanced aircraft in a professional manner on a highly complex virtual air traffic network simulating real world flying. In 2016 Matthew achieved his private pilot certificate from the FAA. Now he studies journalism at the University of Nebraska at Omaha.
Latest posts by Matthew Garcia (see all)