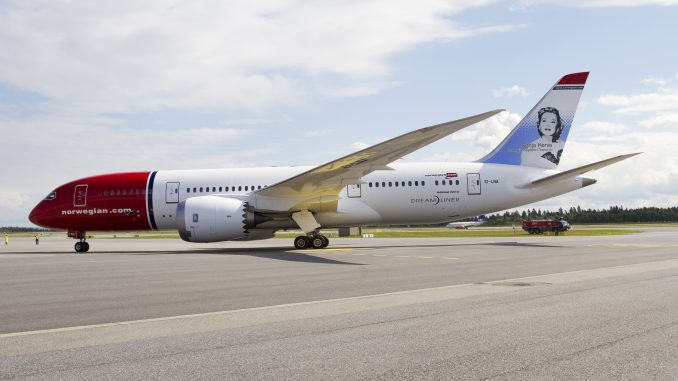 Norwegian has grown much more than usual over the past 24 years by establishing themselves as a local airline turned big-hitter in the skies, not just in Europe but across the world.
The airline's rapid growth and expansion into new markets has been very successful so far but the main question still remains: will the airline be able to successfully shuttle the world on a low-cost model while continuing to expand and compete against global carriers?
History of Norwegian
Norwegian was founded on January 22, 1993 as Norwegian Air Shuttle (NAS) where CEO Bjørn Kjos and several others started local operations around Norway with three Fokker F50s leased from then defunct carrier Busy Bee.
The carrier commenced operations between local destinations such as Bergen to Haugesund as well as Molde, Årø, Kristiansund, Kvernberget, and Trondheim. Norwegian Air Shuttle started out with 50 employees and was based in Bergen before launching a technical base in Stavanger.
1994 saw the carrier begin services to Ålesund, Vigra and by 1995, they had their fourth Fokker F50 and were generating profits of over 2.5 million NOK through the 50 daily flights they already had in operation.
1999 saw the airline carry over half a million passengers from 20,000 flights and generating profits of over 13 million NOK. This led the airline to acquire another Fokker F50, bringing the total count to seven aircraft.
In 2001, several of the Braathens flights (operated under the Busy Bee name) were terminated including the Kristiansund to Trondheim and Molde services with Haugesund and Bergen-Molde-Trondheim services being reduced accordingly. In 2002, the carrier ventured outside of Scandinavia and started operating flights to Newcastle from Stavanger on a twice per day service.
After Braathens was bought by SAS in November 2001, all contracts that Norwegian had along the west coast of Norway were canceled and thus started the low-cost model that the carrier follows today.
September 2002 saw the carrier rebrand under the name of Norwegian. This resulted in the opening of their second hub at Warsaw Chopin Airport, Poland which would then operate to central European destinations. In 2007 Norwegian also acquired 100% of FlyNordic, a Swedish carrier, from Finnair in return for 5% of stake in Norwegian. This then cemented the Norsk carrier's operations into the Swedish low-cost market.
In the same year, Norwegian ordered 42 new Boeing 737-800 aircraft, with an option for another 42 worth $3.1 billion. The order was later increased by six by November of 2009. The airline then converted a further 15 options into firm orders in July 2010 with another 15 being changed to firm orders in June 2011 which brought the total order to 78 with 12 options.
In January 2012, the airline ordered an additional 22 Boeing 737-800 and 100 Boeing 737 MAX 8 aircraft with an option for 100 more as well as 100 Airbus A320NEOs with options for 50 more.
In 2016, Norwegian won charter contracts to operate into the United States, They consisted of flying three Boeing 737-800 aircraft from Chicago/Rockford (RFD) and General Mitchell International (MKE) Airport to the Caribbean.
Emergence into the U.S.
The US DOT (Department of Transportation) tentatively agreed to approve Norwegian Air International (NAI) permission to conduct commercial flights into America, which caused concerns about unfair market conditions from the biggest carriers in the States such as American, Delta, and United.
Pilot unions and U.S. carriers claimed that pilots would not be paid "similarly" meaning that industry standards of wages for pilots and crew could go down in America.
However, Norwegian argued that this is not the case. Anders Lindström from Norwegian argued that pilots who are based in Asia on services between Bangkok and other destinations in Norwegian's portfolio are paid similarly to those in Europe, meaning that the claims made by the unions are supposedly full of errors.
Lindström also argued that many of the pilots operating on the trans-Atlantic routes will be based from London Gatwick, especially as the carrier aims to keep 150 aircraft there in the future.
In terms of destinations to the U.S. with the new Air Operators Certificate, the carrier has emerged in cities such as Los Angeles, Oakland, San Francisco, Boston, Baltimore, Fort Lauderdale, Hartford, Las Vegas, Newark, New York-JFK, Orlando, and Providence.
Developing in the Irish Market
In terms of the Irish market, this is where Norwegian opened up the subsidiary of NAI to initiate operations into the U.S., as they needed a base of operations in Europe as Norway is not recognized as a member of the EU and the rules of EU Aviation Law are not recognized in Norway.
Norwegian announced plans earlier last year that they were to operate flights from Cork Airport to mainland America with Boeing 737-800 and MAX aircraft on top of the services they had out of Dublin already.
Moving into the Argentinian Market
January 2017 saw Norwegian Air Argentina come into existence as the carrier aims to start operations outside of Buenos Aires, Mendoza, and Córdoba. The carrier aims to base 10 Boeing 737-800 aircraft initially and will fly around areas of South America in order to gain a foothold in the market. The carrier said that all of the airline's aircraft that will be based there will be implemented onto the national register in Argentina.
Flyers will be able to use the Norwegian Reward frequent-flyer program in destinations within Argentina and South America.
This foothold into a new market that is rarely mentioned over global outlets would bring the continent more onto the map as Norwegian could expand rapidly and go into competition with carriers such as LATAM and Aerolineas Argentinas respectively. All-in-all, it looks promising, especially on a low-cost basis.
James is a passionate AvGeek who has been actively spotting for years. James has been an Aviation Enthusiast for 7 years and has a fond likening to Concorde! James hopes to grow in the aviation industry with journalism being his primary focus.
Latest posts by James Field (see all)