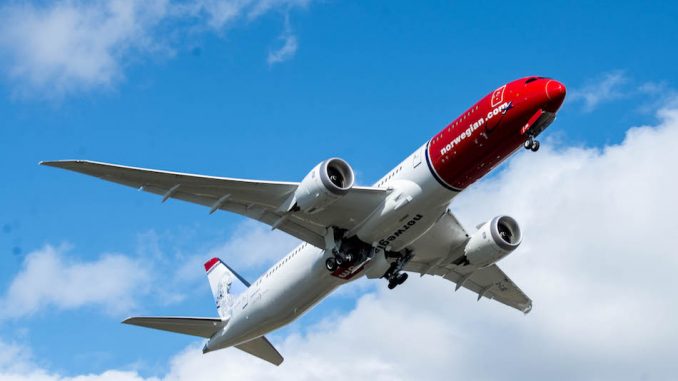 Norwegian Air CEO, Bjorn Kjos, announced yesterday that he is not wavered or concerned about IAG's plans to start a low-cost airline offering transatlantic flights. Norwegian Air has all but dominated the low-cost, long-haul market from their base at London Gatwick, where with their young fleet of Boeing 787's have managed to offer passengers prices that the majority of the other long-haul carriers cannot compete with. 
One example of this is when the airline offered a no-frills, one-way ticket from the UK to New York for the very low-cost of £69.
In a statement to City A.M., Bjorn Kjos said, "I don't think we do anything very differently, I used to say the secret of low-cost, long-haul is there is no secret. It's very much like on short-haul; you will not see any well-run low-cost operators with old airplanes."
Growth for Norwegian is easy to see, as earlier this month the airline announced that they would be operating direct flights to Seattle and Denver from Gatwick with prices starting at £199, which are due to start in September of this year. IAG, who own British Airways, plan to operate Level Airlines from Barcelona initially, but Kjos warned IAG that there is an order in which to create a low-cost airline, and you cannot just paint the aircraft and say that "now we are a low-cost airline." Kjos also added that "Willie Walsh is a smart guy so he might be able to do it."
The two-year "Brexit" negotiation process has begun and it will be unclear as to how the talks may affect low-cost travel to and from Europe and the U.S., but for now, Norwegian has got its sights set on bolstering the airline's routes further.
Kjos continued saying, "I'm looking forward to flying to lots of other continents, because I know that there are a lot of hidden areas on the globe. Like South America is a hidden jewel, but it is so expensive to fly to South America, and it's even very expensive to fly within South America. So that will change."
The airline executive also announced that starting this summer, they will ready to operate the much- discussed a codeshare with Ryanair on feeder flights, which he said will allow the partnership to offer passengers connecting flights to and from both airlines and allow them during the summer period to compete with the much larger airlines.
Kjos also hinted at the possibility of future collaborations with other companies, stating, "I think there are a lot of untapped markets and it's very interesting for Ryanair, EasyJet, and Norwegian."
What this shows is that Norwegian Air has significant plans for the future, and despite the disruption that could potentially be caused by "Brexit," the airline is willing to work together with Ryanair and easyJet to be able to control the low-cost long and short-haul markets.
Needless to say, it is apparent that IAG has got their work cut out if they plan to compete with Norwegian Air on low-cost, transatlantic flights.
Tomos has had a keen interest in aviation for over 10 years and 4 years ago he decided to take it to the next level. He currently holds a private pilot's license and is working towards his commercial license.
Latest posts by Tomos Howells (see all)