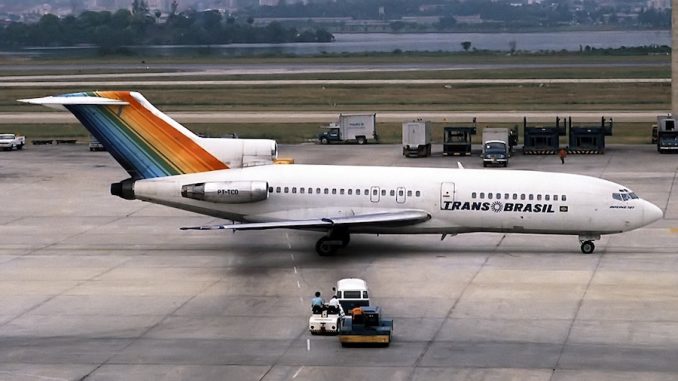 The Brazilian airline known initially as Sadia was founded in 1955 as the sister company to S/A Indústria e Comércio Concórdia. On March 16, 1956, their first aircraft, a DC-3, took to the skies under the name Sadia S/A – Transportes Aereos. It was founded by local entrepreneur Omar Fontana, who remained the owner for a significant portion of its history.
In 1957, Sadia established a partnership with Real Transportes Aereos, which lasted until the carrier collapsed in 1961. The following year, Sadia purchased TASSA- Trasnportes Aereos Salvador, which helped them increase their presence in Bahia.
Sadia changed their branding to Transbrasil S/A Lineas Aereas in 1972, and subsequently upgraded their fleet and further enhanced their route network. They commenced international flights in 1983 with the arrival of the Boeing 767-200 to the fleet.
Over the years, the company operated a vast and varied fleet, including the DC-3, BAC One-Eleven, Embraer EMB 110, Curtiss C-46, Handley Page Dart Herald, Boeing 727-100, 707, and several variations of the Boeing 737 and 767.
As for their route network, the carrier managed to become the second largest Brazilian airline for a period of time through their commercial strategy and low-cost flights. The company offered an extensive domestic route network throughout Brazil, along with international flights to Austria, the United Kingdom, Portugal, the Netherlands, the US, Argentina, and Chile.
Various issues began to plague the airline around 1987 when Fontana requested that the Brazilian government take over the operation of the airline. However, the transfer of power was canceled two years later when Fontana began to disagree with how the company would be run. He later stepped down and relinquished control to his son-in-law Celso Cipriani, who ended up in legal trouble.
Lacking profit from international routes and suffering from high expenses and heavy competition, Transbrasil's financial stability began to deteriorate. Then, in 2003, the airline declared bankruptcy per request by GE aircraft leasing company, one of several major debtors. The bankruptcy was confirmed in 2009.
Though Transbrasil came to an end nearly 50 years after taking to the skies, the carrier experienced significant expansion and dedicated management throughout many years.
Ashley is currently a senior in high school and plans on pursuing a career in aviation or journalism. Her favorite airplanes include the Boeing 777, 737MAX, and Airbus A350. She enjoys taking flights on various airlines to different airports and planespotting at her local airports.
Latest posts by Ashley Magoon (see all)