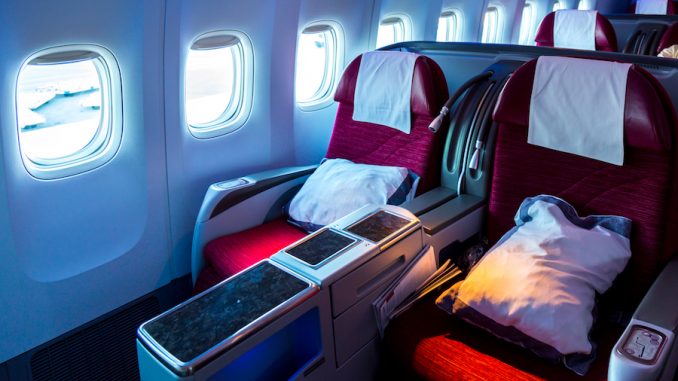 It's no secret that airlines in the U.S. have had a tense relationship with the three largest Middle Eastern airlines. American, Delta, and United have continually argued about the alleged unfair advantages that Qatar, Emirates, and Etihad receive. At this issue's core is not one of government subsidies, but of the quality of service onboard.
With Air Canada being the only four-star Skytrax airline in North America and Qatar, Emirates, and Etihad all being ranked as five-star airlines, one can easily notice the differences between them and their U.S. competition.
Growing up I became accustomed to flying on Emirates because of my grandparents living abroad. I quickly became used to the high level of service, the diversity of their staff, and yes, to the level of luxury that they provide. But more recently I've also made an effort to fly more often on other carriers as well. Thus far, from a service perspective, the closest thing to the big "ME3" that I've experienced has been on Singapore Airlines and Cathay Pacific, and I'm sad to say that the U.S. airlines have come up short, not just on their premium cabins, but the service provided on the most basic economy tickets as well.
For many, the true measure of an airline is how they perform when it comes to premium products, but I'm a firm believer that their performance in economy is also of the utmost importance.
However, in an age of low-cost carriers, traditional airlines need to work harder to draw normal and everyday people to their airline versus cheaper low-cost alternatives. On my recent outbound journey to Dubai, my experience with Qatar Airways was exceptional, and not just because I flew in business class.
After boarding was complete, I ended up sitting in seat 1K onboard their Boeing 777-200LR. The whole row next to me was essentially empty, so it felt like I had my own suite. The cabin crew handling the business class were fantastic. Chisandrea and the rest of the team made sure I had everything I needed, particularly with the little touches such as making sure I was all tucked in and ready to sleep as well as helping me set up my seat for some photos and taking a group photo with me once we landed. Dinner was excellent as well which included the choice between a sweet potato gnocchi, chicken biryani, or steak.
We were about half way into our flight when we encountered some turbulence, resulting in one member of the cabin crew sitting near me. I had the opportunity to chat with her for a while about her experiences with Qatar Airways, her favorite destinations, and what to see in Doha.
When flying on Qatar Airways, or any of the large Middle East carriers, you immediately get a sense of just how diverse their staff is. Onboard my flight, we had cabin crew members and flight crew members from at least seven different countries, with their average age being far younger than any of the cabin crew onboard most U.S. carriers.
The diverse and young crew that have been on my flights over the last decade have almost always gone out of their way to make the flight an exceptional experience, something I cannot say that same of my travels on airlines in the states.
While I had a fantastic experience on the first flight in business class, part of me expected the return flight in economy to be less than stellar. I was flying a less comfortable cabin of course on a less expensive ticket, so naturally, the service would decline accordingly, right? Sure enough, I was quickly proved wrong, as the return flight proved to be much better than expected.
The cabin crew worked to make sure that I was extremely comfortable, continually walking through the cabin to make sure people had water to stay hydrated. What most surprised me was the interest the crew took in the younger passengers, stopping by frequently to ensure they were entertained and the parents weren't on their own to comfort them.
Speaking of entertainment, Qatar, like its two competitors in the Middle East, have the most advanced IFE systems onboard for their passengers' convenience. Additionally, if you fly with any of the big three carriers and have a long enough layover at any of their hubs, you can check out a free city tour that the airlines offer.
With the majority of the world's population within an eight-hour flight of the Middle East, these carriers continue to take advantage of their incredibly strategic geographic position and leverage their hubs as a way to keep costs down by sharing services and creating a positive customer focused experience.
When it comes down to it, when you're picking which airline you want to spend your money on, value for money is one of the most important factors. And regardless of which ME3 carrier you fly on, you're almost guaranteed to have an unrivaled experience which you could never have on any of the traditional U.S. carriers.
Photo Gallery (Atlanta to Doha on Qatar Airways):
Photos by AirlineGeeks Lead Photographer Hisham Qadri 
AirlineGeeks.com began in February, 2013 as a one-man (er… teenager, rather) show. Since then, we've grown to have 20 active team members, and yes, we're still growing. Some of us are looking to work in the aviation industry as professionals when we grow older. Some of us are still trying to decide what we want to do. That's okay though, because we're all here for the same reason: we love the airlines. We're the youngest team of airline industry journalists out there.
Latest posts by AirlineGeeks.com Staff (see all)