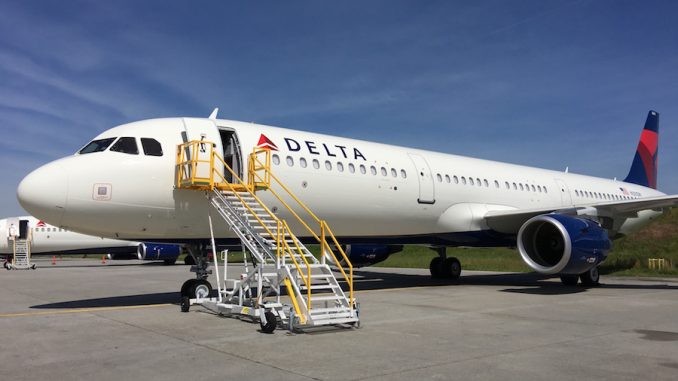 In Delta's latest customer innovation investment, passengers flying in and out of New York-JFK will now have an option to avoid traffic on the ground by using BLADE, an on-demand helicopter startup.
Through an exclusive partnership with BLADE, Delta passengers will be able to request a helicopter from one of BLADE's three lounges in Manhattan using BLADE's mobile app. After a 5-minute flight to JFK, passengers will be met by a member from Delta's Elite Services team.
The team member will transport the passenger from the helicopter to the departure terminal, allowing them to go through expedited security and then onto their flight.
Additionally, passengers arriving into JFK who opt for the BLADE transfer will be met by Delta's Elite Services team after disembarking their flight or clearing customs. The passenger will then be escorted to a waiting helicopter to be taken into the city.
"With Delta, BLADE has found a partner that shares the same customer-centric focus to provide a truly unrivaled travel experience," said BLADE Founder and CEO Rob Wiesenthal. "The integration of BLADE airport transfers into Delta's core offerings will enable us to remove much of the friction faced by many frequent travelers: the challenge of quickly transferring between Manhattan and JFK."
The Atlanta-based carrier is the largest airline operating out of New York City and the airline has invested more than $2 billion into the city's main airports: New York-JFK and New York-LaGuardia.
These investments have included a new terminal at JFK, additional gates, and renovated check-in halls and concourses. The airline offers more than 500 peak-day departures out of New York City to more than 130 destinations across the globe. However, it can sometimes take passengers up to two hours to get 18 miles from Manhattan to JFK.
"Our customers value speed and reliability, and so do we. We're proud to be the only airline facilitating an on-demand helicopter transfer that is curated specifically for Delta customers and in line with the enhanced premium amenities and services they have come to expect from our brand," said Tim Mapes, Delta's Senior Vice President and Chief Marketing Officer.
"Partnering with BLADE in the New York City market — home to and destination for many of our most discerning travelers — highlights Delta's commitment to enhancing every aspect and detail of the travel experience, including getting to and from the airport," Mapes continued.
Transfers can be booked through the BLADE app and if purchased through Delta Air Lines, can cost $250 plus $1,000 per seat for the helicopter ride. Prices on a typical BLADE airport ride, without the additions of Delta's services, can start at $195 per seat.
An "AvGeek" for most of his life, Akhil has always been drawn to aviation. If there is an opportunity to read about an airline, fly on a new airplane, or talk to anyone about aviation, he is on it. Akhil has been on over 20 different kinds of aircraft, his favorite being the MD-80. Additionally, he has visited 5 continents and plans to knock out the remaining two (Africa and Antarctica) soon. Based in Dallas, Akhil graduated from Texas A&M University with a degree in Management Information Systems and currently works in consulting. His dream is to become an airline executive.
Latest posts by Akhil Dewan (see all)