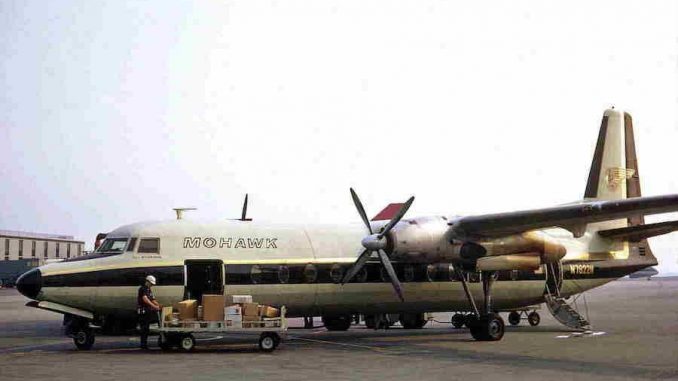 Founded in 1945 by aerial photographer C.S. Robinson, Mohawk Airlines started out at Ithaca Municipal Airport in New York under the name Robinson Aviation. On April 6, 1945, the company took to the skies with their inaugural passenger flight, launching their three-passenger Fairchild F-24s into service.
In the early years, Robinson sustained airline operations by depending on several local investment sources, including Cornell University, Ithaca Enterprises, and the Cooperative Grange League Federation Exchange. However, the most involved investor was Edwin Albert Link, who allowed the company $75,000 but also established pilot Robert Peach as the general manager, removing Robinson from control.
In 1948, the Civil Aeronautics Board declared the company a local service carrier and granted the company a wide selection of routes in the area. Four years later, Robert Peach purchased a controlling share of the airline, and the name was officially changed to Mohawk Airlines.
Mohawk Airlines is known for achieving several milestones in aviation history. In 1955, the airline became the first local service carrier to operate jet aircraft with the introduction of the Convair 240. Then, in 1958, Ruth Carol Taylor became the first African-American flight attendant to be hired in the U.S.
Over the course of their history, the airline had an expansive route network, which included both major cities and small local airports. A majority of their routes were within New York, including JFK, Albany, Buffalo, Syracuse, Rochester, Jamestown, Alexandria Bay, White Plains, Saranac Lake, and Oneida County Airport.
Outside of New York, Mohawk operated flights to Chicago Midway, Boston Logan, Minneapolis, Pittsburgh, Philadelphia, Cleveland, Reagan National, Atlantic City, Nantucket, Burlington, Providence, and Hartford among numerous others.
Mohawk also had a varied fleet, including the DC-3, Convair 240, Martin 4-0-4, Convair 440, Fairchild Hiller FH-227B, BAC One-Eleven, Fairchild F-24, Cessna T-50, Beechcraft Model 18. Also, the airline had ordered a Boeing 727-200, however, it was never delivered.
The airline reached its highest point in the late 1950s and early 1960s, with the acquisition of the Convair 440 and the Martin 404. Throughout the 1960s, their route network continued to increase and their profits soared.
However, in 1968, economic and labor issues began to plague the airline, which eventually led to merger talks with Allegheny Airlines, which was completed in 1972 after Mohawk became unable to pay creditors.
Ashley is currently a senior in high school and plans on pursuing a career in aviation or journalism. Her favorite airplanes include the Boeing 777, 737MAX, and Airbus A350. She enjoys taking flights on various airlines to different airports and planespotting at her local airports.
Latest posts by Ashley Magoon (see all)